Archived Travel Guide
Patience, passion and pork: Big Nick's Barbecue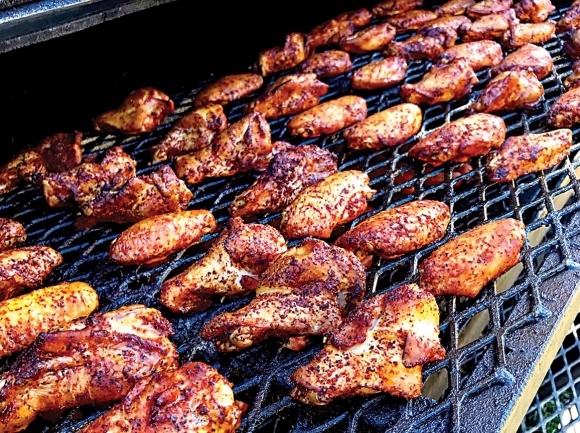 Coming off Exit 85 on the Great Smoky Mountains Expressway, a funny thing happens to drivers when they're about halfway down the hill heading into Sylva — they start to get hungry.
It isn't the chain restaurants dotting the busy four-lane road, nor is it the sense of nourishment needed after another day running around the mountains. Rather, it's the tantalizing scent of fresh barbecue wafting into your vehicle.
"We've got barbecue until we don't, then you'll just have to come back tomorrow," Tim Fisk said. "We don't want to make so much barbecue that it just sits around — by doing that, the quality of the barbecue suffers. It's all about freshness and making everything from scratch, every single day."
Owner of Big Nick's Barbecue in Sylva, Fisk is the second generation of a storied barbecue family. His late father, "Big Nick," was a beloved name in Southern barbecue. A legendary pit-master, Big Nick owned and operated several successful barbecue joints from Florida to Western North Carolina, most notably the Rib Country locations in Murphy, Hayesville and North Georgia.
When Big Nick passed away four years ago, Fisk decided it was time to leave the family business and go out on his own. Amid 25 years of experience in the barbecue world, he wanted to strip down the approach and menu to just the bare bones — barbecue, burgers and a handful of sides offered, all under a simple banner and ambiance.
Thus, Big Nick's Barbecue came to fruition in Sylva, taking over the small brick-n-mortar building that once held Robbie's, a cherished burger spot that had been a familiar part of Jackson County's culinary identity for over 50 years. Recently, Big Nick's also opened a second location in Murphy.
"We wanted a low overhead, one where the entire focus was on the barbecue and nothing else. And we wanted a small dining room with a focus on takeout ordering," Fisk said. "In this day and age of the pandemic, everyone wants to do takeout, and this place is tailor-made for that — either call in an order or pull up and honk for service."
Fisk estimated that the Sylva location feeds upward of 150 folks each day, with the Murphy location providing barbecue for somewhere between 300-400 hungry patrons. The well-portioned and hearty barbecue is as mouthwatering as it is in demand (which is high), with several signature sauces available for dipping and finger-lickin'.
"We're trying to really get back to that barbecue place, that roadside stop we all remember from long ago. We're here from 7:30 in the morning until 8:30 every night, all to make sure everything is done correctly," Fisk said. "We have very high standards for our barbecue. For us, it's like this fun puzzle we have to figure out and put together every day — it's a deep passion."
Leaning back in his chair in the dining room, Fisk adjusts his facial mask and his trusty Big Nick's Barbecue hat. He readies himself to head back into the kitchen at the culmination of this newspaper interview. Although it's mid-afternoon, there's still lots of barbecue left to be sold and an endless stream of customers, as heard by the constant ringing of the phone behind the counter or incessant honking outside.
When asked what his father, Big Nick, would think of "all of this," Fisk can't help but smile ear-to-ear, a jovial chuckle echoing throughout the dining room.
"Oh, he'd love it. He'd like seeing his name on the building, seeing how we prepare the barbecue just the way he did, the same standards and everything," Fisk said. "We remember the old man every day — this place is a tribute to him."