Archived News
Coming together again: what's next for community events?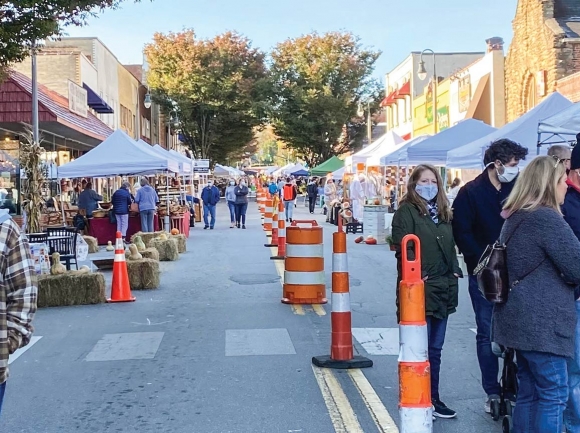 The 2020 Apple Harvest Festival in downtown Waynesville was one of the few regional events to take place last year. Haywood Chamber of Commerce photo
Though Oct. 17 was just seven months ago chronologically, it feels like seven years emotionally with all of the social, political and economic chaos and strife in this current era of Covid-19.
Back then, the list of unknowns and rules of engagement were constantly changing. Businesses and organizations trying to possibly put on an event had to adhere to (and strictly enforce) protocols from the local and state government, and the Centers for Disease Control & Prevention (CDC).
The task at hand was daunting and, frankly, scary for those individuals looking to test the waters of people gathering in public spaces for the simple sake of feeling human, feeling normal once again — whether it be a community festival, concert series, farmers market or simple backyard hang.
"We were lucky to be able to have the Apple Harvest Festival [on Oct. 17 in downtown Waynesville]," CeCe Hipps said in a humble tone. "It took a lot of conversations with various entities and individuals as to how we could do it safely."
President of the Haywood Chamber of Commerce in Waynesville, Hipps, her staff and the board of directors approached the annual event (which attracts nearly 40,000 locals and visitors) from every possible angle, and possible outcome.
At the time, October 2020, the Apple Harvest Festival was somewhat an island unto itself, being one of the few annual gatherings in our region to not get cancelled, and to actually have occurred.
"After some back and forth questions from the [Waynesville] Board of Aldermen, and guaranteeing them that people would wear a mask, they decided to go ahead and issue us a permit to do [the Apple Harvest Festival]," Hipps said.
To find a balance between keeping traditions alive during a rollercoaster year and also mitigating any scenarios where the festival could become a super-spreader event, the chamber decided not to do any advertising leading up Oct. 17.
The Apple Harvest Festival would still happen, but there would be no push to encourage more folks than what may normally show up during the fall foliage season in Western North Carolina.
In terms of its own protocol, the chamber limited the number of craft and vendors booths allowed on Main Street — from 160 to 80 — to increase spacing between vendors and individuals.
As well, Main Street was split into two lanes of one-way pedestrian traffic, not to mention all the sanitation stations provided and enforcement of mask-wearing by festival volunteers.
And with strict state protocols for restaurants and dining, the chamber allowed local establishments to have an outdoor space on Main Street to not only cater to the high number of festival patrons, but also still be able to function within the 50-percent capacity restrictions at the time.
Even amid a shutdown and in the face of pandemic, and with no advertising, the Apple Harvest Festival was estimated to have welcomed around 25,000 people when all was said and done.
"Everybody followed the directions and the entire day went smoothly. People can put on events safely, they just have to follow the governor's mandates and guidance of the local CDC," Hipps reflected. "[In hindsight], my feeling is that we've got to move on. We can't continue to run and hide, [especially now] with plenty of opportunities available for people to get vaccinated."
And the conversation keeps changing. On May 14, North Carolina Gov. Roy Cooper lifted the mask mandate as well restrictions on restaurants and performance venues. Culinary spots can now operate at full capacity, with the same going for indoor/outdoor live music locations and similar establishments.
But, that doesn't mean we as a society are out of the woods just yet. The gates may now be open for summer fun and adventure, all in an effort to steadily move towards "normalcy." It's safe to say that there's still a sense of "cautious optimism" running through the minds and actions of community organizations and events now marked on the calendar.
"We are still going to require our vendors to wear masks all day, regardless of what the state mask mandate may be," said Kendra Hamm, event coordinator for the Greening Up the Mountains festival, scheduled to take place Aug. 28 in downtown Sylva. "To be honest, we didn't expect [Gov. Cooper] to roll back the mandates this soon. We won't be requiring masks for festivalgoers, even though we aren't really sure what the day will look like for everyone until that day arrives."
Hamm did note that masks will be required of riders who use the public shuttle service that will transport festivalgoers between GUTM and several parking areas. Attracting thousands of visitors, GUTM — which typically is held in April — will be one of the key litmus test events for Western North Carolina as things begin to unfold and transition from summer into the busy fall season.
"It's been really challenging to plan with so many unknowns. But, we're just kind of moving forward and addressing things as they arise," Hamm said. "Hopefully, we'll have a better idea of exactly what our festival will look like by the beginning of August."
Of the many unknowns for GUTM includes how many vendors will be allowed (or even will sign up), and what sponsorships may appear (or not appear). In 2019, GUTM had an attendance estimated around 12,000, with over 175 vendors.
"Everything is up in the air. We don't know what our sponsorships are going to look like, and all of that does help to subsidize the cost of the festival, as does the vendor fees," Hamm said. "But, looking at our festival budget right now, we should be good to go no matter what — I'm looking forward to a little bit of humanity and togetherness that seems to be lacking [these days]."
On the flip side, visitation numbers have never been higher for Western North Carolina, its communities, and robust economic engine that is 21st century tourism (outdoor recreation, culinary delights, craft breweries, etc.).
The Great Smoky Mountains Railroad in Bryson City. Swain TDA photo
During the shelter-in-place and shutdown of 2020, millions of people from across the country flocked to these mountains, in search of ideal social distancing and a remote area to immerse oneself safely outside and in nature. And with so many people working remotely, mountain cabins provided an ideal getaway.
Aside from record-breaking visitation numbers for the Great Smoky Mountains National Park and the Blue Ridge Parkway last fall, the immense overflow of folks didn't stop through the holiday season and spring. That continuation of visitors is evident by the already-high room tax revenue ("heads-in-beds") numbers thus far for the current fiscal year.
"Last fiscal year, [Jackson County] collected $1.09 million in room taxes, which is how we measure visitation. So far, this year, we've gotten $1.64 million in room tax, and we still have three more months of the [current] fiscal year," said Nick Breedlove, executive director of the Jackson County Tourism Development Authority in Sylva.
Breedlove points to the popularity of vacation rentals during the pandemic and shutdown, something that has carried over into 2021 (and the foreseeable future).
"[The vacation rentals] are where we're seeing our largest increases, and that's a nationwide trend," Breedlove said. "People would rather come get a house and stay in there for a week or so or a long weekend, have the place to themselves to serve as a home base for their trip [and activities]."
That astounding increase in room tax revenue for Jackson County is something that's being seen in seemingly every county in our region, including Swain.
"Well, last year we did about a $1 million in lodging tax. Right now, we're at $1.4 million, and predicting that [at the end of this fiscal year] we're going to be at around $1.8 million," said Mary Anne Baker, executive director of the Swain County Tourism Development Authority in Bryson City.
Besides the vast recreational options in Swain County, Baker also points to the hugely-popular Great Smoky Mountains Railroad in downtown Bryson City, which never ceased to run throughout the shutdown. If anything, more people found themselves riding the rails and disappearing into the woods than ever before, even with capacity restrictions and social-distancing mandates.
"What's also interesting is that now, [with the mandates being lifted], there will be increased competition for travelers with international travel and cruise lines," Baker said. "[In Western North Carolina], we're going to have to ramp up our marketing to keep these visitation numbers going [to ensure economic survival]."
Baker's sentiments are something heartily echoed by Breedlove.
"Our marketing [and marketing budget] is almost at a level that we were at prior to the pandemic — we're welcoming people back," Breedlove said. "So, when it comes to [community] events, I think we're going to see a lot more people out and about. There's so much pent-up demand to return to normalcy — not just for travel, but to do the things we used to do."
"What I'm seeing now are more people coming into town. More people are vaccinated and feel comfortable walking around downtown, enjoying the attractions, restaurants and shops," Baker added. "Last summer and fall, people were afraid to come into town, they just wanted to hike and be away from people. But, this year has been, and will be, different — I think it's going to be our best summer and fall yet."
But, again comes the shared feeling of "cautious optimism" for all entities involved in community events and regional tourism, whether it be a local business or resident.
"It can be such a weird balance, especially nowadays, to find ways to encourage people to come visit here, but also the idea of being sensitive to the people who live here, too," Breedlove said. "We need to balance residential sentiments and also the needs of small businesses — that's a very delicate juggling act."
Down U.S. 441 in Franklin, the folks there and in greater Macon County are also seeing high numbers of visitors, with the biggest focus at the moment being how to safely and successfully execute the annual Fourth of July festivities — an anchor date on the calendars of every mountain community in Western North Carolina (and beyond).
"The 'Fireworks Over Franklin' was voted on by the town and it will be taking place [on July 3]," said Linda Harbuck, executive director of the Franklin Area Chamber of Commerce. "The downtown merchants are very optimistic, and we're just happy to see things looking better than last year."
According to Harbuck, there will be several key events happening in the community between now and October, with the town and its residents ready to get on with their lives as society slides into a post-pandemic world. Of note, Macon County retains one of the highest vaccination rates of any county in the state.
"Our bigger events are coming back, like the gem shows and craft fairs," Harbuck said. "And we've also had a lot of ribbon cuttings lately for new businesses, which is a great sign for us."
When asked if she's optimistic about the impending summer and fall, Harbuck was quick to respond.
"As far as businesses and counties are concerned, we're all pretty much in the same boat right now," Harbuck said. "But, I will say, we're very fortunate to be in Western North Carolina. We really haven't felt the effects that some of the larger areas and cities have — it's a plus for all of us that we live in a good place that people want to visit."