Archived News
Inaugural Juneteenth celebration planned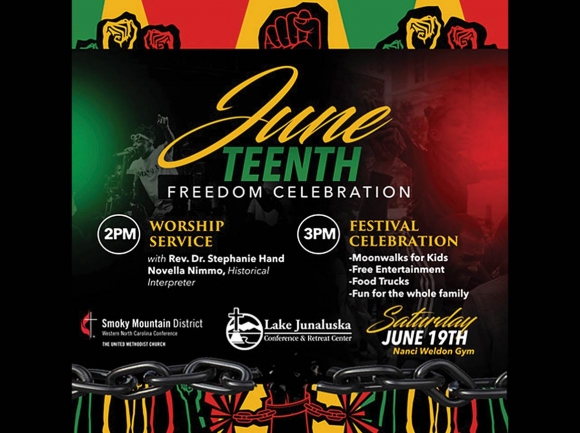 On June 19, the Smoky Mountain District of the United Methodist Church will host a Juneteenth Freedom Celebration at Lake Junaluska.
"Our mission for the celebration is to worship inclusively, educate our communities on its racial history, initiate critical conversations towards reconciliation, and celebrate African American freedom and culture," said D'Andre Ash and Dr. Keith Turman, co-chairs of the Smoky Mountain District Justice and Reconciliation Team.
The inaugural event is an expression of the Smoky Mountain District's desire to take a stand in word and deed, speak out against injustices endured by African Americans and work to end structural racism.
Juneteenth is an annual holiday celebrating the end of slavery in the United States. On June 19, 1865, slaves in Galveston, Texas were told of their freedom — two months after Robert E. Lee surrendered at Appomattox, Virginia, and over two and a half years after the Emancipation Proclamation had been signed.
Though Juneteenth is not yet a national holiday, several states have made it a state holiday. In recent years, especially following the nationwide protests last summer over police brutality, there has been widespread pressure to declare June 19 a national holiday.
The Juneteenth Celebration is free and open to the public. Worship begins at 2 p.m. when the Rev. Dr. Stephanie Hand will deliver a keynote address. Other speakers will include acclaimed storyteller and historical interpreter Novella Nimmo from the Underground Railroad Freedom Center in Cincinnati, Ohio. She will share re-enactments of the harsh realities of slavery. Local clergy and musicians will lead a celebratory worship experience.
After the worship service, the community is invited to party on the grounds of the Nanci Weldon Gym from 3 to 6 p.m. where there will be food trucks, inflatables, horseshoes, corn hole, vendors, exhibits, dancing and family fun.
The Smoky Mountain District of the United Methodist Church comprises the western-most counties in North Carolina and is a subsection of the Western North Carolina Conference of the First United Methodist Church. The Smoky Mountain District Justice and Reconciliation Team was formed to take on the work of understanding and healing discrimination in Western North Carolina.
The team, which had its first official meeting on Feb. 2 of this year, was born from the idea for a Black Lives Matter worship service at Lake Junaluska. Originally it was the Smoky Mountain District Vitality Committee, which focuses on the overall health of the church and community within, working to put together the worship service. But in working toward this goal, the need was felt for a group with intentions focused more specifically on conversations around race and diversity.
"The mission for the Justice and Reconciliation Team is to celebrate, educate, worship and initiate," said Ash.
Eventually the idea for a Black Lives Matter Worship Service morphed into the idea, and implementation of a Juneteenth Celebration.
"The town of Waynesville, we celebrate so many things and we block off Main Street and we have these apple festivals and folk festivals and all these different things," Turman told The Smoky Mountain News. "How awesome would it be if we had a Juneteenth celebration? It might be a big ordeal to try to get the town of Waynesville to block off the main street and have a big party on June 19, but we at the church could do something."
"We hope to celebrate diversity with this Juneteenth event being kind of a visual manifestation of what our mission is," said Ash. "So, we hope to celebrate diversity and we hope to educate folks on racial history and disparities that exist between races. We hope to worship together with folks of different denominations, different religions. And we hope it to be a movement that springs from our Methodist tradition, but that invites and includes others. We hope to initiate conversations."
Leave a comment
2

comments
They already created a Black holiday (MLK Day). Isn't that enough for you self hating white people?

Monday, 05/31/2021

This is a bullsh&t holiday. It was never ever celebrated or recognized until the recent Snowflake Woke Communist Culture deemed it so. Its a made up holiday just like Kwanzaa.

Monday, 05/31/2021