Archived News
Future of Downtown Waynesville Association to be debated
Wednesday, April 21, 2021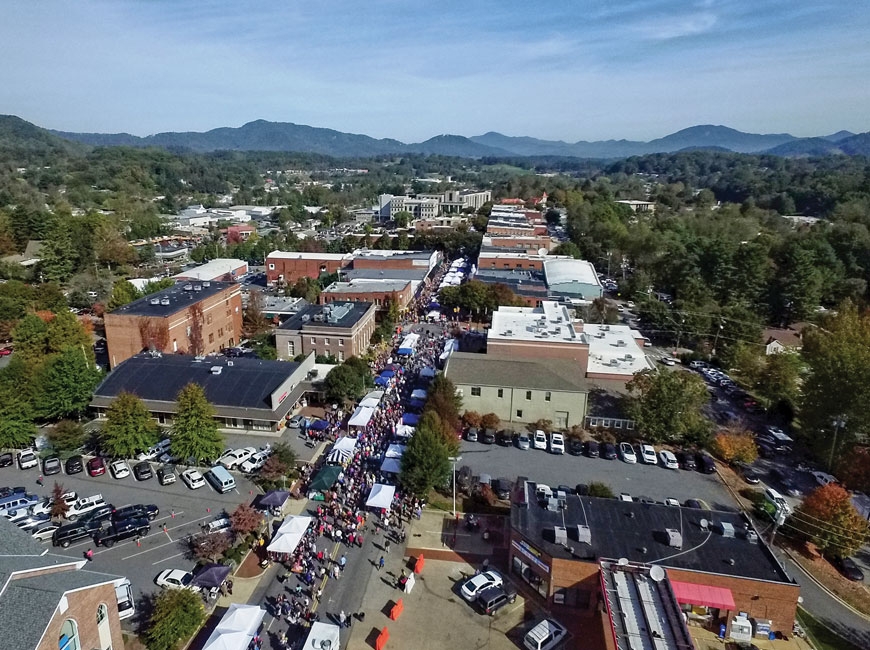 It's been almost five years since the Downtown Waynesville Association landed a multi-year contract to manage the town's municipal service district, but with the expiration of that contract imminent, an April 27 public hearing will gather input from residents on whether the group has met expectations or if another organization should be given the chance.
The DWA was founded in 1985 to be the administrator of the Town of Waynesville's municipal service district (MSD) and is governed by a board of directors. Its mission was to undertake revitalization activities.
Jon Feichter, a Waynesville alderman, left Waynesville in the mid-1980s for school just as his father, Rex, and mother, Libba, were beginning to champion the cause of the DWA.
"I don't remember firsthand how bad downtown had gotten, but talking to mom and dad apparently Main Street was struggling significantly, so my dad and many, many others got together and said, 'We need to do something,'" said Feichter, who later served on the DWA board himself. "If you look back at the history of where we were and where we are, it's a night and day transition. I don't think there's any question that the foundation those leaders put in place has led us to where we are today."
The district includes parcels along both north and south Main Street. Property owners pay an extra tax on their properties — currently 20 cents per $100 in assessed value — which is collected by the town and disbursed to the DWA and used to promote revitalization activities within the district.
Total yearly expenditures by the DWA are in the neighborhood of $200,000, including the operational overhead, the salary of Executive Director Buffy Phillips and an assistant. The DWA also raises money from events it holds, including the annual Church Street Arts and Craft Show in October.
The DWA has not only been charged with marketing Waynesville's downtown as a tourism destination but has also been largely responsible for the aesthetic revitalization of Waynesville's commercial nexus, including burying power lines along Main Street and installing planter boxes on the sidewalks and raising money for the decorative streetlamps. The group even won an award for its efforts in 2016 from the American Planning Association.
Since then, there have been several DWA board resignations and many merchants have called into question its effectiveness under Phillips' leadership.
In 2019, a group of prominent downtown property owners met to discuss the DWA's future and the potential ouster of Phillips, citing poor performance. When that effort ultimately went nowhere due to narrow DWA board support for Phillips, the same group discussed submitting an application to compete for the contract to manage the MSD.
"I certainly have been aware that some people were dissatisfied with Buffy's leadership," Feichter said. "There were some people while I was on the executive board [prior to his first term as alderman]. Now, unquestionably, Buffy is one of the people who is most responsible for the state of downtown today."
Problems with the DWA's transparency have also recently cropped up; as a public body, the DWA is subject to all of the same open records and meeting notice laws that apply to municipal governments and similar boards, but requests for information made by The Smoky Mountain News regarding the organization's leadership and financial doings have now gone unheeded for nearly a month.
During a March 23 meeting of the DWA's executive board, Philips may or may not have given notice of her intent to resign, but key DWA leadership refuses to acknowledge what happened or produce minutes from the meeting that would help clarify Phillips' future and the future of the organization itself.
Multiple phone calls placed to Phillips and DWA board Chair Carolyn Brunk on March 24, March 25 and March 26 — both on her cell phone and at her place of business — were never returned. A phone call made to the DWA office on March 25 went straight to voicemail, as did another call on March 26. When SMN visited the DWA office on the morning of March 26, it was closed without explanation.
The very next day, a story in The Mountaineer reported that Phillips would step down from her post later this year — an assertion directly at odds with what one DWA board member told SMN on March 25.
Leigh Forrester, who was at the March 23 meeting, said she wasn't aware of any discussion about Phillips' departure.
"She didn't resign," Forrester said. "I think she was hoping to drum up support from merchants and the board to put on the Bear Festival. She discussed how frustrating it is to try and drum up enthusiasm about street events."
DWA Secretary Olivia Carver — who has since resigned her seat — was also at the March 23 meeting. When interviewed, she acknowledged that the matter was discussed.
"She gave a verbal [description] of a timeline, but again, it was verbal and it's not official, so that's the only thing I think I can give you," Carver said.
Now, nearly a month after the March 23 meeting, The Smoky Mountain News still hasn't received any word from Phillips or Brunk, still hasn't received any meeting minutes from that meeting, and still hasn't received any word whatsoever on Phillips' intentions.
On March 26 a formal public records request was issued by SMN to the DWA, asking for financial statements, meeting notices, meeting minutes and reports that could help shed light on the organization's performance, if not Phillips' status.
Nearly a month later, Brunk and her board have failed to produce anything, and have given SMN no timeline as to when those records might become available.
There are just four regular Town of Waynesville Board of Aldermen meetings between the April 27 public hearing and the expiration of the DWA's contract on June 30.
Using the input garnered at the April 27 public hearing, the town will then issue an RFP, evaluate bidders, narrow down the candidate organizations, conduct contract negotiations, hold another public hearing on the contract, and award the contract — all by June 30.
"It's a process that will benefit downtown Waynesville and the MSD and I'm confident we will find the best possible entity to administer the MSD," Feichter said. "I'm looking forward to the process."
Be heard
Per statute, the Town of Waynesville will hold a public hearing to solicit "input from residents and property owners as to the needs of the downtown Municipal Service District." This meeting is designed to give aldermen guidance on the performance of the entity that currently manages it, the Downtown Waynesville Association, before the contract comes up for bid again.
• Time: 6 p.m.
• Date: Tuesday, April 27
• Location: Town Hall, 16 South Main Street, Waynesville