Archived News
Maggie property owners oppose waterfall project
Wednesday, April 21, 2021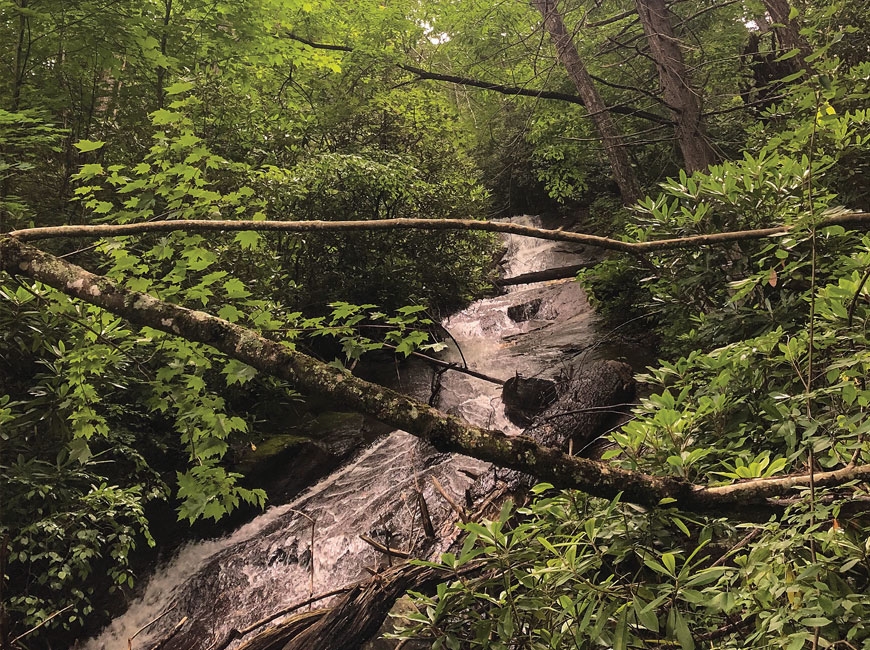 Maggie Valley Country Club Estates Property Owners Association has communicated intense opposition to the proposed Waterfall Park on 8 acres of town property off of Old Still Road.
The town has owned the property for over 17 years but until recently had not begun the process of developing the land. Last year, the town hired Mosaic Civic Design Studio and Mattern and Craig Engineers to develop feasible design concepts for the property. In March, Mosaic presented three broad concepts to the board, with estimated costs up to $781,000 if bathrooms are included in the development plan.
Because the land is located within a residential area, surrounded by houses, public feedback to the idea of developing the property has been mixed.
C.B. Turner is a full-time resident of the MVCCE, retired businessman, past president of MVCCE Property Owners Association and chairman of the taskforce to prevent the waterfall park project from happening. At an April 6 Maggie Valley Board of Aldermen meeting, Turner made a presentation to the board about why it should not proceed with the Waterfall Park.
The primary concern communicated to the board was that a waterfall park on the Old Still Road property would disturb the "PPQ'' of the MVCCE — peace, privacy and quiet. He made it clear that this was a residential community, not a tourist destination.
"We are very upset and angry because you will be messing with our PPQ," said Turner.
According to Turner, MVCCE has over 300 homes and about 700 residents, more than 63 percent of whom are part-time residents and most of whom are retired.
When Mosaic presented its design concepts to the board, staff cited studies that showed ecodevelopment, like the trail system proposed for the Old Still Road property, increased property value. Turner vehemently disagreed with that projection, arguing that developing the waterfall property would cause a decrease in home and property values.
According to Turner, not everyone moving to Maggie Valley can afford to buy in MVCCE, and not everyone moving to MVCCE wants to live next to hiking trails. These two factors would create a lower demand, driving prices in MVCCE down.
Another major concern for MVCCE is maintaining roads within the community. Property owners pay the cost of maintaining the 13 miles of roads within the community. The road that currently leads to the waterfall is a single lane road without room to turn around and no parking. Each design concept presented by Mosaic included road construction and parking spaces.
Turner noted that with increased traffic in the community, there will be increased noise disturbances from the vehicles as well as increased need for road repairs. He also worries that visitors will not know how to drive on mountain roads and that no matter how many parking spaces are created for the waterfall park, it will not be enough.
"No matter how much parking you provide, visitors will park on the edge of the road. Visitors will park on the edge of homeowners' yards and in their driveways," said Turner.
Turner also postulated that increased traffic in the area would increase crime in the community. He worries that if restrooms are included in the construction plan, it would cause an "invasion" by the homeless population.
"As everyone is aware, vacant homes are more susceptible to incidents," said Turner. "Also, if restrooms were put into place that would be a welcoming card to a homeless invasion, especially when the homeless find out there are vacant homes in the area."
Some MVCCE properties lie within Maggie Valley Town limits, and some are outside the town limits. Turner thinks this would create increased costs, and work, not only for Maggie Valley police officers, but also for county deputies due to increased crime.
The POA has a petition with over 200 signatories opposed to development of a waterfall park on the property. Other concerns include trash and runoff flowing toward Jonathan Creek as well as disturbing wildlife in the area.
"I have had a vacation home in Maggie Valley for 30 years and am now selling because of this. I pray for the other homeowners to be saved from this ridiculous attempt to make beautiful Maggie Valley into another Gatlinburgesque tourist trap," said Linda Gettle, a resident of MVCCE.
Otis Sizemore, another resident of MVCCE said, "We object to non-residents being encouraged by the town to bring increased traffic to our neighborhoods, trespass on private property, scatter trash for us to remove, park on our narrow streets and yards, disturbing the peace and quiet of our neighborhood, and creating other problems for our residents with their behavior."
Turner suggested that instead of developing the property, the town should sell the property, zoned for residential use only.
At the budget retreat for the Town board on March 8, Mayor Mike Eveland said it was a priority for the town to decide, this year, what to do with the property off of Old Still Road. The town will either develop or sell the property.