Archived News
Sylva denies one apartment application, approves another
Wednesday, April 07, 2021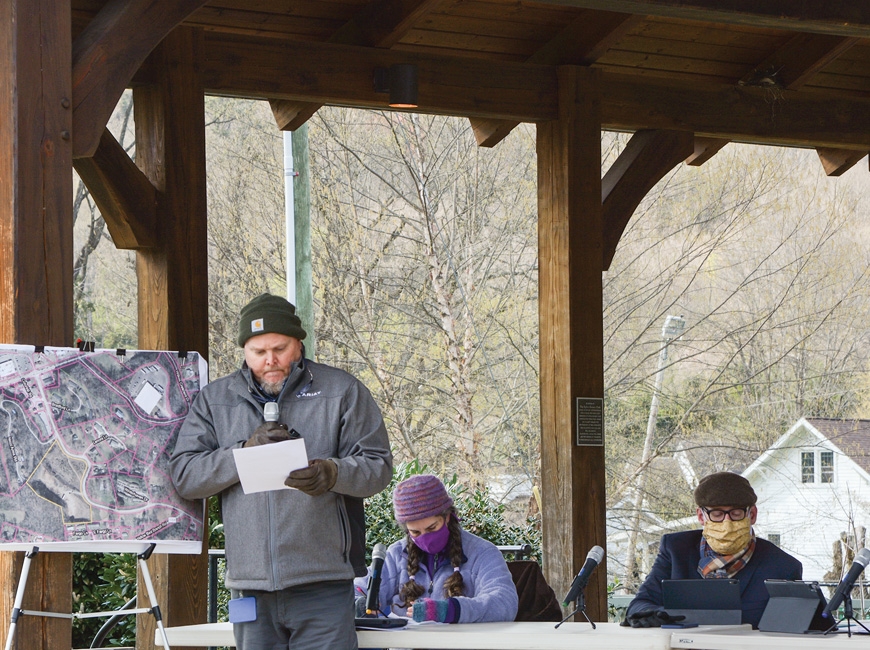 Jackson County Senior Planner John Jeleniewski presents his staff report on The Bluffs development proposed by Southern Properties and Development LLC. Holly Kays photo
Despite gusting winds and a temperature of 42 degrees at the time the three-hour meeting began — it was 37 degrees and felt like 30 by its 8 p.m. conclusion — more than 50 people bundled up to attend an outdoor hearing on the fate of two Sylva apartment projects Thursday, April 1.
After moving through a pair of formal quasi-judicial hearing processes from the stage of Bridge Park, the Board of Adjustments — which is composed of town board members — ultimately gave unanimous approval to a 150-bedroom, three-building complex to be located on 6.83 acres along Savannah Road but denied, by the narrowest margin possible, an application for a 76-unit, three-story senior living building on Skyland Drive.
"I'm sorry for the applicant," said Mayor Lynda Sossamon, who cast the tiebreaking vote to deny the Skyland Drive project. "I feel it's a very good thing that we need for this area. It just was not in harmony, I did not feel, with some of the area."
Both projects presented April 1 were seeking a conditional use permit from the town, a requirement for multi-family developments in Sylva. Receiving a CUP requires that the Board of Adjustments go through a formal hearing process and then vote on whether the project meets each of four tenets required for CUP recipients. Projects must receive majority approval on each of the four to proceed.
In Sylva's government, the mayor votes only in case of a tie, something that rarely happens with a five-member board. But Commissioner Greg McPherson was absent April 1, and the remaining four board members split two and two on each of the four votes. Commissioners David Nestler and Ben Guiney voted yes, while Commissioners Mary Gelbaugh and Barbara Hamilton said no.
While Sossamon voted with Nestler and Guiney to affirm the first three tenets — that the use will not endanger public health and safety, meets all required conditions and specifications, and will not substantially injure adjoining property values — she sided with Gelbaugh and Hamilton on the last vote, ruling that the location and character of the proposed used would not "be in harmony with the area in which it is to be located and in general conformity with the development of the Town and its environs."
Having failed on that single requirement, the proposal failed altogether.
Skyland Drive application denied
The proposal in question came from Clemmons-based KRP Investments LLC. KRP's manager Karen Perry has been trying to build affordable housing in Sylva for years, intending to leverage tax credits from the N.C. Housing Finance Agency to keep rents low. Her previous proposal, a 60-unit workforce housing project to be located across U.S. 23 from Harris Regional Hospital, met enthusiastic approval from the board but was eventually abandoned due to site sustainability issues.
This new proposal — originally for a four-story, 84-unit building, which she offered during the meeting to bring down to a three-story, 76-unit project — would have been located on 4.5 acres on the north side of the Chipper Curve and Allens Branch Road intersection. Currently, an open field and a historic home — a 1939, 2,800-square-foot house with an eye-catching red tile roof — occupy the property. Single-family homes separated by stands of trees and hedges fill the lots nearby. Commissioners admitted eight nearby property owners as parties to the hearing, all of whom were adamantly opposed to the proposed location and to the planned removal of the iconic red-roofed home.
"When you remove a landmark, the town runs the risk of becoming Anywhere, USA, and I think all of us would like for our town to be unique," said former Sylva mayor and property owner Maurice Moody. "The project is a poor fit for our neighborhood."
If the project were approved, said Kristin Kane, "this new building and only this building will be my view from my front porch. If it's only three stories, I might get some sky. Right now, I see a field, some single-family houses and mountains, so I'm aesthetically and practically opposed to the project."
Multiple people pointed to specific sections of the county's 2040 Land Use Plan, claiming that the proposed project was not in harmony with the goals stated there. They also took issue with the current state of Allens Branch Road, telling commissioners that it is poorly maintained and too narrow to handle the amount of traffic likely to come and go from a 76–unit development.
During the public comment portion of the agenda, Western Carolina University Director of Cherokee Studies Ben Steere addressed the board to say that the proposed development's footprint may contain "a large significant unrecorded archeological site" related to Cherokee history in the area.
In her comments, Perry acknowledged that the project would change the community and that commissioners had a "tough choice" but added that change is inevitable in any community.
"My intention here is to meet the need for the people that are already here," she said.
Commissioner David Nestler echoed some of those themes in his comments, saying that Allens Branch Road is the responsibility of the N.C. Department of Transportation, not of the town, but that if the project were built the town would lean on DOT to make any necessary fixes.
"Housing is a critical need in this community, and especially quality and affordable housing that meets our minimum housing standard," he said. "I do think that access to safe and affordable housing helps lift people out of poverty."
Commissioner Mary Gelbaugh agreed with those sentiments but said that ultimately, it was case of the right project in the wrong place.
"I'd love to have dinner with you after this meeting and personally drive you around the town that I've lived 42 years in and show you some locations I think might be good," she told Perry from the stage. "I'm not a real estate agent, but I have some ideas for you. I respect you. I love your project. But I also respect my neighbors."
Attendees bundle up to attend the outdoor hearing. Holly Kays photo
New complex coming to Savannah Drive
In an action that was less controversial but just as subject to bone-chilling cold, the town board ruled in favor of an application from Southern Properties and Development LLC to build a 72-unit complex of three three-story buildings on Savannah Drive, about 1,120 feet south of that road's intersection with U.S. 23.
Like Perry's proposal, this project would also be constructed using tax credits, and proposed rents would range between $345 and $750 per month, depending on the unit and the applicant's income.
While the project met less resistance than Perry's proposal, two people addressed commissioners asking them to deny the project due to expected traffic impacts or to at least delay the decision.
"With this being the Easter holiday, a lot of people had to go out of town, and with the unfortunate weather change, one gentleman is on oxygen and I have bronchitis," said Buddy Sanders.
When contacted regarding the project, the DOT said it would not require a traffic impact analysis to go forward, but Sanders asked whether it might be wise to do so anyway.
"I spoke with a number of people in the neighborhood today," said Donna Sanders. "The primary concern is not property value with the apartments being built, but the traffic. People are very, very concerned about the traffic and this has been accentuated by using Yellowbird Lane as a detour."
Ultimately, however, the board gave unanimous approval to all four tenets, granting the CUP.
Subdivision hearings coming up in Jackson
The Jackson County Planning Board will consider five different major subdivision applications for approval at its next meeting at 6 p.m. Thursday, April 8.
The proposed Little Cove subdivision would consist of 37 single-family homes on 39 acres on Norton Road in Cashiers.
A series of subdivided and recombined parcels in Cashiers would result in an additional 5.45 acres for four single-family cottages added to the existing Glen Cove subdivision on Norton Road approved in August 2018.
A 34.8-acre project on Whiteside Cove Road in Cashiers would add 20 single-family lots and create the Saratay subdivision.
A proposed cluster neighborhood of six cottages on 4.46 acres would be constructed as part of High Hampton Resort's core area.
High Hampton wants to create two additional lots in the resort's core area and annex two lots totaling 20.78 acres located on the property's northern boundary. The plan would add four additional single-family units to the overall subdivision.
The meeting will be held via Zoom. To receive a link or learn more about any of the proposed subdivisions, contact Allison Kelly at This email address is being protected from spambots. You need JavaScript enabled to view it. or 828.631.2257.