Archived News
Kings Mountain gaming to start this summer
Wednesday, April 07, 2021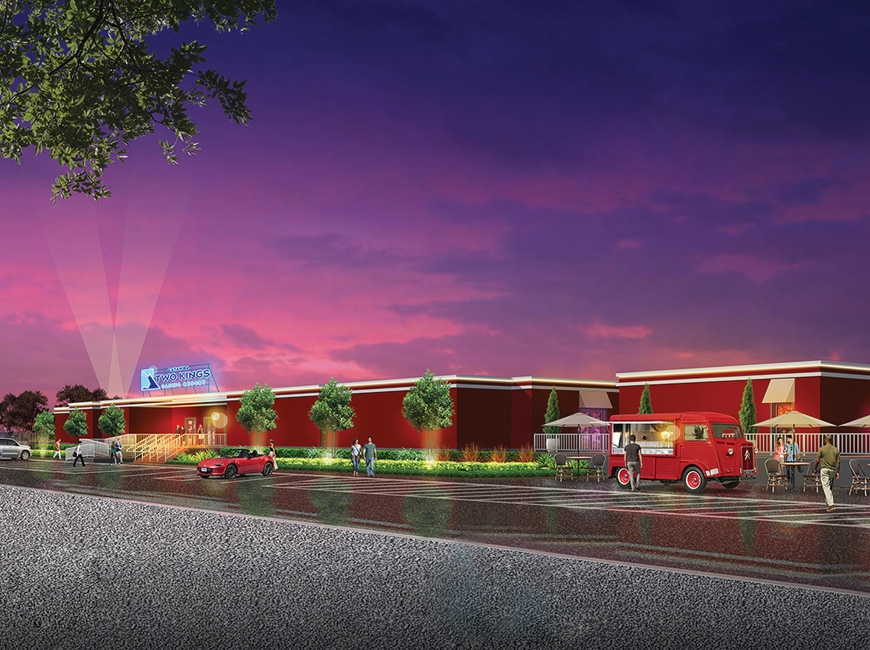 A temporary, 500-slot pre-launch gaming facility will open this summer in Kings Mountain. Donated image
A federal lawsuit challenging the U.S. Department of Interior's decision to allow the South Carolina-based Catawba Indian Nation to build a casino in Cleveland County is far from resolution, but the tribe is proceeding with plans to begin gaming on the site — though at a slower pace than originally intended.
The Catawba will open a temporary pre-launch facility this summer, a prefabricated modular construction that will offer guests 500 slot machines and food trucks, as well as alcoholic beverages once the tribe secures its liquor license.
At the July 2020 groundbreaking , the Catawba announced plans to open a 1,300-machine introductory facility in summer 2021, featuring food, beverages and entertainment in addition to slots. However, as the lawsuit wore on, tribal leaders decided to delay construction until after the court reached its decision.
"As we saw the slowdown in D.C. on getting some of the questions answered, we took a step back and said, 'OK, what can we do?'" said Catawba Chief Bill Harris during a Zoom interview last week.
The 500-slot modular facility opening this summer will eventually be torn down when the 1,300-slot building comes online, likely next year, but in the meantime it will allow the Catawba to start training employees and pulling in revenue while the court process unfolds.
When fully built, the $273 million casino resort is expected to create 2,600 permanent jobs and generate $308 million per year in direct economic activity. The tribe is working with consultant Delaware North and developer Skyboat Gaming, headed by Wallace Cheves , to carry out the project. The plan is to reach full buildout in five years, but that schedule will depend on a variety of factors.
"The revenue will drive how quickly the buildout comes," said Harris. "So if things go extremely well, what we're hoping to do is probably to go from 1,300 machines to 2,500 machines in three to four years after the opening of the introductory facility. So you're talking now five years. Within that period of time there should be at least a hotel started and whether it will be completed I don't have the crystal ball to judge."
Ongoing legal battle
Revenue is far from the only unknown surrounding the future of Catawba's Two Kings Casino Resort.
Since its inception , the project has faced vehement opposition from the Eastern Band of Cherokee Indians . The tribe has argued that there is no precedent for the federal government to take land into trust that is not connected to and is located across state lines from existing tribal lands. Meanwhile, both the Catawba and the Cherokee maintain that the property in question is located on their ancestral lands and that the other should have no claim to it.
In making its case to state and federal representatives, the Cherokee have also pointed out the blow to its thriving casino business that a Catawba casino near Charlotte would likely deal, estimating the potential revenue losses at $100 million per year.
Last March, the U.S. Department of Interior approved the Catawba's application to take the land into trust, and within five days the EBCI had filed suit in federal court, claiming that the land-to-trust decision was "rushed, flawed" and "violates the plain language of federal law."
When it filed the suit, the EBCI asked the court to issue a preliminary injunction barring the DOI from taking the land into trust — and therefore preventing the Catawba from building their casino — as well as to issue a final judgment declaring that the DOI made its decision to take the land into trust in violation of federal law, requiring it to complete an Environmental Impact Statement and making it pay all court and attorney costs.
U.S. District Judge James E. Boasberg struck down the EBCI's motion for preliminary injunction, paving the way for the casino project to progress while the lawsuit continues. However, a final judgment is still a ways off. No date has yet been set, and the legal battle could well continue even after Boasberg delivers his final decision. Harris said that if the court rules against the Catawba, an appeal is likely.
On Jan. 22 Gov. Roy Cooper approved a gaming compact between the Catawba and the State of North Carolina with terms that are similar to those laid out in the EBCI's gaming compact. That compact received federal approval from the DOI on March 19. As a result, the Catawba are now legally able to conduct Class III gaming on the property, including slot machines and table games.
In a March 25 statement, EBCI Principal Chief Richard Sneed said he was "disappointed but not surprised."
"This approval stems from the DOI's original illegal act to take land into trust and force an unwanted casino on North Carolina, a decision that we continue to challenge in federal court," he said.
Opposition from legislators
Sneed is not the only one speaking against the DOI's handling of the situation.
On Feb. 1, N.C. Rep. Mike Clampitt emailed the offices of Sen. Thom Tillis, Sen. Richard Burr and Rep. Madison Cawthorn expressing his opposition to Cooper's approval of the gaming compact and asking for help to stop the project.
"Several things bother me about this," Clampitt wrote. "1) Cooper entering into compacts without legislature or council of state involvement. 2) A foreign nation entering N.C. accruing land in a business venture without legislative or council of state involvement. 3) The EBCI have legally gone thru a very exhaustive legislative process to get gaming into North Carolina in Cherokee and Jackson counties, and this group taking advantage of the Tribe's effort and work. 4) EBCI is against this business venture as the proximity is so close to where they have their gaming facilities. 5) The lawsuit from the ECBI and the Federal Department of the Interior, but the ground has been turned for construction, which should not happen until the suit is adjudicated."
Clampitt concluded his email by saying he was prepared to introduce legislation aimed at halting the project and requesting that the federal legislators help "block and halt" the Catawba from locating their casino in North Carolina by requesting that the DOI discontinue its support for the project. So far this year, Clampitt has not filed any bills related to the Catawba issue.
When asked for his stance on the issue, Cawthorn responded that the deal "stinks to the high heavens," and averred that the DOI "violated federal law to force this off-reservation casino onto North Carolina." He said he would oppose any legislation seeking to condone the DOI's "illegal acts" but did not address whether he planned to take any proactive action to stop the deal.
"Helping the Catawba Tribe get a casino on their own reservation in South Carolina makes sense," said Cawthorn. "But it's pretty clear that making investors rich at any cost has driven this process, not helping the Catawba tribe. This casino is a bad deal for North Carolina and sets a dangerous precedent for allowing wealthy developers to abuse our government."
Thirteen of Clampitt's Democratic colleagues in the N.C. House of Representatives also voiced opposition to the casino project, signing a March 16 letter that Rep. Susan Fisher wrote to Attorney General Josh Stein, reminding him that House members from both parties have "strongly opposed" the casino for more than seven years.
Fisher cited lack of transparency from elected officials and untraceable land holdings as two major areas of concern, writing that multiple current and former elected officials who took action on the project stand to benefit , including family members of Kings Mountain Mayor Scott Neisler, who have significant land holdings around the property. Additionally, she wrote, "other properties surrounding the casino are being bought by a nearly untraceable network of LLCs, sometimes by entities that do not seem to have any legal organization or registration."
She concluded the letter by calling on Stein to conduct an investigation to determine if Kings Mountain has a conflict of interest policy and if any of the city's elected officials broke that policy; require Cleveland County to disclose any information from closed-door hearings in which commissioners might have learned information they could use "to gain improper benefits"; and to determine if land transactions around the casino site "meet all state laws for transparency and legality."
The moving parts are many, and much will depend on the ultimate — and still far-off — conclusion of the lawsuit. However, when asked publicly, leaders of both tribes express confidence that their cause will win in the end.
"I don't think the Department of the Interior, after their rigorous and deep dive into this situation, would actually take land into trust for gaming if they had not done their work," said Harris. "So I'm going to rely on the Department of Interior to stand behind what they did."
Meanwhile, Sneed has repeatedly assured his tribe that the court will rule in the EBCI's favor.
"We believe the facts are clear," his statement read, "and that the court will invalidate this illegal casino and along with it, this compact."