Archived News
Records show Catawba casino developer donated to bill sponsors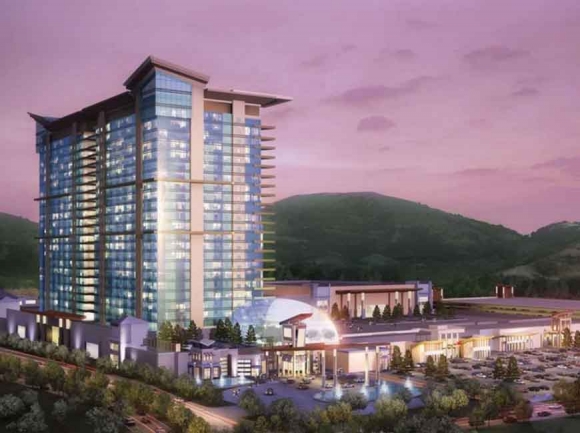 Federal campaign finance records show that Wallace Cheves, developer for a proposed Catawba Indian Nation casino in Kings Mountain, donated nearly $50,000 between 2015 and 2018 to the campaigns of the three U.S. senators sponsoring a bill aimed at making the casino a reality.
The bill, S.790, is sponsored by South Carolina Sen. Lindsey Graham and co-sponsored by Sen. Thom Tillis and Sen. Richard Burr, both republicans of North Carolina.
Donations from Cheves
Between Jan. 1, 2015, and Dec. 31, 2016, Cheves donated $16,400 to committees supporting Burr's candidacy, $15,500 to committees supporting Tillis' candidacy and $5,400 to support Graham's presidential bid. Cheves was a co-chair of Graham's South Carolina Finance Committee in the race. He also gave $5,400 to Graham's senatorial re-election campaign in 2017 and $5,400 to Tillis' re-election campaign in 2018.
In addition to giving to individual candidates, Cheves was generous to the Republican Party as a whole. Federal Election Commission records for 2017-18 show an $8,100 donation to the N.C. Republican Party, $100,000 to the Republican National Committee spread over two donations and $33,900 to the National Republican Senate Committee. In 2015-16, he gave $10,000 to the National Republican Senate Committee.
Cheves said the donations aren't related to his role as developer in the casino project.
"I have donated to many other campaigns and individuals in several states," said Cheves. "I contribute to those that share my vision for economic growth and job creation. That's why I've worked actively and closely with the RNC (Republican National Committee) and even helped a multitude of candidates nationally."
It is true that Cheves has donated to a variety of political committees outside of those supporting Graham, Tillis and Burr. In the 2015-16 period, he gave 19 donations totaling $68,100 to 12 federal election committees supporting representatives from three states, two presidential candidates and three other political committees.
In 2017 and 2018, his 21 donations totaled $218,700, the higher amount due largely to $100,000 he gave to the Republican National Committee, $35,000 for the Chairman's Victory Fund and $33,900 to the National Republican Senate Committee. In addition to Graham and Tillis, his donations supported Senate candidate Patrick Morrisey, Sen. Rick Scott, Sen. Cory Gardner, Rep. Patrick McHenry, House candidate Dan Hamilton, Rep. Alma Adams and Rep. Greg Gianforte.
Cheves is the managing partner at Sky Boat, LLC, a company he formed in 2009 to work with the Catawba on developing gaming opportunities, according to a biography on Sky Boat's website. He has a long history in the casino industry, forming First Class Games in 1998, a company that grew rapidly in the U.S. and South America, and in 1999 he and his partners created Players Club Casino, one of the first internet gaming portals, which is licensed and based in Antigua.
He has succeeded in a variety of other business ventures as well, including co-founding First Link, Inc, whose technology is currently used throughout the gift card and debit card industry; restructuring Leisure Time Casino Resorts after buying it out of bankruptcy; and forming Palmetto Princess Casino Cruises.
Cheves said that, if the bill passes, the planned 220,000-square-foot facility could be open "well before the Republican National Convention in August of 2020."
The 2015-16 election cycle was the first time that Cheves gave five-digit federal campaign donations. In the 2013-14 time period, he gave only two donations totaling $2,000, and previous to that the only donations listed are $2,500 in 2012, $400 in 2001, $600 in 1993 and $714 in 1992.
Spokespeople for Burr and Tills both said that the donations have had no impact on the senators' support for the bill, with Caitlin Carroll of Burr's office noting that Burr does not intend to run for re-election and therefore does not need campaign funds. He was re-elected in 2016 with the seat next up for election in 2022. Graham's office did not return a request for comment.
The donations make up a small percentage of the campaigns' total fundraising. Between 2015 and 2018, the Thom Tillis Committee logged $3.44 million in receipts; during the same period, the Richard Burr Committee raised $12.91 million.
Federal records do not show any donation history for the Catawba, though the Eastern Band of Cherokee Indians is a donation powerhouse, giving between 17 and 79 donations in every two-year cycle since 1999. The tribe donates to candidates and organizations supporting both Republicans and Democrats. In 2017-18 it gave $5,400 it the Thom Tillis Committee, with no money donated to any of the three sponsoring senators in 2015-16.
Opposing takes on the bill
If passed, S.790 would authorize the Catawba — a federally recognized tribe with a reservation in Rock Hill, South Carolina — to own a gaming facility on a 16.5-acre piece of land in Kings Mountain, North Carolina, and authorize the Secretary of the Interior to take that land into trust for the tribe. The bill states that the facility would comply with the Indian Gaming Regulatory Act but be exempt from Section 20 of that law. Section 20 would have triggered a complicated approval process involving endorsement from the U.S. Secretary of the Interior and the governor of North Carolina, as well as consultation with local stakeholders.
The Catawba say that the bill would clarify language left vague by the tribe's 1993 lands claim settlement agreement with Congress and give a much-needed economic boost to both the tribe and the Kings Mountain area. According to federal census estimates for 2013-2017, 28.5 percent of the 416 households in the tribe's 1,000-acre South Carolina reservation had incomes below the federal poverty line, and the unemployment rate is 12.6 percent. The casino could drastically improve both those figures, as happened in Cherokee as its gaming enterprise grew.
"Catawba's only looking to do what Cherokee has already done," Catawba Chief Bill Harris told The Smoky Mountain News in April. "As a matter of fact we wish to mirror exactly what they've done."
Proponents say the bill would help them get there by laying out some technical changes to existing law.
"The Catawba Land Clarification Act will help clarify Congress' original intent when they passed the Catawba Lands Settlement Act of 1993," Burr wrote in a May 13 letter to Waynesville Mayor Gavin Brown. "Congress always intended for the Tribe to be able to make mandatory land acquisitions in both North and South Carolina in a service area they have historically occupied. But because of unclear language in the law itself, the Catawba's claim is still being disputed 25 years later."
The letter went on to say that, should the bill be enacted, the tribe would still need to gain approval from the State of North Carolina to conduct gaming on the property.
"While I understand your concerns, I believe it is right to ensure the Tribe has the opportunities that were originally understood to be theirs under the 1993 law," Burr wrote.
Opponents of S.790 disagree with every part of that position. They say that nothing in the record shows that Congress in 1993 had any intention of allowing the Catawba to take land into trust in North Carolina, that the service area defined in the agreement — which includes Cleveland County, where the proposed casino would go — relates to determining funding for federal services rather than to land acquisitions, and that the land in question is historically Cherokee, not Catawba.
Finally, they say, there is nothing in the law to support the idea that North Carolina's approval would be needed in any way, should S.790 be passed as written.
There is some evidence to support those positions. In regard to the historical land claims issue, an 1884 map filed in the Library of Congress showing the tribe's former territorial limits includes the area that is now Cleveland County toward the eastern edge of the tribe's territory. The Catawba cite information on the Charlotte Museum of History's website stating that the tribe settled in the Piedmont area 10,000 years ago.
When it comes to the contention that Congress really meant to allow for land claims in North Carolina when it approved the 1993 agreement, even though the document doesn't lay out a process for such claims, Sneed said that's a nonsensical argument.
"The language matters," he told The Smoky Mountain News earlier this month. "If it had been the intent of Congress back in 1993 to allow the Catawbas to take land into trust in North Carolina, they would have said so."
Under the definitions section in the agreement, "tribe" is defined as "the Catawba Indian Nation of South Carolina," and "state" is defined as "South Carolina" in all instances except for a single section dealing with ratification of prior transfers. The agreement also states that South Carolina has jurisdiction over the tribe, which could raise issues should the tribe find itself in ownership of North Carolina land.
Concerns about state input
Cherokee leaders reject the notion that North Carolina would have the ability to approve or deny gaming in Kings Mountain under the bill's current language.
Section 20 of IGRA, from which the bill would exempt the tribe, lays out a long and complicated process for getting off-reservation gaming projects such as the proposed casino approved. The process includes environmental assessments under the National Environmental Protection Act, traffic and economic impact assessments, consultation with the state's governor and local government officials within 25 miles of the proposed site, and input from nearby tribes. It can take a decade and millions of dollars to navigate, and at the end of it all the governor of the state has final veto power — a person who wasn't even in office when the application was first filed can toss out the whole project with the stroke of a pen.
The bill would allow the Catawba to sidestep that whole process, marking the first time an off-reservation casino had ever been approved through legislation. The tribe would still have to clear some hurdles to get its casino built, but they would be much easier hurdles to jump, mainly involving the federal government ensuring the tribe has the proper legal framework in place to govern the casino.
Tribes can operate class I and II gaming operations without a state gaming compact — it's only class III gaming that requires a compact. Class III gaming includes card games, casino games like roulette, slot machines, sports betting and lotteries. Bingo and lotto are examples of class II gaming. For its first 15 years of existence, the casino in Cherokee offered only class I and II gaming.
"We encourage the Catawba Indian Nation to pursue an on-reservation economy in their home state of South Carolina like we have developed in our home state of North Carolina," Sneed said. "This bill is a harmful precedent — the first time Congress has authorized a tribe to acquire land into trust simply to create an off-reservation casino. It's increasingly clear that North Carolina opposes this federal overreach and we encourage the (Senate) Committee (on Indian Affairs) to vote against Senate Bill 790 and return to the proven federal application process that has served tribes, states and local communities for decades."
Cheves, meanwhile, said it's about jobs and economic opportunity — Cherokee should be supporting the Catawba's efforts to lift themselves up, he said.
"I am proud of the work our team has done in its efforts to bring thousands of new jobs and economic opportunities for the Catawba Indian Nation and Cleveland County," he said. "It's unfortunate that those profiting off the Eastern Band of Cherokee, one of the richest tribes in the country, with a monopoly in gaming in North Carolina, continue to actively oppose the very same opportunities for other less fortunate tribes."
Sneed is not the only one protesting the legislation. So far, 16 counties and municipalities in the western region passed resolutions opposing it and touting the positive economic impact Harrah's Cherokee Casinos have had on the region. A new casino in Kings Mountain would likely deliver a hit to Harrah's, siphoning away some of the 30 percent of its customers who are geographically closer to the Kings Mountain site.
Additionally, 38 North Carolina senators signed a May 16 letter in opposition. U.S. Rep. Mark Walker, R-Greensboro, who has been widely speculated to be a potential Primary Election contender for Tillis, has also come out against S.790.
"Despite strong bipartisan opposition from our state and local governments, this federal overreach would give preferential treatment to a tribe recognized by South Carolina to reap benefits at the expense of North Carolinians and the Eastern Band of Cherokee Indians," Walker said. "I urge my colleagues in the U.S. Senate to oppose this legislation and ensure that North Carolinians don't have their voices stripped away."
Rep. Mark Meadows, R-Asheville, has not responded to requests for comment on his position, with his office replying that it doesn't typically comment on Senate bills.
The Senate Committee on Indian Affairs held a hearing on the bill May 1, but no further action has been taken — to move forward, the bill will need a favorable vote from the committee before proceeding to the Senate floor.