Summer Camp Guide
Art school empowers kids during pandemic
Wednesday, March 10, 2021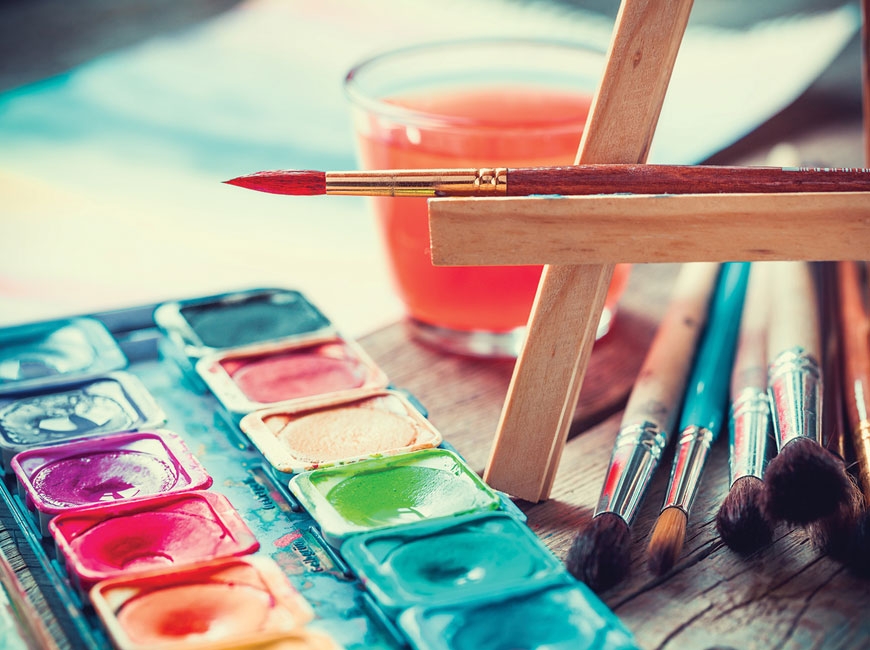 Waynesville Art School will celebrate its second anniversary this April 27, and as anyone with young children now understands, turning one, and then two, in the midst of a global pandemic is less than ideal.
But Luba Petrova, founder and director of Waynesville Art School is optimistic. Not only about the upcoming season of camps and classes, but also about what art can provide to people of all ages during the stress of a global pandemic.
Petrova began establishing Waynesville Art School a little over two years ago after having what she considered a "revelation" in New York City. She was there visiting a friend, who has an art school of her own and asked Petrova to substitute a class.
"I had never considered it until that December day. I had never considered doing it full time for whatever reason. I don't know why. The opportunity that my friend gave me where I just spent two hours teaching kids, I don't know, it just opened my eyes," she said.
She recalls texting her brother during her trip home, telling him she was going to open an art school. This would have been nothing new for her family though because Petrova's brother, mother and father were all teachers during their lives.
"Maybe," Petrova says, "it transcends a family."
Due to the rigorous education system in Russia, Petrova's country of birth, she is well rounded with practice and experience in all mediums. That is what was expected at St. Petersburg Academy of the Arts, a solid foundation across the wide spectrum of art forms. But, Petrova naturally gravitated toward painting, drawing and printmaking, favoring the use of black and white. After immigrating to the United States and being accepted to The Cooper Union for the Advancement of Science and Arts, Petrova added photography to her repertoire of preferred mediums.
The revelation came that day in December 2018 Petrova signed a lease Jan. 7, and doors opened April 27, 2019. Less than a year after opening, the pandemic forced Waynesville Art School to temporarily close its doors. After taking time to figure out the legalities and logistics of running art classes during a pandemic, Waynesville Art School opened back up in mid-June 2020.
"The thing that struck me tremendously after we were able to re-open in mid-June is how much kids missed being around other kids. When I saw it, it was like the very first camp and, you know, after a lot going on, you can imagine how emotional it was to actually open the doors and actually see real people, with masks and shields and everything."
Waynesville Art School has been and will continue to follow strict social distancing guidelines. This means usually five students per class for ages 6 and under, and seven for ages 7 and older. There are certain exceptions for siblings or other children who are already in the same pod.
Throughout the spring and summer, Waynesville Art School will offer classes for children of all ages. Some of the camps will be theme based, mythical creatures for instance, in which case students of different ages will work on different age-appropriate projects. This allows for siblings, or kids of different ages within the same pod to attend the same camp while working different projects, related by theme.
Petrova feels that empowering kids through art, especially while they are living through the uncertainty of the pandemic is incredibly valuable. Teaching kids how to create art and providing them the time and space to create freely gives them the gift of an avenue for expression.
"You don't have to become a professional artist, you don't, it just makes you express how you feel. It makes you express whatever is bottled up. You can work through your emotions," she said.
Saturday, April 3, Waynesville Art School will showcase a "Dragons and Castles" installation that includes the work of students from 4 years old to adults. Most of the materials for the installation are upcycled and found objects. For families interested in an art camp or class this Spring and Summer, Petrova recommends coming to the showcase.
Waynesville Art School art camps will run through June, July and August. To find more information or register, visit www.waynesvilleartschool.com.