Summer Camp Guide
Waynesville Rec delays summer camp decision
Wednesday, March 10, 2021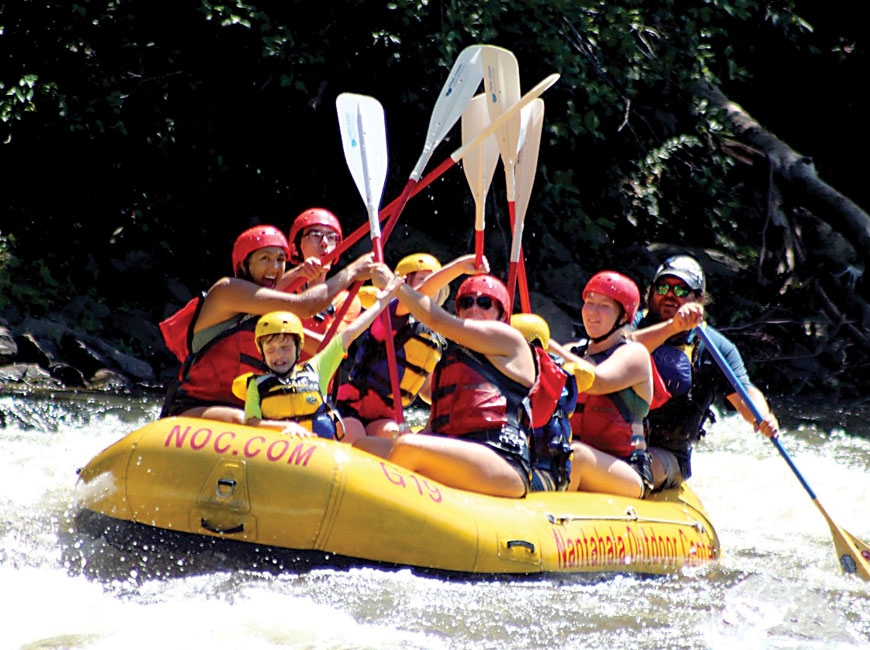 Campers navigate a rapid during a Base Camp Waynesville session. Donated photo
In a normal year, this would be the week that parents hoping to get their kids a coveted place in the enormously popular Base Camp Waynesville Summer Camp series would rush to the Waynesville Recreation Center as registration opened, hoping to snag one of the soon-to-vanish spots.
But this is not a normal year.
"We're trying to wait as long as we possibly can, and then be making decisions on what we can and can't do," said Waynesville Parks and Recreation Department Director Rhett Langston.
In 2019, the last year Base Camp was offered, there were eight weeks of camp, each enrolling 40 to 50 kids. Campers went hiking, swimming and rafting. They watched movies, played sports and got hands-on environmental education opportunities. There was a lot going on. Waynesville Rec offered camps for basketball, volleyball and soccer as well.
But with things so uncertain as the pandemic continues — albeit now with a light at the end of the tunnel — Langston isn't ready to pull the trigger on camp quite yet. Transportation is a big part of it. Many of the most popular summer camp activities require transportation off-premises, and Langston is not able to offer that at the moment. While there is not currently any state guidance specific to summer camps, guidance concerning childcare facilities advises discontinuing "in-person activities that involve bringing together large groups of people or activities that do not allow for social distancing (field trips, performances, etc.)."
"What are you going to do if one day it thunderstorms all day?" he said. "If you can't transport them anywhere off property, then what are you going to do?"
Waiting doesn't come without a cost. By this time in the season, the recreation department would normally have held a couple open houses to recruit summer hires, and staff would be well into the planning phase. Langston estimates that he has until mid-to-late April, at the latest, to make a decision and still make camp happen, if doing so seems wise at that time.
Some camp offerings are more COVID-safe by nature, as they rely more on outdoor activities, though transportation needs complicate the safety component. Others, like basketball and volleyball camp, don't require transportation but do involve intense physical activity indoors. Then there's international soccer camp, which is staffed by people traveling from abroad — there's no telling what kind of international travel restrictions might be in place by summertime.
"We're planners by trade, and the fact that we have to sit on our hands so to speak, that's really nerve-wracking," said Langston. "Like everyone else, we're ready to go. Let's get back to normal."
But the most important thing, he added, is to do so responsibly.
"We want to make sure everyone's safe," he said. "We absolutely don't want to do something we can't control, and all of a sudden there's an outbreak or a cluster of the virus here. What we're trying to do is trying to wait and see how this thing plays out."