Archived News
Jackson approves economic development strategy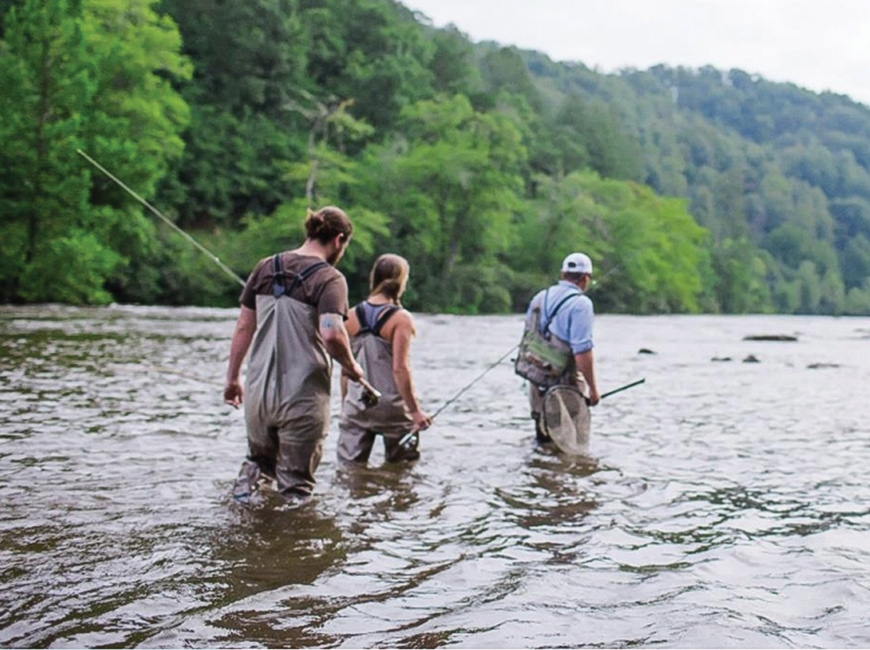 Jackson County's natural resources, including the angler-friendly Tuckasegee River, are key to its economic development plans. Jackson County TDA photo
A plan that will guide the county's economic development strategy for the next five years received unanimous support Feb. 16 from the Jackson County Board of Commissioners.
"We all know that the county is growing well," Arthur Salido, director of business strategy and economic development for the consulting firm WithersRavenel, said during a Feb. 9 work session. "With growth comes challenge, but also opportunities. When we started this process a year ago and COVID hit, it was hard to predict how that would impact the county."
The resulting Comprehensive Economic Development Strategy, Salido said, will help equip the county and its stakeholders "with strategies and resources to tackle all the challenging issues that ignite the changes that lead to meaningful impact."
The planning process kicked off in August 2020, a collaboration between WithersRavenel and the Jackson County Office of Economic Development. To create the plan, the economic development office chose about 30 business, government, regional and state leaders to act as a focus group, generating feedback and advice. The commissioner-appointed Business and Industry Advisory Committee played an important role in the process as well. The plan draws heavily from the Jackson County 2040 Land Use Plan, which was approved in 2017 and contains goals related to economic development. The economic development plan also emphasizes the county's 2012 Comprehensive Economic Development Strategy and the Southwestern Economic Development District's 2017 CEDS.
The final product features eight economic development goals with short-term, mid-term, long-term and ongoing action items under each. These goals aim to address four key issues that the group uncovered while researching the plan.
• Affordable housing: In Jackson County, 52 percent of renters and 21 percent of homeowners in Jackson County have a hard time affording housing based on average housing prices and income data.
• Workforce: Focus groups were concerned about the county's inability to attract the skilled trade workers it needs or to retain youth and talent.
• An aging, growing population: The county's population has increased 7.8 percent since 2015 and is expected to increase 4.1 percent between 2020 and 2025, but its share of retirement-age people is higher than normal. The national average for a comparable population would be 12,919 people 55 and older, but Jackson County has 14,436 people in that age group.
• Industry mix: Government is by far the largest sector in Jackson County, employing 4,989 workers. Trailing are accommodations and food services with 2,442 workers, health care and social assistance with 2,101 workers and retail trade with 1,911 workers. Together, these four sectors employ more than 70 percent of Jackson County workers.
To address these issues, the plan outlines eight goals.
• Goal 1: Maintain a robust and sustainable tourism destination. Stakeholders indicated that Jackson's communities could benefit from a more diverse mix of businesses to spur visitation and development of the economy and community. A regional branding campaign to highlight assets like the Great Smoky Mountains National Park and Harrah's Cherokee Casino, enhancements to Tuckasegee River access areas and a new event or conference center were also suggested. In addition, focus groups expressed concerns about the environmental impacts of tourism and asked that the county consider measures to protect its natural resources.
• Goal 2: Build a workforce that will meet the needs of current and future employers. Jackson County contains multiple high-quality education providers as well as highly skilled second-home residents and retirees, but filling Jackson County jobs with Jackson County residents remains a challenge. In 2017, the number of non-residents working in Jackson County outweighed the number of Jackson County residents commuting to other counties by 1,571. This fact could indicate that neighboring counties offer residents better access to resources like housing and broadband. Workforce development suggestions included creating job shadowing and internship opportunities for high school and college students and focusing on positive career messaging for elementary and middle school students. Collaboration with higher education providers to expand educational opportunities and creating transit and ridesharing opportunities to help employees without their own transportation are also suggested.
• Goal 3: Countywide high-speed broadband availability. While the region is gradually adding internet capacity, access is still lacking. Suggested actions to address this issue include creating a new Digital Inclusion Committee to foster collaborative discussion between various players, ensuring the county has a complete inventory of current broadband infrastructure and accurate broadband map, and evaluating how funds from the Jackson County Revolving Loan Fund can be redirected toward broadband-related priorities.
• Goal 4: Create a marketing campaign for Jackson County to support existing business and attract new businesses. Limited developable land and distance from the interstate highway system challenge industrial recruitment, so Jackson County is focusing on attracting businesses from five target industries — education, gaming, health care, tourism and retirement. Suggested actions to achieve these include establishing a regional tourism brand/identity, collaborating with regional partners to undertake a research-based supply chain study, maintaining an up-to-date searchable online database of available buildings and sites and creating cluster focus groups to meet and discuss emerging trends.
• Goal 5: Identify investment opportunities to address current and future critical economic needs. Issues surrounding the lack of affordable housing and developable land for new housing came up in every stakeholder meeting during the planning effort. The plan recommends that the economic development office create a housing task force and that Jackson County pursue options like forming a memorandum of understanding with landowners permitting the economic development office to market their property to housing developers. In general, the county should evaluate public-private partnership opportunities to create workforce housing, explore opportunities with the Federal Housing Finance Agency and evaluate utility infrastructure needs for housing expansion.
• Goal 6: Commit to becoming an entrepreneurial/small business capital. Stakeholders recommended that Jackson County create a small business and entrepreneurial hub in downtown Sylva to catalyze job creation and retention. Collaboration between organizations would be key to achieving this goal, as would high-speed internet access for tenants. Ideally, the hub would provide free public Wi-Fi throughout downtown Sylva, helping to close the "education gap" for students who don't have broadband at home and improving the tourism experience.
• Goal 7: Maintain a comprehensive economic development strategy. The county must develop a detailed work plan supporting implementation of the action initiatives in the CEDS. The county will likely need additional staff to help carry out the plan's recommendation and should create an annual status update on the action items, also planning to revisit the entire plan every five years.
• Goal 8: Maintain and enhance quality of life for citizens, tourists and small business owners. Stakeholders stressed the importance of maintaining Jackson County's vibrant and walkable downtowns, growing health care system, family-friendly and low-crime atmosphere and ample outdoor recreation assets. To protect these benefits, the county should develop a long-term water resources management strategy, create a mixed-used real estate development, improve river access and add bike paths and access for alternative transportation.
The Office of Economic Development, which is responsible for overseeing most of the objectives listed in the plan, currently has only one employee — Director Rich Price. However, Price left that position on Feb. 12 for a new job as director of economic development at Western Carolina University.
Jackson County is currently advertising the position and accepting applications through March 8. Allowing for time to review applications, conduct interviews and let the chosen candidate to give notice at his or her current job, the county hopes to have someone in place by mid-May. The position's pay range is $53,734 to $66,812. Implementing the CEDS will be part of the new director's job description.