Archived News
Foxfire and BPR team up for COVID-19 oral history project
Wednesday, February 24, 2021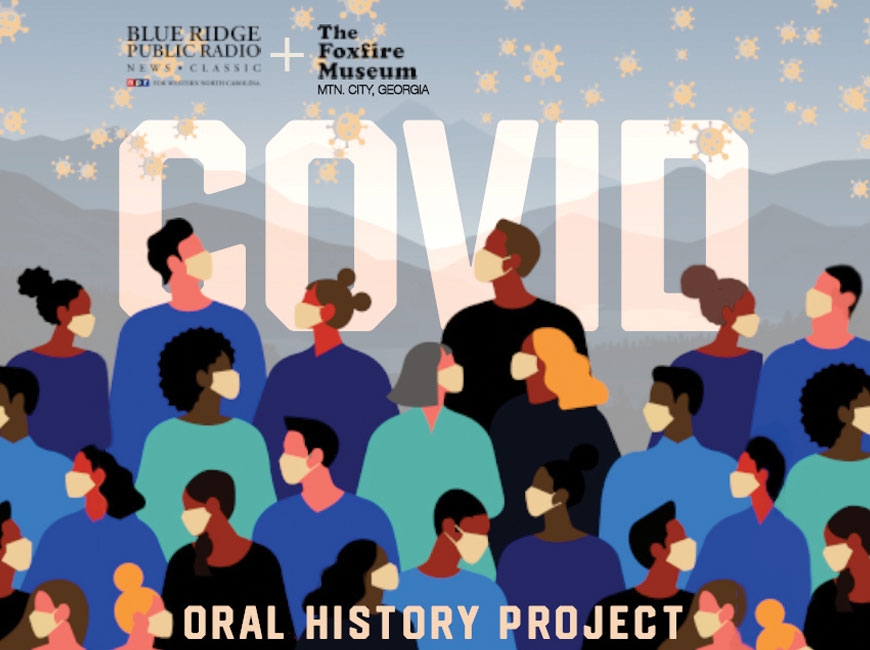 Since the beginning of the pandemic, Foxfire has been collecting stories, memories, photographs and artifacts related to the experiences of people in Appalachia during the COVID-19 pandemic. Now, Blue Ridge Public Radio is partnering with the project to help expand its reach and focus on collecting stories from Western North Carolina.
Foxfire is not new to the art of listening to peoples' stories. Since its early days as a classroom English project at Rabun Gap-Nacoochee school in Northeast Georgia in 1966, Foxfire has worked to listen and document the stories and experiences of Appalachian people. Over its 55-year history, Foxfire has created a series of anthologies, magazines and an oral history archive documenting the life and history of Southern Appalachia.
The women leading the charge to document COVID-19 oral histories bring an abundance of knowledge and passion for storytelling to the project.
Kami Ahrens joined Foxfire in 2017 as assistant curator and educational outreach coordinator. Her academic background is in anthropology and archeology with an emphasis on museum studies, specifically material, culture and identity.
"I've always been incredibly interested in the everyday perspective of ordinary people, especially when it comes to history. I think those are where a lot of the gaps in our historical record are. I think that by speaking to people and learning their stories, that we can start to fill in those gaps," Ahrens said. "And I think those stories become the bridge between our present and our past and help us to understand where we came from and the things that happened and how we can learn from those lessons and navigate our present."
At a staff meeting in March 2020, just as COVID-19 was emerging in the United States and pandemic restrictions were being put in place, Ahrens introduced the idea for a crowd-sourced oral history project about the developing global event. Her fellow staff members agreed that the project aligned with the Foxfire's mission and work began to get the message out to people of Southern Appalachia: we want to hear your stories.
The project expanded over the summer with the work of five high school students as part of Foxfire's summer leadership program. Over the course of eight weeks, the team conducted 40 interviews via Zoom with local businesses, educators and other individuals about the impact of the pandemic in the Appalachian community. Collection efforts continued through the fall, which is when Lilly Knoepp, regional reporter for Blue Ridge Public Radio, reached out about collaborating on this project in honor of the anniversary of the pandemic.
Knoepp is the first full-time regional reporter for Blue Ridge Public Radio, covering everything west of Asheville. She knew she wanted to be a journalist, she says, after accidentally joining the newspaper in high school. Once the work of putting out the paper began, she was hooked.
"I realized that it was really fun that you could make a whole career out of just kind of talking to people and telling their stories," said Knoepp. "I was a really big reader when I was a little kid and I started talking to people for journalism class and I realized that real people are even more interesting than the characters in a lot of books."
After graduate school in journalism, Knoepp fell in love with radio. She says it has something to do with hearing people's voices when they are sharing their stories.
"It's just really nice to hear exactly how people sound when they're explaining something really personal, and I think it's really hard to replicate that outside of radio," she said.
Growing up in Franklin and reporting on Western North Carolina for BPR, Knoepp was no stranger to Foxfire or its work. Like many media outlets these days, BPR has committed a large majority of its time to reporting on stories related to COVID-19 over the past year. It has even encouraged listeners to share their stories with BPR as they related to the pandemic.
Knoepp and Ahrens saw where their work converged and understood that combining forces could improve the reach and breadth of story collection. Collaborating with BPR has allowed Foxfire to refresh and reintroduce the COVID-19 oral history project to the public, emphasizing collection in Western North Carolina. Foxfire and BPR will share interviews and oral histories to be both archived and broadcasted.
"As public historians, we have a responsibility and interest to capture history as it happens around us, and to engage the community in that pursuit," said Ahrens. "Historical moments like this drastically shape who we are as a culture, as a nation. Collecting oral histories offers a personal connection to the past and allows individuals the opportunity to help write history from their own perspective, creating a more diverse and robust historical narrative."
The team at BPR will work to collect more stories from the pandemic, archive the numerous interviews related to COVID-19 from the past year, and amplify the crowdsourcing efforts of Foxfire to engage more people with the oral history project.
Foxfire has over 2,700 oral histories in its archive from the past 55 years which, Ahrens says, have been useful for people during this time of uncertainty.
"It's been a really interesting time for Foxfire because a lot of people have turned to the Foxfire books to relearn those tangible skills that are preserved in those oral histories."
Though the Foxfire project didn't start until 1966, its collection reaches much farther back into the history of Appalachia.
"They have oral histories of people who were a hundred years old remembering the 1918 pandemic. So being able to preserve what's happening here in Western North Carolina, during COVID-19 right now is something people are going to be able to look back on in the future and really learn from," Knoepp said.
Both Knoepp and Ahrens have listened and documented the stories of Appalachian people throughout this pandemic and have observed as perspective has shifted and grown. Both women understand the value of documenting that perspective for the future, as well as the connection storytelling creates for the present.
"Perhaps the strongest theme in all the interviews is a need for face-to-face connection and physical engagement with a community," said Ahrens. "Everyone has been so creative in their search for connection, and I am constantly impressed with the imaginative ways people have found to recreate experiences and community on a digital level. All examples of our resiliency."
BPR will be launching this project with a series of features beginning Friday, March 5. Foxfire is currently sharing its stories in the bi-annual Foxfire magazine, the "It Still Lives" Foxfire podcast and on social media @foxfire on Facebook and Instagram.
To share your story via audio recording, journal entry, photograph or video, visit www.foxfire.org/covid19 or email This email address is being protected from spambots. You need JavaScript enabled to view it..