Archived News
Jackson to pause vaccine registration Feb. 26
Friday, February 19, 2021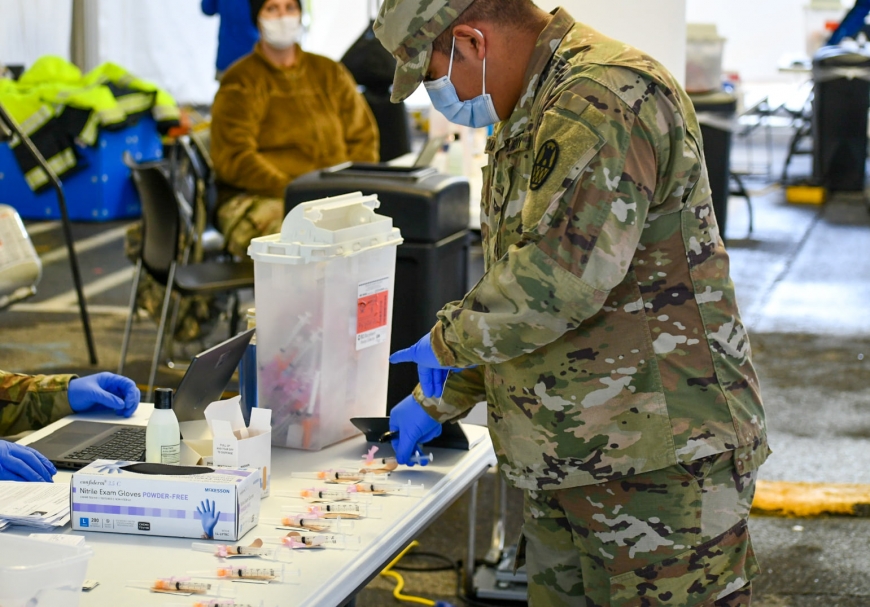 A National Guardsman works during a drive-thru vaccination event on Feb. 11. Jackson County photo
Jackson County will close its phone-based vaccine appointment registration system on Friday, Feb. 26, as the county prepares to offer the vaccine to additional groups.
Since late December, the Jackson County Department of Public Health has worked to vaccinate those in Group 1 (healthcare workers, those living and working in long term care facilities) and Group 2 (those 65 years and older). Working with Jackson County Emergency Management, Jackson County Department on Aging, Jackson County Sheriff's Office, other county departments, Sylva Police Department, Harris Regional Hospital, Harris EMS, and many others, the health department has preregistered more than 7,000 community members, provided eight drive-thru clinics and administered more than 4,000 vaccines.
Soon, the vaccine will become available to additional groups, and the health department aims to transition from its current method of pre-registering community members via the phone line at 828.631.HELP.
"We are proud of the work we have accomplished thus far," said Health Director Shelley Carraway. "We know we have much work yet to do but it is important to pause and thank all who have been involved in this successful operation."
The pre-registration list at 828.631.HELP will close on Feb. 26, so any community member who falls into Group 1 or Group 2 and is not yet on the list should call prior to that date. With the list closed, the health department will work to schedule appointments until everyone on that list has been vaccinated.
From there, the department will open an online portal to schedule community members who fall into later groups. More information on this portal will be available at a later date.
For more information, visit the health department website at www.health.jacksonnc.org/covid19 or call 828.631.HELP.