Archived News
WNC schools already adhering to state recommendation
Wednesday, February 10, 2021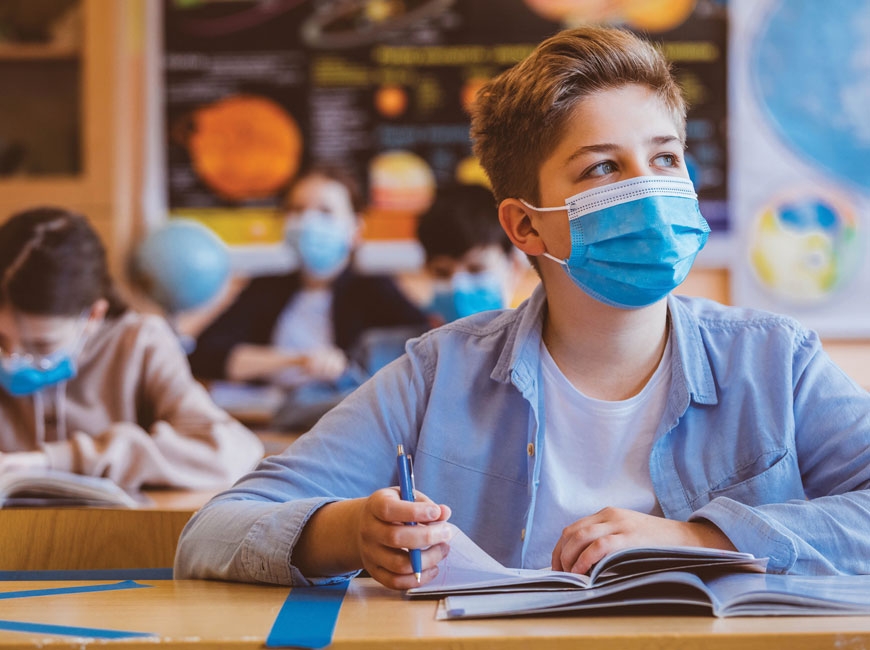 Last week, North Carolina officials recommended that all schools return to in-person learning as soon as possible.
In a letter sent to school board members and superintendents in North Carolina, Gov. Roy Cooper, Superintendent of North Carolina Department of Public Instruction Catherine Truitt, Secretary of North Carolina Department of Health and Human Services Mandy Cohen, and Chair of State Board of Education Eric Davis, jointly said they "strongly recommend that all public schools provide in-person instruction using the safety protocols outlined in the NC Strong Schools Toolkit.
"We've learned much more about this virus and now it's time to get our children back in the classroom," Cooper said during a Feb. 2 press conference.
While some school systems in the eastern part of the state are not happy with the recommendation, which came without loosening any of the COVID-19 related restrictions for schools, school systems in Western North Carolina have already been offering in-person instruction to students since September.
Haywood County Schools Superintendent Dr. Bill Nolte and School Board Chairman Chuck Francis were very clear that this bill, if passed as it has been proposed in the Senate would not make any changes for Haywood County Schools moving forward.
"That was an announcement for the 25 school systems in the state that have not done any in-person learning," said Nolte. "It was, I think, a very well-intended move, to get school systems who had not done in-person to do it with some pressure. But the message was for those districts and not districts like ours that have been doing the work for months. They changed nothing that would allow us to have Plan A, as our elementary schools do, for middle or high."
Because the new bill does not change any of the guidelines for social distancing in classrooms at the middle school or high school level, nor the guidelines for social distancing on school busses, Haywood County Schools is not able to send more students to school than are currently attending on a daily basis.
"We don't have enough busses, we don't have enough bus drivers, we don't have enough space at Tuscola, we don't have enough space at Pisgah, and it goes right on down to Waynesville Middle School, Canton Middle School and Bethel Middle School," said Francis. "If they would lift that restriction on social distancing, that would open it all the way up in my opinion."
Francis also said that staff availability could be a limiting factor for middle and high school going back full-time, in-person, but they couldn't know for sure until that opportunity arose. So far, the only known COVID-19 spread within Haywood County Schools has been among teachers, not among students.
"The other thing that would have been really nice, if they would have put the teachers in that first group of people to get vaccinated, I think they were as much essential as anybody," said Francis. "If they wanted it, I'm not gonna tell somebody to get a vaccine. But it would have helped tremendously if they would have been moved up the list."
At this point, guidelines and requirements for social distancing in schools and on school busses would have to change before middle school and high school students could move toward more in-person learning.
The North Carolina Association of Educators has opposed the bill, with President Tamika Walker Kelly stating, "we encourage local school boards to continue to make decisions that protect students and educators based on local conditions."
Kelly has also said that in order for all schools to return to in-person learning safely, the Governor and the State should work towards vaccinating all teachers.
A press release from Jackson County Schools said that the Feb. 2 press conference probably created confusion across the state regarding what — if anything — had changed. Many families were unsure if the comments indicated a mandate from the state to bring students back to school on a regular schedule.
Interim Superintendent Dr. Tony Tipton explained that Jackson County Public Schools already makes every effort within existing state guidelines to offer each student an option for in-person learning at least two days per week. Currently, 77 percent of the district's total enrollment have chosen the option for in-person learning.
"Nothing changed in the requirements that schools must meet," Tipton said. "The governor and state superintendent were simply encouraging districts to open up as fully as possible across the state."
All schools in North Carolina must follow the Strong Schools NC Public Health Toolkit (K-12) from the N.C. Department of Health and Human Services.
"We had hoped the six feet distancing requirement for grades 6-8 would be changed to align with the requirement for grades K-5 so we could add middle school students to the four-day week," Tipton said. "Since that did not occur, JCPS will continue with the current operating arrangements."
Assistant Superintendent Mr. Jacob Buchanan offered further clarification regarding the comments made by state officials at the Feb. 2 press conference.
"The governor was encouraging some districts across the state that have been remote-only for much of the school year to begin more face-to-face learning, which is what Jackson County Public Schools have been doing for most of the school year," Buchanan said.
Tipton agreed and credited JCPS staff, students and parents for being flexible and supportive as the district has adapted to changes in state requirements as well as a spike in positive COVID-19 cases following the holidays.
"I will compare what JCPS has done this school year with any district in the state," Tipton said. "Every time the guidelines have changed and allowed more students to be in school, we have changed with them."
Tipton and Buchanan are proud that Jackson County Public Schools have maintained a low rate of COVID-19 infection compared to many other school districts. As of Feb. 5, only 54 staff members and 104 students had reported positive COVID-19 test results.
"When you compare our numbers and what we have accomplished to others in WNC and across the state, it really is amazing how well JCPS has done," Buchanan said. "Without the support of our staff, parents and students, this would not have been possible."
Swain County Schools has also been offering in-person instruction since the beginning of the school year whenever possible, with students in Group A and Group B alternate days for in-person instruction and remote learning. However, keeping enough staff and teachers in the classroom has been a challenge at times and all learning has had to be fully remote at certain times.
"We were struggling all last week to keep enough teachers and assistants in classrooms," Superintendent Mark Sale told Swain commissioners in mid-January. "We had a total of 58 staff quarantined last week for at least a day or more. And that's not all teachers — we have 193 instructional staff members between five schools — 45 of those were quarantined at least one day."
Some weeks, Sale said, the schools are trying to operate with 77 percent of the staff, which is problematic at the high school where there is only one qualified teacher to teach a certain subject.
Macon County Schools will see no changes in response to proposed Senate Bill 37.
"The one component of Senate Bill 37 that was of most interest to me was that this bill would require local boards to provide an in-person plan A or plan B option for all students that are in grades k-12. Local boards may opt for Plan A, all Plan B, or a combination thereof. So this bill wouldn't have an impact on what we're currently providing in Macon County," said Superintendent Chris Baldwin.
Currently, K-4 students in Macon County are operating under plan A, with minimal social distancing required. Students in grades 6-12 are operating under plan B, with moderate social distancing required. (Fifth grade students at Mountain View Intermediate are operating under plan B, because the school also serves higher grades, while other fifth grade students in the county are under plan B.) Under plan A, students are not required to be six feet apart while in the classroom, under plan B, six feet of social distancing is required in the classroom.
In Macon County, Nantahala School, Union Academy, Macon Early College and Highlands School can have all students on campus and still maintain six feet of social distance. Mountain View Intermediate, Macon Middle School and Franklin High School are operating under plan B, but do not have the space to have all students on campus at once and maintain six feet of social distance.
"While the majority of students in NC are attending school virtually, most of the school systems in North Carolina are actually already in-person, as is Macon County," said Baldwin. "Macon County is currently providing the maximum amount of in person instruction that we can provide under the current toolkit for reopening schools."
According to Curriculum Coordinator Josh Lynch, teachers are putting in a lot more time, across the district, to serve students' needs, both in-person and virtual.
During a special called meeting on Feb. 4, Baldwin asked Macon County Public Health Director Kathy McGaha when it was likely that teachers would be able to receive vaccines, as this would make a big difference in the ability to return to more in-person learning.
McGaha informed the school board that teachers fall into group three, as frontline essential workers. Currently the county is vaccinating groups one and two, which have to be completed before moving on to group three. McGaha said that if the supply does not increase it would be numerous weeks before the county could move on to group three.
"If our school staff were vaccinated, that would certainly reduce the likelihood that there would be quarantine and have to stay home and possibly not only be able to provide virtual instruction. So the sooner we can get our staff vaccinated, the sooner we can return, safely, to in-person instruction for all our students," said Baldwin.
Jessi Stone contributed to this report.