Archived News
Architectural contract approved for Jackson pool
Thursday, January 21, 2021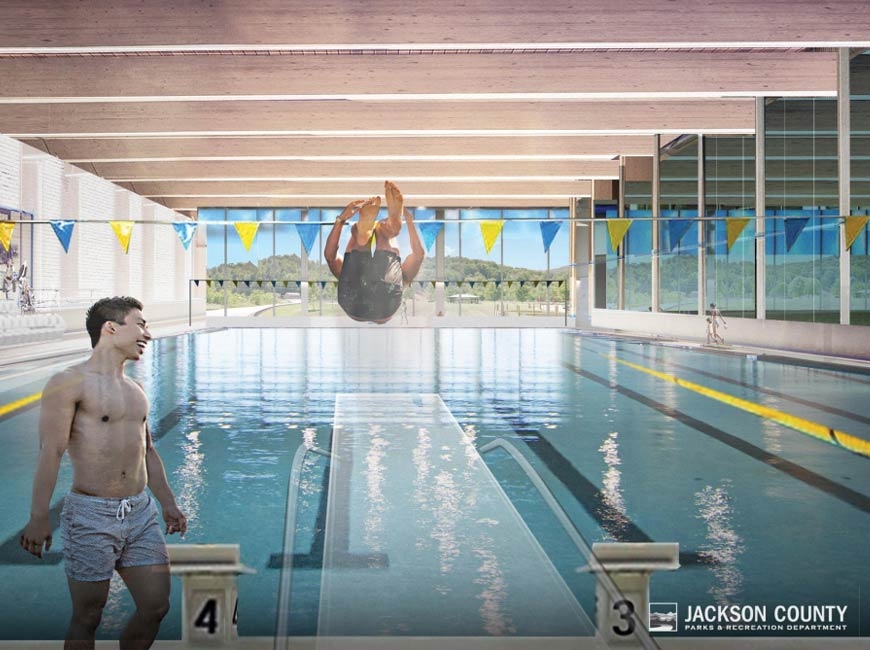 Jackson County commissioners approved five pieces of legislation during their regular meeting Jan. 19 that will allow work to begin on the indoor pool project voters approved in a Nov. 4 referendum vote.
Included among them is a $1.46 million architecture and engineering contract with the Asheville-based firm ClarkNexsen. Now, the firm will get to work creating construction and bid documents, with bid opening currently expected to occur in April 2022.
"These are complex buildings with a number of systems, and the aquatic components that are in there, so it takes quite a bit of time for us to put together the design documents," ClarkNexsen principal Chad Roberson told commissioners during a Jan. 12 work session.
Once bids are received, the county will proceed with issuing the bonds authorized by November's referendum. Once the bonds are issued, the project ordinance — of which an initial version was passed Tuesday — will be updated to include bond revenues and the entire project cost. After the updated project ordinance is passed, the board will be legally able to approve a construction contract.
Construction is expected to start in spring 2022, wrapping up in December 2023 or January 2024.
In addition to the contract, commissioners approved the following pool-related documents Jan. 19:
• Certification of election results. Commissioners passed a resolution verifying that the referendum question asking voters to approve a general obligation bond of $20 million plus interest for the indoor pool project passed with 51.4 percent of the vote, or 10,550 out of 20,520 votes.
• Budget ordinance amendment. The ordinance amendment moves $1,487,488 from fund balance to the general fund for use in the indoor pool project.
• Capital project ordinance. The project ordinance authorizes spending $1,487,488 on planning for the pool project. That total includes $1.46 million for architectural and civil engineering fees, $22,488 for surveying and geotechnical services and $5,000 in contingency funding. County Manager Don Adams will be able to sign off on the surveying and geotechnical costs later as they are needed.
• Authorization for the county to reimburse itself with loan proceeds. The resolution allows the county to fund early project costs using its general fund or any other specified enterprise fund and then reimburse itself using proceeds from the general obligation bond voters authorized in November. The measure will help expedite the project timeline. Costs included in the total price tag to be covered by the loan include planning, design, acquisition and construction of the indoor pool.
All five measures passed by a unanimous vote Jan. 19.
If all goes as planned, the indoor pool will be open for use in late 2023, more than 10 years after a survey included with the 2013 recreation master plan update showed that 86.4 percent of respondents believed a centrally located swimming pool was "important" or "very important." Before placing the referendum question on the 2020 ballot, the county conducted a follow-up survey, and 68 percent of respondents said they'd support construction of an indoor pool even if it meant raising taxes.
Based on 2020 tax values, an additional 2.26 cents per $100 on the county's existing property tax rate of $38 cents per $100 would be required to foot the bill. Of that amount, 2.22 cents per $100 would go toward the debt payment, so that portion of the tax would disappear once the 15-year loan term was complete. Jackson County just completed a property revaluation, and appraised values are expected to rise significantly this tax year, which could decrease the rate increase required to pay for the pool.
Bringing the question to the ballot cost the county $55,500, including $37,900 for ClarkNexsen to develop schematic design plans and cost estimates; $2,600 for geotechnical work from Wood Engineering; $7,500 for the bond attorney fee and $7,500 for education marketing materials.
The facility will include a leisure pool featuring a splash pad, adjustable basketball hoops, a vortex therapy pool and a volleyball net as well as a six-lane, 25-yard competition pool with a foldable one-meter diving board, climbing wall and spectator seating. The addition will also include locker rooms, a party room and renovated classroom areas at the union with the existing building.
The referendum vote ultimately passed with a slim majority that was heavily influenced by geography. Voters living closer to the proposed location at the Cullowhee Recreation Center were much more likely to vote yes, with the measure gaining 62.4 percent approval in the Webster precinct, 59.6 percent in Cullowhee, 55.3 percent in Sylva/Dillsboro and 56.6 percent in Caney Fork. However, a majority of voters in the county's remaining nine precincts said no to the measure.