Archived News
New director takes reins at Folkmoot
Wednesday, January 20, 2021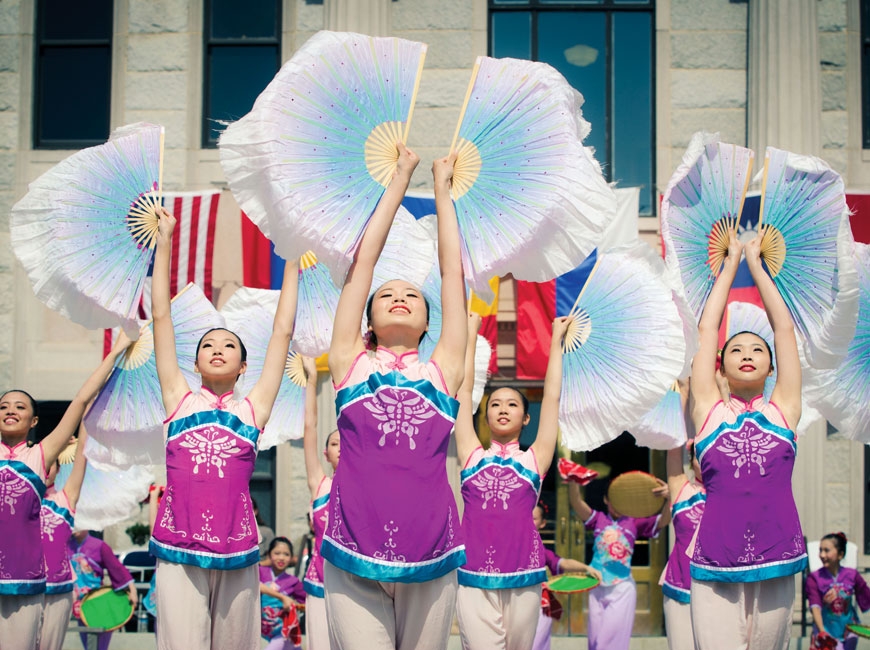 Like any organization that brings people together, Folkmoot USA had a difficult 2020. Without the ability for travel or gathering, there was no chance for the annual international festival or any of the other in-person programming planned throughout the year. During that time of cutbacks, former Executive Director Angie Schwab resigned to begin other work.
In the holiday newsletter, Board President Elizabeth Teague said "We wish Angie well in her new endeavor and appreciate that she has maintained her leadership as the President of the North American Chapter of CIOFF — the International Council of Organizations of Folklore Festivals and Folk Arts — with the gracious support of the Board Emeritus Rolph Kaufman."
Jumping in to fill the vacancy is incoming Executive Director Glenn Fields. He is a native son of Southern Louisiana and grew up in Baton Rouge. From a young age, Fields says he was fascinated with music, obsessed even. Despite that passion he entered the professional world, following in his father's footsteps as an engineer. He never thought he could make it as a musician, he says, because he didn't personally know any professionals — anybody making their living off that beloved art form.
After being laid off due to a downturn in the industry, Fields found those people and began traveling the world as a professional musician. He had been playing the drums since he was 16 years old, and after he began playing professionally, the skill took him around the world and culminated in two Grammy nominations.
"I've been to just about every country in Europe, played in all 50 states in America. I've been all over Canada, I've been to Australia and Malaysia," said Fields. "I think that about covers it. I haven't been down into South America and Mexico yet, but I really want to go."
In 2006, Fields started the Black Pot Festival, a cook-off and music festival that hosts bands from all over the U.S., Canada and Australia.
"It's a camping festival. People play music for each other in the campgrounds and cook for each other. The bands perform on three different stages. This past year would have been our 15th year, and we produced an online festival," Fields said.
For the past four years, Fields has been working with the nonprofit organization Louisiana Folk Roots that works to preserve the culture of Southern Louisiana. Part of its work included a week-long immersion.
"People would come down and we'd spend a week in the woods playing Cajun music and Creole, Zydeco music, learning how to cook the food, learning all the dances, the language, the songs and local characters, kind of immersing folks from other parts of the world in our culture here."
As the pandemic settled in, Fields realized he would have to lay himself off from the executive director position of Louisiana Folk Roots and began looking for other work.
"I found out more about what Folkmoot does, and I had never heard of the organization before, but I started doing a lot of research and was very, very impressed," said Fields. "I'm super excited to get involved in an organization that's been around for this long, and has been able to bring folks from all over the world right there to Waynesville."
Fields says he is planning for a few different contingencies. Though he is hopeful that 2021 will improve with the dissemination of the vaccine, no one knows what the future holds. Outdoor events, short festivals, U.S. based ethnic groups are all within the realm of possibilities.
"I'm hoping that people will understand where we're at and just continue to support Folkmoot because it is so special," said Fields.
With his background working with local cultures and communities in south Louisiana, Fields says he looks forward to engaging Western North Carolina culture as part of Folkmoot. He is also excited about operating in the Folkmoot Friendship Center, the old Hazelwood school.
"I think there's a lot of fun opportunities for me as a music fan, visual arts, dance and movement fan to program some really cool things in the theater there," he said.
If folks want to get in touch with Fields about volunteering, questions they may have, or sharing stories about being involved in the past, they can email him at This email address is being protected from spambots. You need JavaScript enabled to view it. and he will be happy to talk.