Archived News
Opposition forms against proposed Haywood jail
Tuesday, January 05, 2021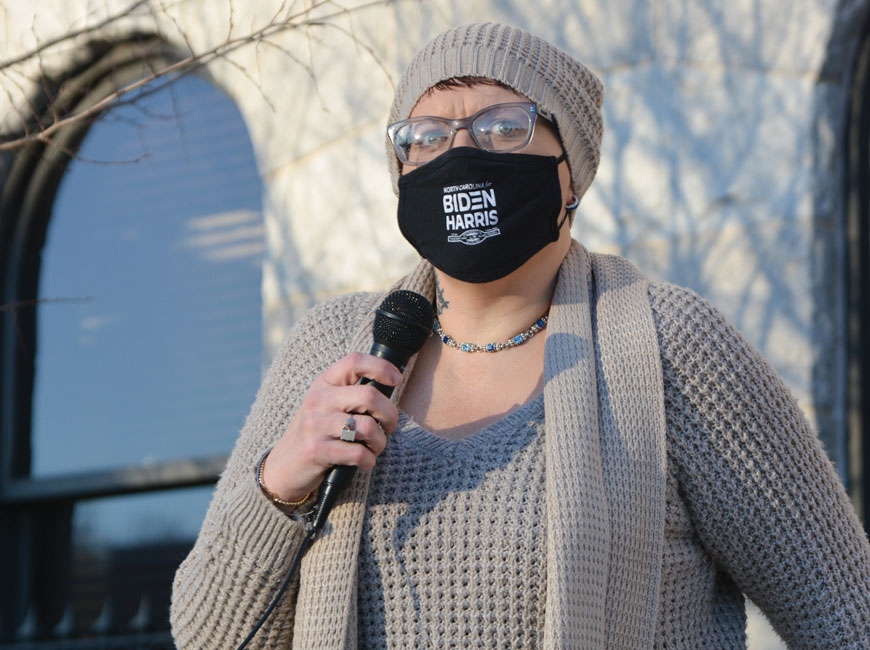 Crystalyn Jackson, who's served several stints in prison for drug-related crimes, speaks to the need for more recovery resources in Haywood County. Cory Vaillancourt photo
A Nov. 3 report by the Haywood County Sheriff's Office demonstrating the need for a $16 million expansion to the existing detention center hasn't exactly met with approval from all sectors of the community.
"Jail does nothing for the people in jail, which also means it also does nothing for the citizens of Haywood County," said Hazelwood resident Crystalyn Jackson. "There's no rehabilitation help in jail. Even if it was just a class or two, it could help get things started."
Jackson, who said she'd served three separate sentences in prison on drug-related charges, spoke at a small press conference in front of the Historic Haywood County Courthouse the morning of Jan. 4.
With her were several members of the Haywood chapter of grassroots advocacy group Down Home North Carolina, which opposes the jail for a variety of reasons.
Stats provided in the HCSO's report show an increase in jail admissions from 3,352 in 2017 to 3,998 in 2019. A press release issued by Down Home says that between 2000 and 2018, the incarceration rate increased by 133 percent against a working-age population increase of 8.4 percent over the same time frame.
Those increases aren't going away, according to both sources, and the new jail would accommodate that growth through 2045.
Down Home's press release asks Haywood commissioners to consider addressing the drivers of jail population growth instead of simply providing more room for inmates. In 2018, 32 percent of the jail population were pretrial detainees, and 63 percent were in for misdemeanors.
A Western Carolina University study claims 85 percent of detainees show signs consistent with substance use disorder, half have symptoms of PTSD and a third may have major depression.
"We need to build a rehab center," Jackson said.
A 2019 study by the National Harm Reduction Coalition says that fully half of Haywood County residents who need substance abuse treatment don't have access to it because they either don't have health insurance, can't stand the long wait time for a bed, don't have transportation to get to a facility, don't know of a local facility or are too ashamed to admit they need the help.
Haywood Commissioners haven't yet given full approval for the new jail, but the project appears to be moving right along; an architect could be selected any day now. Construction is expected to begin in early 2022, with the jail coming online in late 2023.