Archived Arts & Entertainment
Proof is in the pie: Dough Boys artisanal pizza opens in Waynesville
Tuesday, January 05, 2021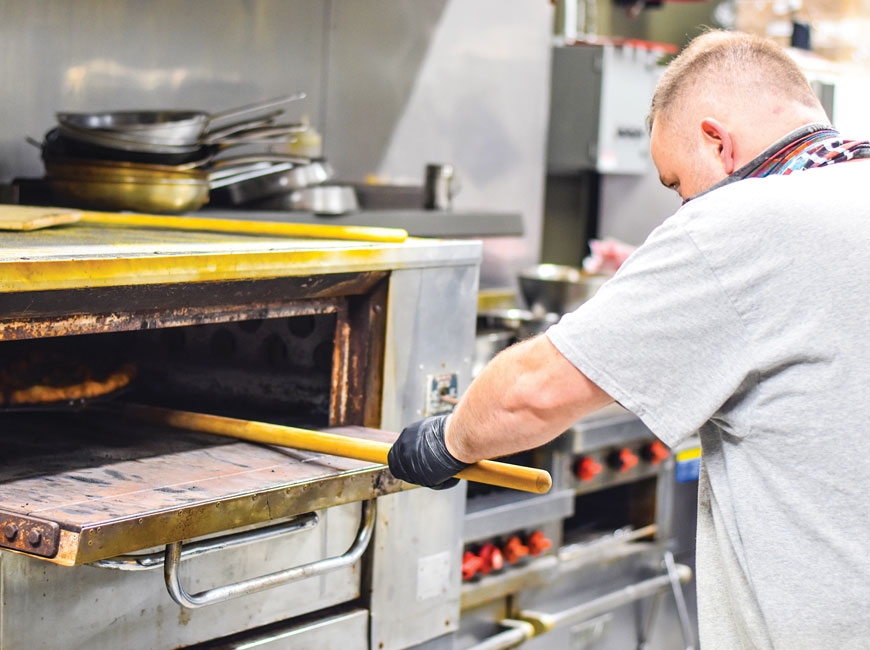 Located inside Mad Anthony's Taproom in Waynesville, Dough Boys Pizza & Wings offers an array of specialty and made-to-order artisanal New York style pies.
Grabbing a seat inside Mad Anthony's Taproom in downtown Waynesville one recent evening, Benji Boessel and Alex Tinsley can't help but gaze around at the other tables.
"When you put yourself out there, you're putting your reputation on the line every day," Tinsley said. "We're having so much fun doing this. To look around and see the people enjoying what we're doing is such a high for us — we're fueled by that."
Passionate members and contributors to the business and social circles of Haywood County, Boessel is the president of White Fox Studios in Frog Level, while Tinsley is the co-owner of Clean Sweep: The Fireplace Shop in West Waynesville. Tinsley was also the executive chef at the former Gateway Club, and at Balsam Mountain Preserve.
What the duo has been up to in recent months is Dough Boys Pizza & Wings. Situated in the former kitchen of Mad Anthony's, this brand new artisanal pizza spot is meant to not only complement the popular taproom, but also bring forth a different approach to handmade pizza in our backyard.
"Benji and I are best friends, and we have this great group of friends, where we all travel together, see new places. And we'd always scout out the great pizza joints wherever we went," Tinsley said. "Then, we'd come back home and couldn't really find that New York style of artisan pizza we love around here. So, we started making our own at home and when we'd all hangout."
During the quarantine and shelter-in-place last spring, the group of friends huddled together and stayed in their small social bubble. While doing so, they had to find ways to pass the time together, so they kept experimenting with pizza formulas: different doughs, ingredients and cooking approaches.
"We messed around with the dough for a long time," Tinsley said. "There's something about people falling in love with baking bread and the work that goes into making something with your hands — this intricate process of stretching the dough and making sure everything is just right."
Initially, there was talk of simply running a brick oven and pizza pickup window out of the White Fox Studios. But, when the kitchen became available at Mad Anthony's, Dough Boys jumped on the opportunity to lease the space — a partnership that felt seamless, perhaps almost serendipitous.
"It's a beautiful relationship — we handle the back of the house, they handle the front," Boessel said. "Businesses have to change and evolve to survive in these times, and this is a way to do just that."
Purchasing a full-size industrial pizza oven, Dough Boys had to carefully hoist and pivot the massive piece of equipment on a pallet jack from Clean Sweep (normally used to move heavy woodstoves). Once in place last fall, they began to invite friends and family over to try out test runs of artisanal pizzas currently on the menu.
"It's wild to see your friends come in for pizza five days a week, but what's really amazing is seeing those new customers coming in three to four times a week," Boessel said. "In good times and in bad times, you still have to eat, and pizza is one of those unique dishes that is communal — it brings people together."
The 'Black Balsam' pie is filled with cupped pepperoni, red onion, jalapenos, goat cheese, balsamic reduction drizzle and topped with fresh Parmesan.
Craving a pie?
Dough Boys Pizza & Wings is located at 180 Legion Drive in Waynesville (inside Mad Anthony's). Operating hours are 4 to 9 p.m. Tuesday through Saturday and noon to 8 p.m. Sunday.
To make an order, call 828.246.9249, email This email address is being protected from spambots. You need JavaScript enabled to view it. or visit www.doughboyspizza.us.
Mad Anthony's returns
On Tuesday, Dec. 15, the same day Dough Boys Pizza & Wings had its grand opening inside Mad Anthony's Taproom, the beloved Waynesville craft beer bar reemerged after months of being closed due to the pandemic.
"We didn't want to reopen until we felt safe enough for our staff, our families and our customers in this time of Covid-19," said Mad Anthony's co-owner David Young. "We hunkered down when we didn't know week-to-week what the restaurant restrictions would be with the shutdown."
Normally, Mad Anthony's would have its 50 taps of local, regional and national ales ready to pour. But, the reopening will consist of 25 to 30 rotating taps (15 online as of press time), with the other half of the bar counter being dedicated to craft cocktails in the spring.
"Though we're a long way from 'normalcy,' it is symbolic for us to have the taps running again, to see people come in and enjoy themselves," Young noted. "And as long as people keep following the mask rules and behaving — and I feel safe enough to leave work and go home to my wife — we'll keep doing this."