Archived News
Economic development ranking system 'cuts both ways'
Tuesday, December 22, 2020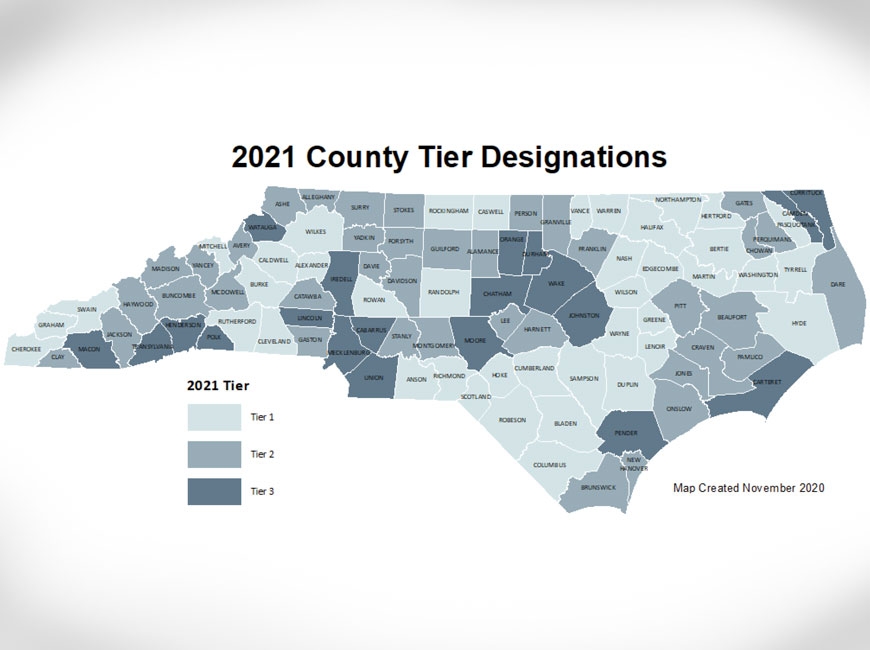 The 2021 County Development Tiers map shows persistent poverty—and prosperity—in the usual regions. NCDOC map.
Each year around this time, North Carolina takes a look at the economic prosperity, or lack thereof, in every one of its 100 counties. That analysis reveals the haves and the have nots, but it's about much more than just bragging rights.
Millions of dollars of state funding tied to economic prosperity, or more appropriately, economic distress, is disbursed in a highly competitive arena where winners and losers are decided as grant applications are approved or rejected and projects progress or wither on the vine.
A shift in rank has very real implications, but when rankings are published each year, one thing holds true — questions over whether the state's County Development Tiers designation system accurately reflects economic realities in counties, rich and poor, from Appalachia to the Atlantic Ocean.
Defining distress
The state's County Development Tiers designation system is designed to measure a county's relative prosperity as compared to others, and to encourage economic activity in those counties that are found to be less prosperous.
Guidelines for calculating a county's Development Tier designation are provided in General Statute 143B-437.08, but publication of the rankings is left to the North Carolina Department of Commerce.
Since at least 2007, four factors have been used to determine a particular county's designation.
The first, average unemployment rate, takes data from the NCDOC's local area unemployment statistics program for the most recent 12 months. Median household income over the previous 12 months is the second factor. The third is percentage population growth over the past 36 months, and the final factor is the adjusted property tax base per capita. The only metric that includes data collected during the Coronavirus Pandemic is unemployment.
Counties are ranked on a scale from 1 to 100 in each of the four factors. All are equally weighted. The highest possible score is 400, and the lowest possible score is four.
Then, counties are ranked by final score, from most economically distressed to least economically distressed. Tier Three indicates the most prosperous counties, and Tier One indicates the most economically distressed.
Per statute, there must be 40 counties in Tier One, 40 counties in Tier Two and 20 counties in Tier Three. Rankings are published on or before Nov. 30 each year, take effect on Jan. 1 and there is no appeal process.
Once they've all been sorted into tiers, counties may then become eligible for a number of incentive programs, contingent upon their tier assignment.
One is NCDOC's Job Development and Investment Grant (JDIG) program, which provides up to 80 percent of tax withholdings from new jobs for counties in Tier One, but 75 percent for counties in tiers two or three.
Another, the OneNC fund uses tier designations in a similar way. A discretionary cash grant program for job creation, OneNC requires a local government match for all grants. That local match is $1 per state dollar in the most prosperous (Tier Three) counties, $1 per two state dollars in Tier Two counties, and $1 per three state dollars in the most distressed counties (Tier One).
Those are just two of several dozen statewide initiatives that utilize the tier system to determine where funding should be directed, but the system is also helpful for private developers looking to locate in a certain economic development environment.
For example, in North Carolina, budget chain Dollar General has 143 locations in 109 municipalities spread across 69 counties, but only 22 percent of Dollar General locations are in prosperous Tier Three counties.
In 2019, the tier system was tweaked a bit to remove favorable adjustments to counties with small populations or extremely high unemployment rates.
Also eliminated was the stipulation that counties designated as Tier One would remain in that tier for at least one additional year, regardless of ensuing metrics.
A tale of two tiers
Next year's rankings show 22 counties with different designations than they had in 2020.
Haywood had alternated between Tier Three and Tier Two from 2014 to 2017, but was a Tier Three county from 2017 through 2020. This year, along with Alexander, Brunswick, Buncombe, Burke, Cherokee, Davie, Hoke, New Hanover, Randolph and Rowan counties, Haywood dropped a tier and is once again a Tier Two county.
"You know it's funny, when you first get the news it's a little like, 'Yes!' but then it's a little melancholy because being in Tier Three, we're pretty prideful in a lot of ways," said David Francis, a program administrator who handles much of the economic development work on behalf of Haywood County. "Now we're in Tier Two, which is definitely more reflective of where we need to be."
In 2020, Haywood was ranked as the 18th most-prosperous of North Carolina's 100 counties. Now, it's the 36th most prosperous.
The North Carolina Department of Commerce said in a memo that the 2021 tier change for Haywood was prompted by a huge shift in the county's unemployment rate. In 2020, only five counties had lower unemployment than Haywood County. Now, 62 counties boast lower unemployment.
"In February, we were at 4,200 jobs lost," Francis said. "The unemployment rate in May was 14.8 percent, the highest in 30 years."
More than 55 percent of those job losses came in the accommodation services, retail, arts, entertainment and recreation sectors, which historically have been the pistons powering Haywood's economic engine.
Francis said that all but about 1,900 of those job losses have returned, so Haywood is clawing its way back from pandemic-induced shutdowns in 2020. However, the impact of those job losses — and the resulting Tier Two designation — could help the county come back even stronger.
"We were excluded from all state-level broadband grants due to the Tier Three status, so now we're opened up to those. The North Carolina Main Street program and building reuse designations, now we can qualify for those," he said. "Reuse grants are going to be nice to have. We weren't able to get infrastructure grants as well, so yeah, this opens up a whole toolbox for us that we didn't have before."
Haywood County hasn't had much luck diversifying its economy, despite a marketing partnership with the Asheville Chamber of Commerce intended to attract new businesses, especially industry.
"I think many of our communities have struggled with product availability," said Christopher Chung, CEO of the North Carolina Economic Development partnership. "If a manufacturer is going to locate somewhere, they need a bricks-and-mortar establishment to produce their product. That can be an existing vacant building, or it can be an industrial site on which to construct their own facility. In a lot of our communities across the state, they may have a workforce, they may have a great community college that can train that workforce for a specific employer, but they don't have something ready to go on the timetable of when a company needs it."
Francis said that infrastructure grants could aid in the creation of new product offerings or foster improvements to Haywood's current infrastructure, like a build-ready pad at the Beaverdam Industrial Park and a large empty parcel off Jonathan Creek Road.
"If you're rated as a Tier Three, well, that tells the outside world that things are going well in your community and across most economic variables, you're doing relatively better than most counties in North Carolina," said Chung. "However, if you're trying to secure some of those state resources tied to the tier system, including incentives, potentially being a Tier Three might actually put you at a disadvantage to Tier Two and Tier One counties going after that same pot of resources. So it cuts both ways."
Although 11 counties dropped a tier this year 11 counties also rose a tier, thanks to the 40-40-20 rule. Beaufort, Camden, Carteret, Chowan, Jones, Onslow, Perquimans and Pitt were all designated as less distressed than in the previous year, as were the Western North Carolina counties of Transylvania, Polk and Macon.
"Out of those four metrics we improved in three," said Tommy Jenkins, director of Macon County's Economic Development Commission. "Of course, we already ranked quite high in adjusted property tax per capita. I think we were last year 97 and this year we dropped to 96. [The Department of] Commerce indicates the reason we're a Tier Three is because of our improvement in the other three metrics."
For 2020, there were 28 counties more prosperous than Macon, according to NCDOC data. This year, there are only 16 more prosperous counties than Macon.
The county's come a long way since 2015, when it dropped from Tier Two to Tier One. It wouldn't be until 2019 when Macon regained Tier Two status. For 2021, Macon County climbed into Tier Three, which means Jenkins' situation is the exact opposite of Haywood's Francis.
"It's going to cause us possibly to lose out on some various state funding opportunities — maybe not lose out, but we just won't be eligible for as much as we would if we were a Tier Two county," Jenkins said. "For instance, building reuse, some infrastructure programs. I'm really concerned how this is going to affect broadband plans in the future."
Different animals
Given the nature of any ranking system, there are bound to be complaints about how the ranks are determined. As counties rise and fall in North Carolina's Development Tier system, criticism seems to be enduring.
"It's long been an issue, well in advance of when I arrived in North Carolina six years ago," Chung said. "Thinking back to the interviews that I had for the job, at least one of the local economic developers I met with had brought this up as a challenge. In those six years now, I've had a chance to see that up close and personal. I think most people I've interacted with would admit it's far from a perfect system."
The crux of the matter is one that's long haunted Haywood — despite some prosperous areas, there still exists a need for grant funding in outlying areas where poverty is common and broadband is not.
"The Wakes, the Mecks — those counties are a different animal, and we were in the same category as those guys," said Francis.
Chung provided similar examples, including two of North Carolina's biggest tourist attractions.
"Moore County is where Pinehurst is," Chung said. "You go to Pinehurst and of course it's hard to imagine an area being more economically robust than the center of U.S. golf. But you don't have to go very far in Moore County to get into some really impoverished areas."
This year, Moore County has again been designated a Tier Three county, as it's been for at least the past seven years.
"Another good example is Lincoln County," said Chung. "You get over to Lake Norman, very prosperous, very well-to-do, you have probably one of the higher average household incomes in the whole state. But then you go to the western side of the county and it may as well be a different environment but they're all sitting within the same county."
Jackson County and Macon County experience a similar effect with Cashiers and Highlands, respectively.
"When you factor in the different variables, it tends to skew those counties more towards one extreme or the other of its economic wellbeing," Chung said. "As a result, it's not reflective of the whole picture within that county."
One longstanding suggestion has been to somehow expand the three-tier designations (think stoplight — red, yellow, green) into something more reflective of a rainbow.
"Yes, that's definitely a concept we're familiar with," said David Rhoades, Communications Director for the North Carolina Department of Commerce. "Indeed, it tracks well with a recommendation our department made back in 2015 when the legislature's Program Evaluation Division conducted a study of the tier system. At that time, we suggested moving to the concept of an index rather than the three-tier system."
Rhoades said that's not necessarily a current recommendation from NCDOC, and such changes haven't formally been considered since that time.
Another approach would be to do away with the county as the ranking unit, and start using census tracts. Currently, there are 2,195 census tracts in North Carolina.
"Census tracts could be a way to do it," Chung said. "That would be more granular than looking at county level of jurisdiction. There are some incentive programs that are more for rural economic development that do look at things like census tracts. Obviously, tiers are taken into account, but then they also look down at census tracts, so there's some precedent for this within the economic development world."
Macon County's Jenkins said there might be advantages to the system becoming more granular, but questioned how deep NCDOC wants to drill.
"I'm sure more granular it becomes, you're going to have other issues pop up, so I'm not sure exactly what the best route is," Jenkins said.
Chung said he's not sure of the kind of outcomes changes to the tier system would produce.
"I think the challenge," he said, "is, 'What system could come along and replace it that would satisfy as many, if not more, objectives and the spirit behind having this type of classification system?'"