Archived News
Jackson says goodbye to Mau and Luker
Thursday, December 03, 2020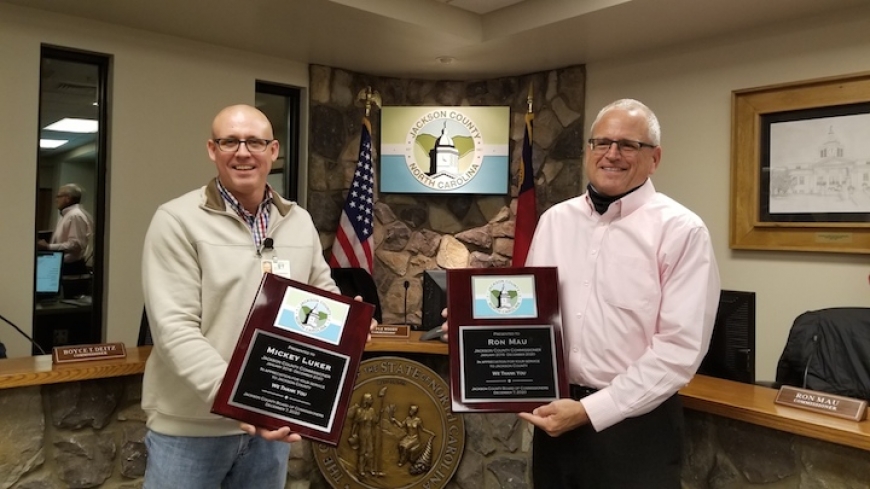 Outgoing commissioners Ron Mau (right) and Mickey Luker receive plaques commemorating their service. Chairman Brian McMahan (left) holds the plaque for Luker, who attended the meeting virtually. Jackson County photo
The Jackson County Board of Commissioners said goodbye to outgoing Commissioners Ron Mau and Mickey Luker on Tuesday, Dec. 1, the body's last meeting before the swearing-in or new representatives.
Both Mau and Luker were elected in 2016 to represent Districts 3 and 4, respectively. Their election flipped the board from a 3-2 Democratic majority to a 3-2 Republican majority, though Democrats won back the majority in 2018 and strengthened it to a 4-1 hold in November.
Neither man ran for re-election this year. Mau mounted a campaign for the N.C. House District 119 but lost the primary election to former Rep. Mike Clampitt, who ended up winning the contest. Luker did not file for any race this year, and his decision not to seek re-election followed continued criticism from the public over his continued absence from county meetings. His attendance began to drop off in summer 2019, and though he has attended many meetings via speakerphone, his last in-person appearance in the board room was Aug. 20, 2019.
On Monday, Dec. 7, District 3 Commissioner-elect Tom Stribling and District 4 Commissioners-elect Mark Jones will be sworn in.
"I can say with all sincerity that I have thoroughly enjoyed working with Ron Mau and Mickey Luker the last four years," said Chairman Brian McMahan Dec. 1. "When you work with people you get to know about their families, get to know about who they are, how they think, how they work, and I have found them both to be great leaders in our community. They just have a great heart in our community to have strived to work diligently to make sure that this board was always focused on doing what was best for this community and the people of this county."
Mau ended his term by urging all Jackson County residents to be active citizens, tuning in to meetings and keeping abreast of upcoming issues.
"It takes work to be a citizen, so I'll continue to be involved one way or another," he said. "It might be just watching meetings you YouTube, but believe me I'll continue to try to keep track and stay informed. It's just what I've always done."
Luker said he's grateful for what he's learned and experienced in the past four years.
"You can be born and raised here and until you get into the government section of it you really don't know a whole lot of nothing till that point," he said. "It's not a job that I think anybody can take lightly. It's also not a four or five-hour-a-week job either if you're going to do it right. But I've enjoyed it and I appreciate the opportunity to be able to serve my county."