Archived News
Jerry Wolfe Highway nears approval
Tuesday, December 01, 2020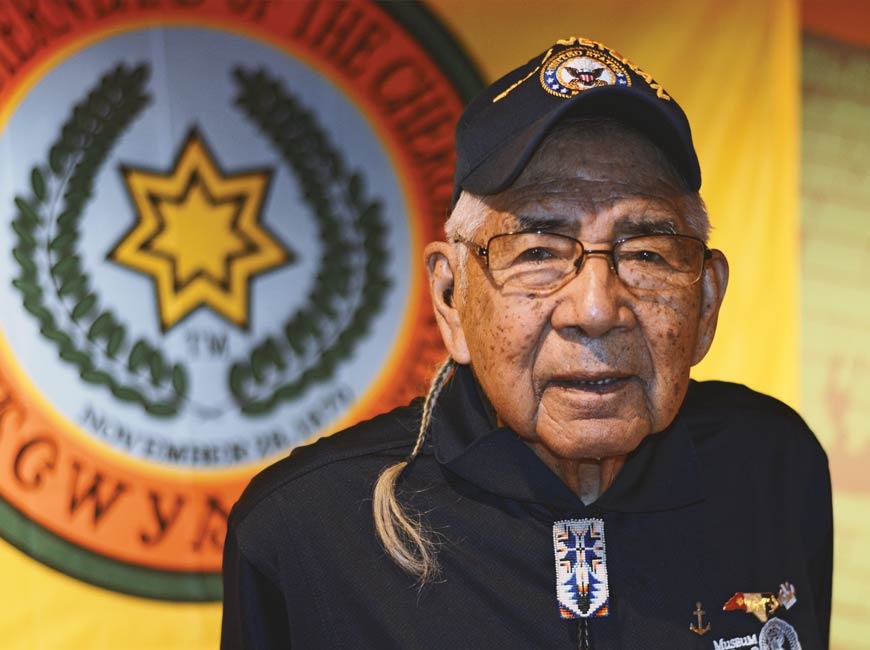 Jerry Wolfe was named Beloved Man of the Eastern Band of Cherokee Indians in 2013, making him the first man to receive the honor in more than 200 years.
UPDATE: The N.C. Board of Transportation unanimously approved the renaming during its Dec. 2 meeting.
The 4.2-mile stretch of U.S. 441 between U.S. 19 and the Smoky Mountain Expressway in Whittier will soon be known as the Beloved Man Dr. Jerry Wolfe Highway if the N.C. Board of Transportation approves the naming request at its Dec. 2 meeting.
If granted, the approval would be the final hurdle in a seven-step process that began March 2, when Jackson County Commission Chairman Brian McMahan submitted an application requesting that the road be named for Wolfe with signage in Cherokee and English.
McMahan's request followed an Oct. 28, 2019, resolution from the Eastern Band of Cherokee Indians Tribal Council supporting the change. However, the application had to wait because the DOT requires that honorees who are deceased be dead for at least one year before a road can be named for them. Wolfe passed away March 12, 2018.
"Dr. Jerry Wolfe was an outstanding citizen of Jackson County, and renaming a portion of the highway will serve as a constant reminder of what all citizens should strive for in their daily lives," McMahan wrote.
Born in 1924, Wolfe served honorably with distinction in the U.S. Navy as a Signalman Second Class, serving from 1943 through 1950 and participating in the Operation Overlord invasion of Fortress Europe in 1944 and on the front wave of D-Day and V-E Day. He also witnessed the surrender in Hawaii on V-J Day.
After leaving the military, Wolfe returned to Cherokee, married his wife Juanita, and started a family. He trained as a stonemason, working hard in the trade and teaching others to do the same over the course of 20 years at the Oconaluftee Job Corps Civilian Conservation Center.
"On his return to Cherokee, he became active in EBCI tribal veterans events for almost 70 years," reads a support letter from the American Legion Steve Youngdeer Post 143. "He continued his involvement up to his passing in 2018. Whenever he traveled to veterans honors and ceremonies to give presentations as a guest speaker, he always shared Cherokee culture and heritage in such a profound way that it instilled a lasting impression on those who were in attendance to hear this words."
Wolfe was widely recognized as an ambassador for the Cherokee language and culture, in 2008 receiving an award from the N.C. State Legislature for his contributions as a storyteller and stickball caller. For years he was a familiar face at the Museum of the Cherokee Indian, volunteering three days a week until shortly before his death. Wolfe received an Honorary Doctorate of Human Letters from Western Carolina University in 2017, the Order of the Long Leaf Pine in 2017 and the Patriot Award in 2014.
Perhaps most notably, he was named Beloved Man of the Eastern Band of Cherokee Indians in 2013, making him the first man to receive the honor in more than 200 years.
Tribal Council, the Swain County Board of Commissioners and the Jackson County Boards of Commissioners all unanimously passed resolutions supporting the road naming — Tribal Council on Oct. 28, 2019; Jackson County on April 7; and Swain on June 11.
The 35-page application package contains many letters of support from people and organizations in Swain and Jackson counties, showcasing the widespread respect that Wolfe's legacy commands.
"His dedication to proliferating the Cherokee language, teaching Cherokee history and culture, and serving as a true testament of a Cherokee leader should be recognized," Principal Chief Richard Sneed wrote in a Dec. 18, 2019, letter. "He was the best amongst us."
Vangie Stephens, one of Wolfe's three daughters, said the proposal gave the family "heartwarming honor and joy."
"We know when people pass this sign and travel this corridor of highway, they will ask, 'Who is Beloved Man Dr. Jerry Wolfe?'" Stephens wrote. "When they discover his work, it will advance the social-heritage and cultural capital of our tribal nation."
"Dr. Jerry Wolfe was a joy to work with and a beloved institution here in Cherokee and in our cultural district," added Jackson County Commissioner Gayle Woody in a Feb. 14 letter. "His great life is an example to us all here, and I cannot think of anyone more deserving of this great honor."
The transportation board will vote on the proposal during its meeting Wednesday, Dec. 2, which will begin following a work session that starts at 1 p.m. The meeting will stream online at www.livestream.com/nc-dot.
CORRECTION: A previous version of this story incorrectly stated that the portion of highway in question was called the Andrew Jackson Memorial Highway prior to renaming. In fact, the only highway in North Carolina named after Andrew Jackson is U.S. 74 from Wilmington to Asheville, christened the Andrew Jackson Highway in 1963. The Board of Transportation plans to conduct a "deep review" of that name beginning in early 2021.