Archived News
F*ckface and Other Stories by Leah Hampton: the real stories of modern Appalachia
Tuesday, December 01, 2020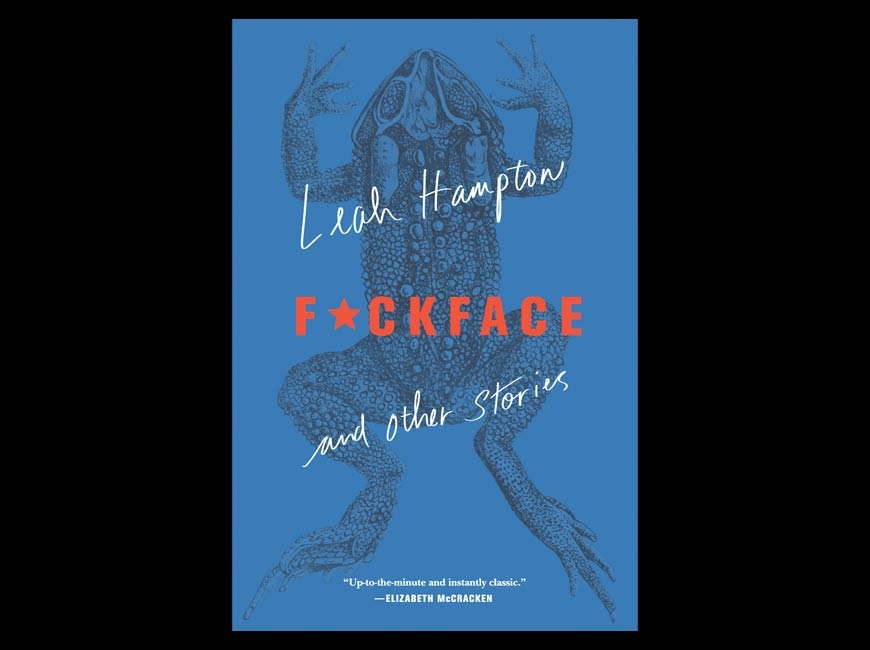 The name of Leah Hampton's new book will likely grab your attention. If it does, let it pull you in. This is one book you will be glad to have judged by its cover.
Pain and struggle persist throughout F*ckface, Hampton's collection of short stories — dying bees, struggling frog populations, burning mountains, dead bears, abusive families, infidelity, cancer scares — but just like the humans we know, that pain exists in the same space as their compassion, humor and excitement for life.
In this collection Hampton writes short, meaningful stories about everyday Appalachian people as they interact with the world around them. Within these stories Hampton has a way of bringing you fully into the minds and hearts of her characters, until you understand their difficulties and pleasures as if they were your own.
She does this through careful attention to minute details of human existence — movements, gestures, thought processes, syntax, the clothes on their back. If you are a native Appalachian, you will recognize these people. They are the people we encounter each day. They are our friends, family and acquaintances. They are the strangers we wonder about. Hampton's empathy for her characters, and the people of Appalachia is abundant.
The opening story of the collection, and namesake of the book, follows a teenage cashier, Pretty, at the Food Palace. There is a dead bear in the parking lot, and no one seems to know who is going to do something about it, but several days later the bear is still there. Dead. While the bear rots, Pretty is dealing with a hard case of teenage, unrequited love.
"There's a lot of unrequited love in the book and the thing about unrequited love is it's cringy and it's also hilarious. We do stupid things when we know somebody doesn't feel about us the way we feel about them," said Hampton.
The story ends with a delightfully comical, too-close-to-home reminder of how we try and avoid situations that seem beyond our emotional capacity. This is the treasure F*ckface holds. Familiar truths, in recognizable characters that evoke emotions, past and future, in the reader's life.
Hampton began writing the stories that make up this book in 2013. In 2016 she started a three-year program at the Michener Center for Writers in Texas.
"I had a lot of good feedback from really good mentors while I was there," said Hampton.
Leah Hampton.
She knew she was ready to put the collection out into the world as she explored new ideas for other projects she wanted to move on to. After her agent sent out the manuscript, Hampton was prepared to wait. Short story collections tend to be harder to sell, especially to big publishers. Just three days later, one of those publishers bought it. F*ckface: and Other Stories is now one of six finalists for the 2020 Thomas Wolfe Literary Award.
In this collection of stories, Hampton says, she knew she wanted to write about Appalachia, its ecology and its people. She wanted to do it from the feminine perspective. Hampton's family is from Eastern Kentucky and she has lived in Western North Carolina since her late teen years. That knowledge of, and deep intuition about, Appalachia come across strong in her stories.
"There are lots of books about this area, but they tend to be historical or about subjects that I don't really have as much familiarity with. I was really interested in regular, modern Appalachian people, working people. I couldn't find a book that represented them accurately. So I felt very attached to these characters and they feel very real to me," said Hampton. "They very much arrive in my head and I just sit there and take notes while they talk, these fictional people."
Hampton's first job out of high school was working for Greenpeace, the environmental organization. After college, she worked for the Friends of the Blue Ridge Parkway and the National Parks and Conservation Association.
"I was kind of one of those Asheville eco-warrior kids," said Hampton. "I was really aware of the environmental issues and problems that we have here."
That sense of attention to the natural world is felt deeply in Hampton's stories. Not in the eco-warrior sort of way, but in the way normal people, not seeped in environmental protection causes, notice the world around them changing. The trajectory of the natural world mirrors the difficult changes in characters' personal lives.
"It's hard because I'm writing something heavy, these are hard lives that these people are living in. It's tough stuff because we are in the middle of an ecological crisis and you know, it is bittersweet to live here," Hampton said.
Among the creativity and diversity in use of tense and point of view in these stories, one stands out. The penultimate story in the collection, Saint, is written without a sense of time, a tool Hampton used to communicate and put into words the inexplicable — grief.
"Grief is not linear. When people talk about those five stages of grief, you can experience all of those in one hour and then 10 years later, you're still in stage two. It's one of the things that, I think anybody who's experienced a loss like that understands, happens out of time. The rest of your life might be normal and linear and you're checking your watch, but that grief is just independent of time," said Hampton. "The other thing we know is that memory is flawed. We have these really imperfect pictures of our past. So I was really interested in that as someone who was caught up in this timeless experience of grief."
Though these stories explore pain, grief, unfulfillment and the like, there is always love, companionship, hope or a sense of magic that comes along with the darkness. This might be best exemplified in the last story of the collection, which involves a trip to Dollywood. It's difficult to articulate how clearly this portrays a sense of magic, albeit the sort that isn't as fulfilling in person as it is imagined. Hampton was clear, Dolly is an angel.
"I wanted to end on that note, and I wanted to end with Dolly because there's some religious stuff in the book and she's kind of like this angel at the end. I just think she's so important to the region and so iconic, so I wanted a high Holy visitation from the angel Dolly," said Hampton.
Leah Hampton's F*ckface and Other Stories is available now at Blue Ridge Books and News in Waynesville, City Lights in Sylva, and Malaprops in Asheville.