Archived News
Sylva grapples with slope failure fix
Tuesday, December 01, 2020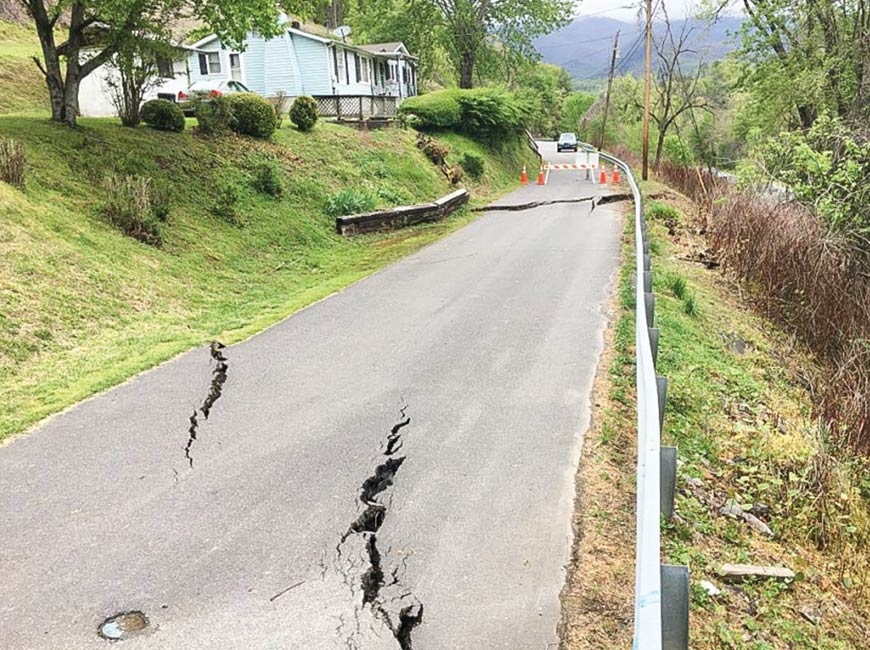 The initial slope failure on Allen Street resulted in closure of a portion of the road, seen facing north on April 30. Kessel Engineering Group photos
A 150-foot section of Allen Street in Sylva has been closed since April as the town board decides what to do about an ever-worsening slope failure that is now threatening the road in two separate places.
"At this juncture it makes no sense to repair one slide and not the other slide," said Public Works Director Jake Scott during a Nov. 12 town meeting. "If this new slide fails or the road becomes impassible, we're going to have multiple properties blocked. They're not going to be able to access their home or their property."
Allen Street is a narrow, winding residential road cut into a slope on the northeast side of Sylva, paralleling and eventually meeting Chipper Curve Road. It has a history of instability — at least three landslides have occurred there in recent memory, including a 2016 event affecting a 175-foot segment of the road about 330 feet southeast of the slope failure that appeared this spring. However, Scott said, the town has never before had to deal with two landslides at once.
The problem emerged around the same time as coronavirus-related closures and lockdowns became the norm, with minor cracks appearing in mid-March. The town contracted with Asheville-based Kessel Engineering Group to investigate the situation, and in April the consultants observed that the cracking had worsened, with the road shifting by about 4 inches after a heavy rainfall and breaking the Tuckaseigee Water and Sewer Authority water line located there. In early May, KEG measured a vertical displacement of 2 feet in the road cracks, with tension cracking extending upslope into the adjacent residential property and bulging the pavement at the Bryson Park entrance.
In a 45-page report released in July, KEG concluded that shallow groundwater, weak soils near the surface and heavy rain had contributed to the slope failure and that repairs would have to include installation of a horizontal drain system to lower the water table, as well as soil nails or ground anchors to stabilize the slope.
The initial slope failure on Allen Street resulted in closure of a portion of the road, seen facing south on May 6. Kessel Engineering Group photos
The town began gathering estimates, but in late August another slope failure appeared, creating a second area of cracked pavement about 260 feet southwest of the first. The N.C. Geological Survey conducted an analysis in October that included both areas. That report, published Nov. 2, concluded that the first slide area was mostly unchanged since May, though the bulging of the pavement at Bryson Park "appear(ed) to have progressed somewhat."
The new slope failure, the report said, consisted of "a series of discontinuous ground ruptures affecting Allen Street and the vegetated slopes immediately to the southeast" as well as an "active slide area" encompassing about 0.2 acres at the toe of the slope where it touches Chipper Curve Road. The failure had caused a ground rupture about 30 feet long on a vegetated slope about 15 feet southeast of Allen Street, located between the two areas of cracked pavement.
This area is not yet a complete failure requiring closure of the road, Scott said, but it could be headed in that direction. The NCGS findings led TWSA to take precautionary measures in case of future slope movement causing breaks in its water and sewer lines.
It's still unclear whether the ground ruptures are due to localized movement confined to Allen Street and its fill slopes, a larger slope response due to continued earth movement along Chipper Curve Road, or a combination of the two, the report said.
"In any case, continued movement of the Allen Street corridor in this area will likely have a negative impact on public and emergency vehicle access, and TWSA water and sewer lines, and potentially private property upslope," the document stated. "Over the long term, continued movement and enlargement of the active slide area along Chipper Cove (sic) Road could have a destabilizing effect on the Allen Street corridor."
Two landslide areas are now active on Allen Street moving down toward Chipper Curve Road. NCGS figure on UAS map base.
Uncertain cost
Fixing the road will be extremely expensive.
"We've been operating under the assumption we wouldn't have to put this out for a formal bid process because it comes under the $500,000 mark, though just barely," Scott said Nov. 12. "However, in the last month or two this new failure has dropped 3 or 4 inches. The road is still passable, but it's dropping all the time."
The town currently has only a partial estimate — $640,000 for the first slide — but doesn't yet know how much it will cost to fix the new slide or stabilize Bryson Park, which has been closed due to the impact the landslide has had on its parking lot. However, said Scott, the park would be closed regardless due to COVID.
"It just sounds like it's going to be approaching a million dollars," Sossamon said Nov. 12.
"I think that's an extremely safe guess," said Scott.
A $1 million price tag would be astronomical for the small town, whose total budget each year sits around $4 million.
Before the second slide was discovered, when the town still expected the project to come in under $500,000, Scott had anticipated executing a contract and starting repair work fairly quickly. However, state law requires that towns go through a formal bidding process for projects valued at over $500,000, which means building in additional time to advertise the project and secure at least three competing bids — previously, Scott had been talking to only two companies.
Most contractors will want to see a document like the one KEG prepared for the first slide before bidding on this type of project — they want to know what they're getting into before executing a contract. That means that the town will need to commission a second study evaluating the new slide area before it can put the project out to bid.
The town plans to approve a new contract with KEG at its next meeting, scheduled for Thursday, Dec. 10, and that report will not likely be available until sometime in the new year. A topographical survey is also underway to assist KEG in its report.
"The more time you can spread it across the more accurate your data is going to be, so within reason we need until the New Year to get accurate results and move forward with an RFP," said Scott during a Nov. 23 town meeting.
At the earliest, Scott said in a follow-up interview, contractors could be on site by mid-February or early March.
The first survey cost $28,000, and Scott expects the second one to be at least that much. The second site is larger, so more borings will be required — though the fact that there's less vegetation this time of year could make the fieldwork easier to perform.
"No matter what solution we come up with, it's going to be crazy," said Commissioner Ben Guiney on Nov. 23. "We need to make sure everyone knows what we're getting into ahead of time."
The future of Allen Street
The expected cost is so high and the long-term outcome so uncertain that commissioners discussed whether the road was even worth repairing. Slope failure on Allen Street is an ongoing issue.
"What guarantee do we have this won't be something that a future board in five to 10 years will have to deal with again?" asked Commissioner Greg McPherson. "I just feel like we're pushing back the tide. You can't push back the tide."
Town Manager Paige Dowling said that a future slope failure on Allen Street is likely to happen again at some point in the future, with Scott adding that an all-encompassing guarantee would be difficult to come by.
"From the start of that cut slope at Queen Street to the other side of Bryson Park, you have extremely high risk for that entire three-quarter-mile corridor," he said. "There's multiple reports that tell us that, and our own local history. The repaired areas, we'll get some sort of guarantee with those against giant failures, but we can't very well do this along the entire cut slope."
Commissioner David Nestler was adamant that closing the road is a non-solution, but Guiney acknowledged that the history of the site combined with the cost of repair puts the town in a tough place.
"The solution to how we go about spending the town's money in the wisest way is really important," he said. "But I also agree with David (Nestler). Keeping that road open — in principle, that's the ideal thing. If it's going to be somewhere in the future when the road can't stay open, I hate to keep throwing money at it before that time."
"I honestly feel like the option to close the road doesn't solve the slope failure," said Nestler. "To me that's not a solution. I think this time we have to go with this engineering option, which seems to be their recommendation on how to go about fixing this."
"I think that's probably the smartest option," said McPherson. "I just worry about the guarantee. I worry about later on down the road what's going to happen with this thing."
Dowling said the town would be unlikely to secure financing for the project, as it wouldn't have any collateral to borrow against as is the case with a construction project. Most of the money would have to come from fund balance.
Earth movement has created a bulge in the entrance road to Bryson Park, and during an Oct. 8 field visit ground bulging and wet ground was observed in the park's grassy area as well. NCGS photo
Who should pay?
Nestler said he'd like to see the town get some help with the bill. While the first landslide affects only Allen Street, which is a town-owned road, if left unchecked the second one will eventually fall into Chipper Curve Road, a state-owned road.
"It sounds like we should be financially responsible for the portion of the slide that's occurring on town property, and that the state, DOT should be responsible for the slide occurring on their property, but that it should be bid as one fixed bid," he said. "It's going to be cheaper to have a company fix all this at once since it really is one systemic problem we'd be tackling."
Town Attorney Eric Ridenour agreed with that assessment.
"The fact of the matter is if we do nothing, it's all going to come down on the state, in which case they're at the bottom of the hill," he said. "Therefore, I would argue they should be bearing the brunt of the cost."
"If the state does have some liability, that's one thing, having liability," said Guiney. "But actually getting them to pony up funds for this is still an extra thing. Sure, they're going to redo 107, but they just pushed that back a couple of years."
It's a well-known fact that the agency is strapped for cash — even more so since the pandemic hit — with financial shortfalls contributing to the DOT's decision to push the timeline for the controversial N.C. 107 project back by two years.
Before the cracks appeared on Allen Street, there had been ongoing issues with dirt falling into Chipper Curve Road from the land Jackson Paper owns between Chipper Curve and Allen. Scott said that he had approached DOT about that issue on "numerous occasions," back when he still thought the Chipper Curve slide was its own independent issue — which the town now knows it is not.
"At this point the DOT has said that they will detour Chipper Curve before they'll fund any repairs, and that's due to the fact that they don't own any right-of-way outside the ditch line," Scott said in a follow-up interview.
Chipper Curve Road used to be N.C. 10 and is one of the oldest roads in Jackson County, hence the lack of right-of-way, Scott said.
The town doesn't have right-of-way on Allen Street either, Scott noted Nov. 12. It would have to make some sort of property acquisition in order to make any repairs.
Though still expensive, the problems on Allen Street will be easier and cheaper to fix now, before the road falls off completely, so the clock is ticking — but nobody knows how long is left on the timer.
"It's just a waiting game," said Scott. "It might be a long time, or it might be before the end of the week."