Archived News
Tribe wants to name former chief as new Jackson County namesake
Tuesday, November 10, 2020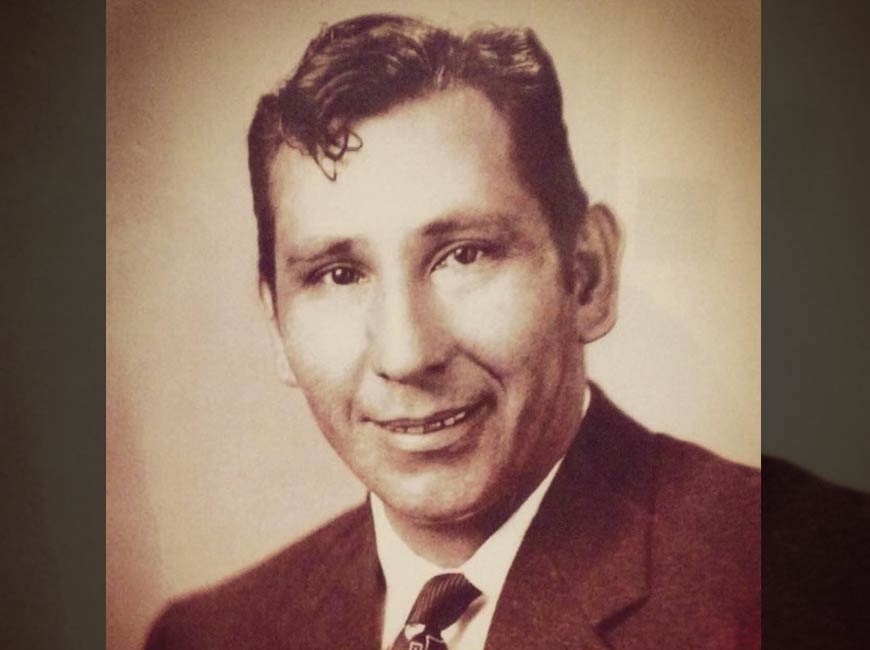 Walter S. Jackson was principal chief from 1967 until his death in 1971. Family photo
The 18th chief of the Eastern Band of Cherokee Indians was a lot of things — a World War II veteran, a dedicated father and stepfather, a leader in tribal politics — and if county commissioners OK a proposal from Tribal Council, "namesake of Jackson County" could soon be added to Walter S. Jackson's list of accomplishments.
"I don't think that I'm alone in saying that it is an affront to me as a Cherokee citizen that half of our boundary is in a county named after the president who signed the Indian Removal Act and saw our ancestors as inferior and put in place a policy that was responsible for the deaths of tens of thousands of Native Americans," Principal Chief Richard Sneed said during the Oct. 29 Annual Council meeting where the resolution containing the proposal was presented and unanimously approved.
Formed in 1851 from parts of Haywood and Macon counties, Jackson County — like countless towns, counties and schools across the country — takes its name from Andrew Jackson, the seventh president of the United States. Born to Irish immigrant parents near the state line of North and South Carolina, Andrew Jackson was a hero of the War of 1812 and a popular two-term president.
However, he's also known for his cruelty and dehumanization of the country's Native American population. In 1830, he famously signed the Indian Removal Act into law, legislation that paved the way for the forcible removal of multiple Native American tribes from their homeland. For the Cherokee, this effort culminated in the infamous Trail of Tears, the 5,000-mile route along which tens of thousands of Cherokee people were marched toward their government-approved reservation in Oklahoma. Disease and starvation killed thousands of them.
Jackson County's namesake is an insult to the descendents of the Cherokee people who managed, despite Jackson's best efforts, to remain and thrive in their native land, Chief Sneed said. But the tribe doesn't want the county to change its name — it just wants it to honor a different Jackson.
The idea was first proposed by Cherokee One Feather reporter Scott McKie in a July 12 editorial, and it's gained enough momentum to earn unified support from both the chief and Tribal Council.
'A good man'
Chief Jackson was born on May 29, 1923, and got his education in Cherokee's schools before Japan bombed Pearl Harbor, prompting him to join the U.S. Navy.
"As far as his military record, all I know is that he served honorably in the Navy and that he was in the Pacific. He didn't talk much about it," said Richard S. Sneed — Chief Sneed's father — who was just 3 years old when his mother Sally Sneed married Walter Jackson. Sneed's own father served in the Army, but he died in Germany when Sneed was just 1 year old. His mother married Jackson two years later — he was the only father Sneed ever knew.
"He was good to me and good to my brother," said Sneed. "He made us what we are today. He taught you respect. He was a good man."
When the war ended, Jackson came home and served his community. According to the 2007 book A Cherokee Encyclopedia by Robert J. Conley, he was named manager of the Oconaluftee Indian Village for the Cherokee Historical Association in 1951 before going on to serve as the tribe's chief of police and then head of community services. He sat on Tribal Council for 12 years and served as vice chief for four before winning the 1967 election for principal chief.
"He did a good job with the tribe," said Sneed. "He secured a lot of grants back when there wasn't a lot of money to be had for the tribe."
Back then, everyone in Cherokee was poor. Jackson worked hard all his life. If you didn't "you'd starve to death," Sneed said. Even serving in elected office wasn't enough to bestow financial security. According to a 1970 New York Times article, Jackson's salary as principal chief was just $6,600.
That 500-word piece reported that Tribal Council had asked Jackson to resign from his post, citing negligence of fiscal duties and unauthorized out-of-state trips at the tribe's expense. Ten of the 12 council members signed a resolution asking for Jackson's resignation, the story said, but Jackson told the reporter that the charges were false and that he had no intention of resigning.
Jackson had gotten complaints about the amount of traveling he did, said Sneed, but all that traveling brought in the grants at a time when the tribe sorely needed money. According to Conley, Jackson was instrumental in developing the Cherokee Boys Club, improving reservation roads, reopening the tribal rolls, securing a new gym and elementary school and establishing a new hospital.
Jackson's nickname was "Bull" — he could be a bit of a jokester when he wanted to be, said Sneed, but he was never a pushover.
"He was pretty tough, I'll just tell you that," he said. "He wasn't afraid to have a little scrape every once in a while."
He was a likeable man, said Sneed, someone who could talk to all different kinds of people — including government officials with control of federal purse strings — without seeming nervous or out of place. As a stepfather, he was a steady presence in Sneed's life.
"All the memories I have of him were good," he said.
Jackson was supportive of Sneed and his brother, as well as of the children he and Sneed's mother had together, encouraging them as they went through high school and played sports. He was a Christian, and the family went to church whenever the doors were open. When he had the money, he'd treat the family to a drive-in movie.
"If I ever needed help, he was always there," said Sneed. "I always thought, what would I do if he dies, if something happened to him?"
Jackson was only 47 years old in 1971, when he died while still in office. He had a bad heart, a lifelong condition doubtless exacerbated by his love of cigarettes, specifically unfiltered Camels. He got sick on one of his trips to Washington, D.C., and was admitted to a hospital in Bethesda, Maryland, where he had open-heart surgery. It was an even more rare and risky procedure at the time than it is now, and though he came through the operation, he died of kidney failure soon after, Sneed said.
In a photo from the late 1960s, Principal Chief Walter S. Jackson holds his stepson's young child, who would grow up to be current Principal Chief Richard G. Sneed. Family photo
Next stop, commissioners
Having the county named after Jackson, Sneed said, would be "a great honor," and the resolution supporting the namesake change met with enthusiastic approval from Tribal Council. Rather than raising a hand, as they usually do when voting on a resolution, members stood to show their support.
However, the EBCI does not have the authority to change the county's namesake —Jackson County commissioners would ultimately have to approve that change. The resolution passed last month merely directs the tribe's executive branch to "undertake the legal and cultural research necessary to give direction and effect for this intent."
It's not clear how the majority of the county commission would end up voting on this issue, especially since it's not clear who will be sitting on the commission come Dec. 7, when winners of the 2020 election are sworn in. The two candidates for District 4 were within nine votes of each other Election Day, and a winner won't be known, at the earliest, until provisional ballots and late-arriving absentee ballots are counted Nov. 13.
However, Commissioner Gayle Woody, whose district includes the Jackson County portion of the Qualla Boundary, signaled her support in written comments read during the council session.
"In acknowledgment that part of the ancestral lands of the Cherokee Nation are what now makes up Jackson County, I feel it is only right to consider the request by the Eastern Band of Cherokee to change the person for which Jackson County is named," she wrote. "It is fitting to honor a chief of the Cherokee who served his people well. Chief Jackson has left a worthy legacy, and renaming Jackson County for him recognizes not only his services but the fact that the Cherokee people are original residents of this land."
When asked his position on the issue, Chairman Brian McMahan said that he doesn't yet know enough to offer an opinion but will certainly consider the request.
"I want to read the resolution and see exactly what they're asking and research it a little bit before I make a decision about it," he said.
Commissioner Boyce Deitz said that he, too, would need to do some investigating of his own before delivering an opinion but said that, "I would almost doubt that I would be against that in any way. I don't see where I would be opposed to that."
Currently, the other two commissioners are Ron Mau and Mickey Luker, but their terms end when District 3 Commissioner-elect Tom Stribling and the District 4 commissioner-elect — either Mark Jones or Mark Letson — are sworn in Dec. 7.
The proposal comes amid a nationwide discussion about the place of monuments and namesakes to historical figures who supported racist causes in modern society. During a July rally against the Confederate soldier statue that looks over Sylva's downtown, one speaker broached the subject of Jackson County's name as a topic of future focus for the newly formed racial justice group Reconcile Sylva.
"Yes, the name of this county is coming next," Munene Mwaniki, assistant professor of anthropology and sociology at Western Carolina University, said July 11. "All you need to know about Andrew Jackson is that he was a slave owner, he was an Indian killer, he was a town destroyer and he and his men made horse reins out of the flesh of our indigenous brothers and sisters and non-binary folks."
However, changing a county's name is both politically and financially costly, given the extensive overhaul that would be required for everything from websites to vehicle decals — not to mention the emotional attachment that long-time residents might have to the place names they grew up saying.
This proposal would avoid those pitfalls, McKie wrote in July, because the county would still be called Jackson County. But shifting the namesake, he wrote, would "pay generous rewards in improved relations and a new spirit of cooperation in this small part of Western North Carolina."