Archived News
Sylva considers, shelves mask mandate proposal
Tuesday, November 03, 2020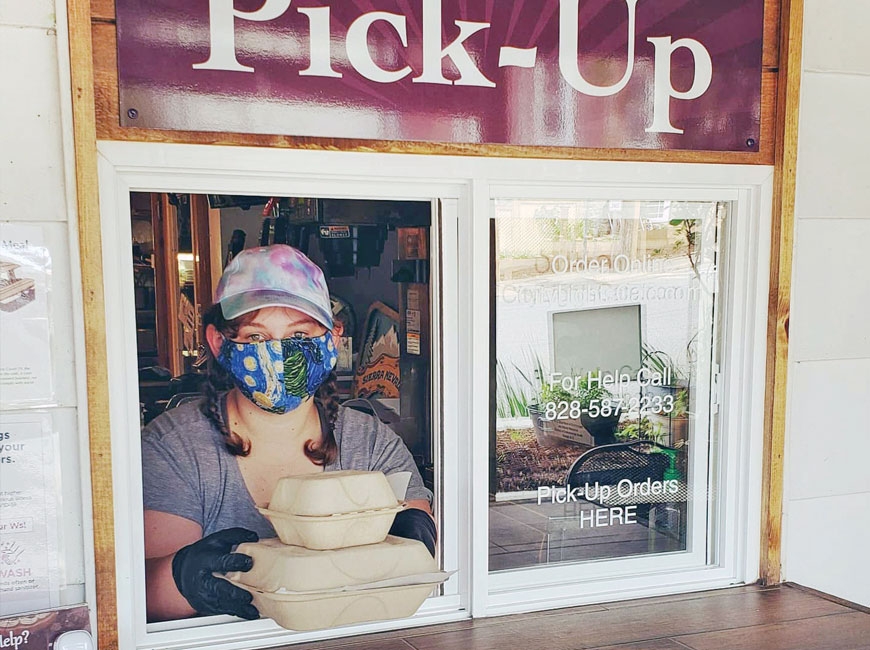 An employee at City Lights Café serves up an order from the restaurant's new pickup window. Jackson County TDA photo
Amid a spike of coronavirus cases in October, some members of the Sylva town board advocated for passing a mask mandate for the downtown area during the Oct. 22 meeting. However, it now appears that such a mandate is unlikely to come to a vote — for the moment, anyway.
"Being a denizen of downtown and the B1 District, I'm noticing a lot of people walking around in our tight little confined area, especially on the north side of Main Street, without their masks on," Commissioner Greg McPherson told his fellow board members. "I think it's time for us to be a little more proactive about what's happening downtown."
Commissioner Barbara Hamilton, a retired nurse, and Commissioner Ben Guiney, an emergency room doctor, supported McPherson's position.
"I agree because B1 is pretty tight going up and down the sidewalk, and there's more evidence even though it's outside that the virus can kind of hang around, a little bit of aerosolization can hang around a little bit longer in the air." said Guiney. "I don't think that's a bad idea at all."
A statewide mask mandate is already in place, but that mandate applies only when it is not possible to maintain a social distance of 6 feet or more. Town board members were discussing a mandate that would apply throughout the downtown district, including when a person is outdoors and more than 6 feet away from others.
Town Attorney Eric Ridenour said that he hadn't had enough time to review the legal ins and outs of such a mandate and cautioned that police power to enforce it would be "pretty much an impossibility" due to an exception for people with health conditions that prevent them from wearing a mask and laws protecting people from being required to disclose their medical conditions.
"I see the line of thought with the B1 District, but to have that as an ordinance for only a zoning district, I don't know that that makes sense," added Town Manager Paige Dowling.
"Well, I'm happy to say the whole town — B1, B2, B3, citywide," said McPherson.
Commissioner David Nestler said that he'd need more time to consider the specific language in any proposed mandate and that he was "skeptical" of local municipal boards taking it upon themselves to dictate public health policy.
"We're fortunate we have a public health official on our board here, but I like public health policy to be made by experts, and I like them to be made on a larger scale for cohesion's stake," he said.
Ultimately, board members voted unanimously to shelve the mandate idea for now and instead direct town staff to focus on increasing signage downtown that reminds people to wear their masks. McPherson also asked staff to review what it would take to implement a mandate so that the board could consider such a measure if "irresponsible behavior" persists.
In a follow-up interview Nov. 3, Dowling said that town staff were still finalizing designs for the signs, and for decals that will be affixed to the sidewalk. She expects to have them installed within the next two weeks.
Also speaking in a Nov. 3 follow-up interview, McPherson said that as of now he has no immediate plans to request a vote on the mask mandate. Case counts seem to be leveling out somewhat, and with the tourist season and Western Carolina University's fall semester both drawing to a close this month, he said he's satisfied with plans to post signage while continuing to follow Gov. Roy Cooper's statewide mask mandate. However, he said, if case counts spike again he'd be more than willing to revisit the issue.