Archived News
Staff, technology brings breast care to new level at Harris
Wednesday, October 28, 2020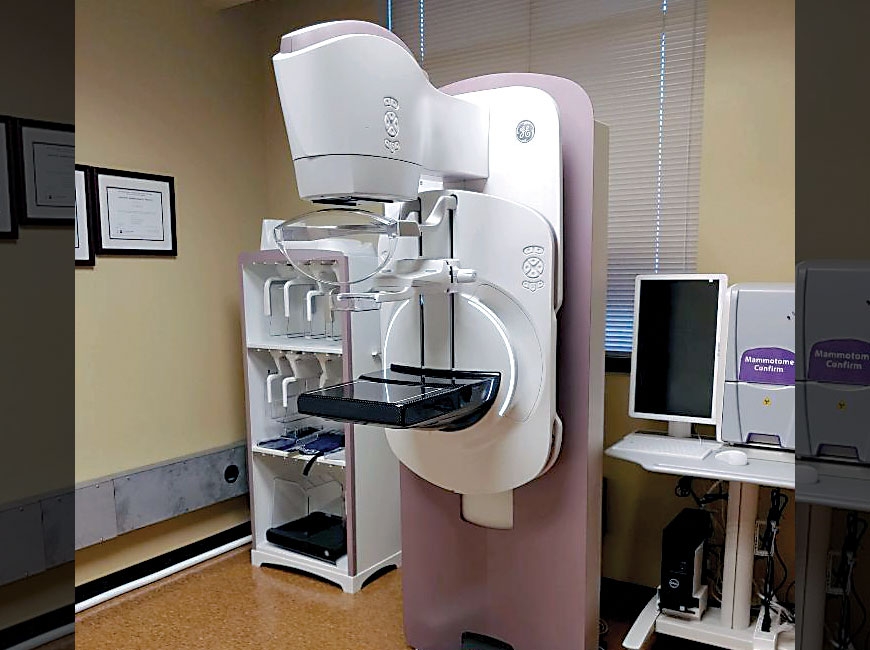 Harris Regional Hospital in Sylva now has 3D mammography technology for breast cancer screenings. Donated photo
Breast cancer is something that weighs heavy on every woman's mind. What is my risk? Does it run in my family? Do I carry the gene? When should I get a mammogram? Where do I have to go to get the best care?
It's a rational fear when one in eight women will develop breast cancer in their lifetime, according to The National Breast Cancer Foundation. With that in mind, the team at Harris Regional, a Duke LifePoint affiliated hospital, has made significant investments in breast care technology and staff in the last several years in an effort to provide world-class medical care for women in rural Appalachia.
Dr. Allison Palumbo has been at the center of this effort since joining Harris in April. Palumbo is a general surgeon, but she has specialized training in advanced breast surgical oncology.
"I grew up in a small town in Western Pennsylvania, and growing up I got to see my mom — she's a primary care provider — so seeing her interact with her patients, that kind of initially sparked my interest in medicine," she said.
Palumbo attended medical school at Marshall University in Huntington, West Virginia, which is where her interest in breast surgery developed.
"During my surgery rotation, I did a more specialized rotation in breast," she said. "The surgeon I worked with, she just had so much compassion for her patients. She would walk back with them as the patient's being rolled back to the operating room, she would hold their hand as they were falling asleep. She just had this bond with her patients that I really didn't see anywhere else in surgery. That really got me interested in breast care."
Palumbo is definitely who you want by your side as you embark on the fight against breast cancer. Not only is it her specialty, but before she came to Western North Carolina she was deployed in Afghanistan for seven months working as the chief of general surgery at the country's largest hospital and living on Bagram Air Field with her husband and two small children.
"Most of the trauma patients come through that hospital. As far as the American soldiers go, they would get sent out, but a majority of our patients were actually Afghan nationals. We were their primary source of healthcare," she said. "I was a little bit nervous going over there because I wasn't really sure how I would be received being a female physician, but they welcomed me with open arms. They were very grateful for everything that we did over there."
It's hard to imagine everything she must have seen during her deployment, but she said it's an experience during her time in the Air Force she'll never forget. During her service, Palumbo earned three major honors — the Afghanistan Campaign Medal, NATO medal and The Air Force Commendation Medal.
Palumbo's background and experience made her an ideal candidate to lead the charge for better breast care at Harris — she was exactly what they were looking for to take their services to a new level.
"I think what we're trying to get out there is that there has been a dramatic change to what's available here over the past six months. In the past, patients had to go to multiple different locations for services and there wasn't a streamline approach like there is here now," she said. "There's been a significant investment in new technologies that benefit our patients."
During her specialized training, she learned how to use hidden scar techniques to minimize scarring on breast cancer patients so they won't have to see a constant reminder of the cancer every time they change clothes. While older mastectomy techniques often included removing the nipples, new procedures can now spare the nipples for certain patients.
"The reason that we can do that is because a plastic surgeon was brought on board as well. He can offer immediate reconstruction following a mastectomy," she said. "So after the woman has her procedures, a lot of times it'll just look like she had a breast augmentation, which is a huge advancement over having to go through two or three different surgeries."
One surgery for the masectory and the reconstruction also means a better-looking outcome for patients.
Breast cancer detection has also come a long way in just the last few years, and Harris now has some of the latest technology at its disposal, including 3D mammography. When Haywood Regional Medical Center installed its 3D mammography machine just a few years ago, the service was still only for patients who were referred for it, mostly due to dense breast tissue that couldn't be seen clearly with a regular mammogram. But now, Palumbo said everyone should be using 3D mammography for early detection and to limit the number of times a patient has to come back for follow-up appointments. Having a definitive answer sooner also cuts down on the patient's anxiety over what's being found on the imaging.
"It's a huge step up from the traditional 2D. It can help us detect smaller tumors before you can feel them, but it also decreases callbacks for our patients," she said. "In the past, someone may come in for a screening mammogram and the radiologist wasn't really sure if this is something to worry about or not, so the patient would have to be called back in for a diagnostic mammogram, where there are some additional views that are taken."
As a member of the American Society of Breast Surgeons, Palumbo stays up-to-date on the latest recommendations, which now says women should get a mammogram once a year beginning at 40 — and not wait until age 50 as previously stated for "average risk women."
"That helps us detect these cancers at a much earlier stage and that is the key to treatment," she said. "Overall survival for breast cancer patients is directly linked to the stage of the cancer at the time of diagnosis. So, if we can detect these at smaller and smaller sizes and before they've had a chance to spread to other locations in the body, we can cure these patients and that's the ultimate goal."
Even if you haven't turned 40 yet, it's never too early to start seeing Palumbo and her team at the breast care center. Harris offers an assessment to calculate a patient's risk of cancer based on several factors. Anyone that scores 20 percent or higher on the assessment is considered high risk — meaning they should not only have a yearly mammogram, but they should also be having a yearly breast MRI.
Palumbo staggers those imaging appointments so that high-risk patients are having some kind of imaging done every six months.
"I follow those patients every six months with a clinical breast exam. I update her family history, get the next test ordered and I handle all of her breast imaging so she doesn't have to worry about involving her primary care doctor to get that done," she said. "Some of those patients that are high risk will qualify for genetic testing, which is something that I offer through my clinic as well."
Unfortunately, most insurance coverage won't cover the cost of genetic testing unless the patient is high-risk, which is why it's important to get the assessment first.
Cancer patients at Harris are also provided with a multidisciplinary breast cancer conference, which is a fancy way to say that all your providers will sit down together to review your case and decide on a specific treatment plan moving forward.
"So the big question we need to answer is can the patient go to surgery first and then have any additional treatment, or if they need to maybe do chemotherapy before they have surgery," Palumob said. "And so this cancer conference kind of puts us all on the same page."
Palumbo has also brought new technology into the operating room, including something called Savvy Scout. The technology helps surgeons better locate the tumor, know where to place the incision and more accurately remove the right amount of tissue.
"The hospital has invested considerably in the technology here. Coming to a smaller facility from Tampa, I was a little bit concerned about what was going to be available here for the treatment, but at this point we have everything available to us here that I had in Tampa, which is really impressive," she said.
Even after surgery and remission, Palumbo continues to follow her patients for at least another five years to ensure they remain in remission.
"I see them back every six months for the first three years and then every year after for a total of five years, just because a recurrence is most likely in those first, early years," she said. "It's not like we formed this relationship and then we do the surgery and it's done so we really get to know your patients."
To find out about breast care services at Harris, visit www.myharrisregional.com/our-services/breast-care.