Archived News
Rep. Corbin looks to move up in Senate District 50
Wednesday, October 28, 2020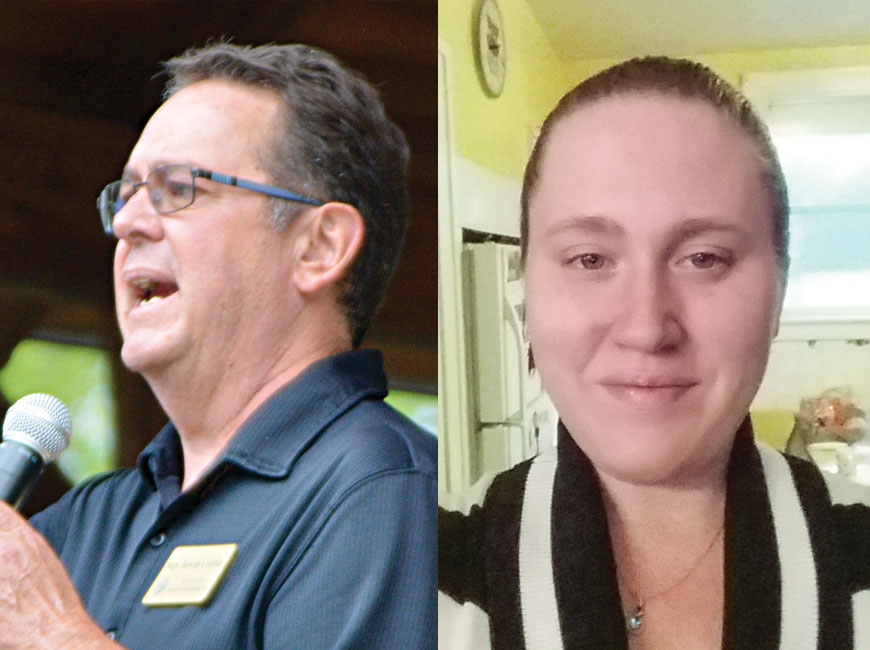 Since last fall, events in North Carolina's 50th Senate District have largely been overshadowed by an attention-grabbing race in the 11th Congressional District, but the bigger story is that one of Western North Carolina's most powerful voices won't return to Raleigh next session.
"I am a strong proponent of citizen legislators — those individuals who bring their talent and energy for public good. I believe they should hold their seats for a limited time so others can then step forward with their unique perspectives and skills," Franklin Republican Sen. Jim Davis told a crowd assembled at the Macon County Republican Party headquarters on Sept. 7, 2019.
With that, the five-term Davis — whose worst electoral performance since his narrow 2010 victory still resulted in an 8-point win — endorsed Rep. Kevin Corbin for the seat.
For his service, the former Macon County commissioner Davis was gifted a handsome white rocking chair by the party, but didn't get to sit in it long — less than four months later, Davis was motoring to Raleigh to file for the congressional seat suddenly vacated by then-Rep. Mark Meadows. Davis finished in third place, just short of eventual Republican nominee Madison Cawthorn, and presumably returned to that rocking chair.
Corbin, who spent decades on the Macon County School Board and the Macon County Board of Commissioners, was first elected to his current house seat in District 120 in 2016 and then reelected in 2018. Both times, he earned more than 72 percent of the vote.
Macon County's Republican machine has been efficient, if nothing else; Corbin looks poised to claim Davis' seat, with Macon County commissioner Karl Gillespie a likely shoo-in for Corbin's House seat. If that all comes to pass, it will be the third time in the last 10 years that a Republican Macon County commissioner joins the General Assembly.
Standing in the way is Canton Democrat Victoria Fox, in her first run for office. Fox attended Wayne State University in Detroit, where she also worked as an outreach coordinator for at-risk women and girls dealing with poverty, homelessness, drug addiction and sex trafficking.
"I have been a homemaker for the last 10 years with my children, and not because that was necessarily what I wanted to do," Fox said. "We ran into that issue that a lot of working families run into in North Carolina — the cost of daycare is so expensive that one of us wound up having to stay home because wages just don't equate to being able to cover the cost of daycare. My husband has always just out-earned me at every turn. So financially it made sense for me to be the one to stay home and look after the kids."
That's why Fox is focusing on issues that affect working families in North Carolina, especially Western North Carolina. She's for declaring broadband a utility, which would make it more difficult for telecoms to refuse to provide high-speed internet to rural customers.
She's also pro-choice, pro-labor and an advocate for higher wages — a consistent issue in rural Appalachia.
Another consistent issue in rural Appalachia is that of gun rights; as a Democrat, Fox may be more conservative on the issue than national Dems, but she's still to the left of where many WNC voters fall on the issue.
"I'm Second Amendment-friendly. We're licensed legal gun owners. My stepdad was a member of the NRA for most of his life. I come from a long line of hunters and fishermen in Michigan, where they give kids a day off of school every year for opening day of rifle season," she said. "I fully back everyone's constitutional right to own a weapon. My goal isn't to take people's rights to own any form of a weapon away from them. It's to make it safe for all of us to be able to do that."
Where she deviates from conservative sentiments on the issue is in regard to red flag laws.
"We all know that one person in our family that has no business owning a weapon," said Fox. "Those are the people that we want to prevent from gaining access to weapons, so things like red flag laws, enhanced background checks and registration, I know that tends to be a hot-button topic among legal gun owners, because why should they have to register every gun they buy? The fact is that protects you as a gun owner too."
Perhaps the biggest issue of the campaign cycle in WNC remains the state's continuing refusal to accept Medicaid expansion.
"You see these really hyper-partisan politics that we've always seen in Washington. It's something for me that's relatively new in the last 10 years to see it filtered down into the state level. That causes a problem for us here at the state level, whether you're Republican or Democrat, whether you agree with the Affordable Care Act or not and the Medicaid expansion that comes along with it. I mean, you're talking 500,000 North Carolinians and to have Republicans who are simply denying people access to care because Republicans in Washington are telling them, that's a problem."
The problem for Fox is that her opponent Corbin is one of the few Republicans that actually supports Medicaid expansion. In April 2019, he sponsored H655, which never made it out of committee.
"That bill would expand Medicaid," Corbin said. "There's a small premium on it and to give you an example, if a person was making minimum wage, it's about $20 bucks a month."
Corbin's also been working to open up broadband access; he sponsored another bill that would have allowed local governments to offer service of their own, but like Medicaid expansion, that, too, went nowhere fast. However, the GREAT Act has brought funds in the form of grants to providers.
"We asked for a hundred million, didn't get it, but we got $30 million. I've been working with Sarah Thompson of the Southwest Commission, had several conversations with her, she is working with all seven counties, Haywood west," said Corbin. "So far everybody that's applied for [grants] has gotten them."
On the subject of red flag laws, Corbin remains opposed.
"I think we already have some laws in place that flag people. Any of us can report someone for suspicious activity and law enforcement, based on the laws that are already on the books, can investigate and arrest and do whatever they need to do," he said. "There were some [red flag bills] introduced this past session, and they went into committee. I chair insurance, and state and local government [committees] and some of those came to our committees. We didn't hear them. There just wasn't an appetite among our Congress to hear those."
And as far as somehow becoming disconnected from his constituents, Corbin says he's followed a few simple rules during his four years in state office that keep him firmly grounded in the west.
"My wife will tell you, I don't turn down any opportunity to meet with people. First of all, I come home every weekend," he said. "I think in four years, I spent one weekend in Raleigh, because I don't live in Raleigh. I don't want to. I live in Western North Carolina, so I come home every single weekend. And that gives me Friday, Saturday and Sunday and I will probably be engaged with constituents at three to five events. I don't say no to anything."
Meet the candidates
Kevin Corbin
• Age: 59
• Residence: Franklin
• Occupation: Insurance agency owner
• Political experience: Two terms, NC House
Victoria Fox
• Age: 35
• Residence: Canton
• Occupation: Homemaker
• Political experience: First campaign