Archived News
Rural allure, strong hospitality sector set Jackson County up for success amid pandemic
Wednesday, October 14, 2020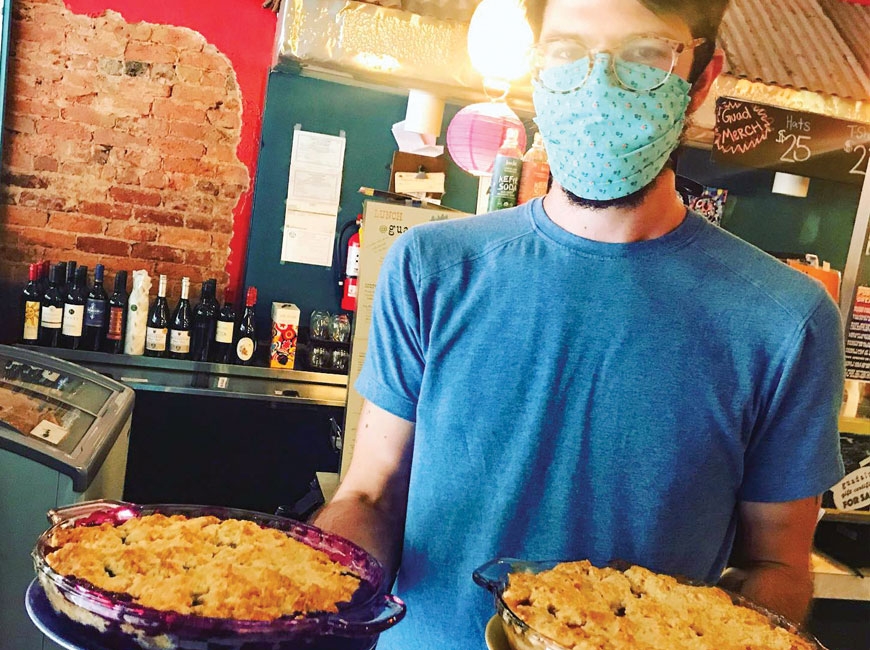 A worker at Guadalupe Cafe in Sylva serves up dessert. Jackson TDA photo
Things were looking bleak for the tourism industry — for all industries, really — as coronavirus shutdowns and stay-at-home orders fell into place this spring, but six months into the pandemic, the outlook for Jackson County's biggest business is downright rosy.
"Both the hotels and the Airbnbs are thriving to a level that we have not seen in our entire history, and we do not expect it to slow down anytime soon," said Nick Breedlove, director of the Jackson County Tourism Development Association.
A record summer
In the three months since the fiscal year began July 1, said Breedlove, the TDA has pulled in a full 75 percent of its budgeted revenue for the entire year. Airbnbs and VRBOs are pulling in double and triple the business they were last year, and hotels are posting occupancies 10 and 20 percent higher than the same period in 2019.
Occupancy tax, a 4 percent tax collected on overnight lodging reservations, is one of the handiest metrics for measuring tourism levels in the county. Since the TDA formed in 2012, it has never collected more than $200,000 in occupancy taxes in a single month. But this year, it broke that barrier in both July and August.
State reports are one month off in their labeling of collections — June stays are reported in July, July stays in August, and so on — so this analysis refers to revenue data based on the month it was collected rather than on the month it was reported.
Collections for August stays were a whopping 71.8 percent higher than for the same month last year, totaling $228,851. In terms of dollar amount, collections for July stays were actually larger — $233,601 — though that number represented a smaller but still robust 40.7 percent increase over the same month last year. The $187,832 collected for June stays marked a 53.4 percent increase from collections the previous June.
Those figures don't include overnight stays at Harrah's Cherokee Casino Resort or at other hotels on the Qualla Boundary, as the Eastern Band of Cherokee Indians is a sovereign nation and therefore exempt from county taxes. The casinos were closed completely for two months and have been operating at reduced capacity since reopening to the general public May 28
The reduction in occupancy has spurred a decrease in overall casino visitation, though there does still appear to be a strong demand to use the facility. Between June and September, total visitation came in at 59 percent of 2019 levels. Most games and amenities at the resort are open — with stringent health and safety protocols in place — but the Chef's Stage Buffet, Cherokee Events Center, Casino Valet and Hotel Fitness Center remain closed.
Meanwhile, the resort's hotel, which contains 1,108 rooms, has been almost completely full this summer, with 99.55 percent occupancy in the 98,146 room nights available between June and September. The occupancy rate was slightly higher last year, at 99.9 percent of 134,960 room nights, despite more rooms being available in 2019 — renovations in the Mountain Tower decreased the number of available rooms this year.
Beyond expectations
Breedlove said he expected tourism to rebound, but not so soon.
"We were not expecting this level of visitation this quickly, because to be honest we started our marketing campaign very slowly and cautiously," he said.
Around Memorial Day, the TDA launched its first, very limited, ad campaign since the pandemic began. The theme was "Dream of Your Next Trip" and it encouraged visitors to keep Jackson County in mind as they started to think about future travel.
"We didn't spend a lot of money, but the results are far beyond what we expected," said Breedlove.
That's not to say that the tourism industry didn't take a hit this spring. It certainly did. Occupancy tax collections were down significantly for March, April and May — 53.3 percent, 23.2 percent and 85.2 percent of 2019 levels, respectively. In April, unemployment in Jackson County spiked to 11.6 percent, more than double the 4.6 percent reported prior to the pandemic. Certain industries and certain types of workers suffered more than others, and continue to do so.
But that doesn't change the fact that the overall picture is a positive one. Despite the massive shortfalls in occupancy collections this spring, total collections for the 12 months between October 2019 and September 2020 are up 19.1 percent over the previous 12-month period. The county's tourism and business leaders say that Jackson County's status as an established tourism destination in a rural area positioned it perfectly to thrive during this new era.
"All the national research from every conference we've attended even as of this week has shown that the number one vacation choice right now for people is rural areas," said Breedlove. "That is where people are looking to vacation. They want to get out of the crowded cities."
Jackson isn't alone, said Breedlove — tourism organizations across the mountain region are seeing the spike.
The directors of both the Cashiers and the Jackson chambers of commerce said that their membership rolls have actually increased during the pandemic. The Jackson County Chamber of Commerce has increased from 402 members March 1 to 409 members today, with the Cashiers Area Chamber of Commerce adding 27 new members in 2020.
"I will have to say that our chamber businesses have made it through the crisis thus far in an unexpected kind of good way," said Stephanie Edwards, director of the Cashiers chamber. "I'm not aware of any business that has actually had to close its doors. And I know that's not true in other parts of the country."
Likewise, Julie Spiro Donaldson of the Jackson chamber said that the summer months were better than expected and could name only two businesses that have closed due to COVID-19, even as several others have opened or expanded.
However, said Edwards, many businesses have had to adjust their model in order to stay afloat, with restaurants especially pivoting to emphasize takeout options and online ordering and businesses that had relied on large events to make their money having to find new and creative ways to bring in revenue. Visual cues, such as reconnoitered floor plans designed to facilitate social distancing, amply available hand sanitizer and signs reminding visitors of masking requirements, have been key to helping visitors feel safe and willing to take their vacation in Jackson County.
The days are getting colder and shorter, but both Edwards and Donaldson say they're feeling good about the winter ahead.
"I anticipate the winter months to be as busy, or busier, than previous years, unless COVID gets significantly worse in our mountain region," said Donaldson. "There is pent-up demand, and people are ready to enjoy themselves as safely as they can, and we are well positioned for guests to do that. Often our winters are mild enough to continue getting outside to hike, dine out, fish and in general just enjoy Mother's Nature's largest theme park."
The National Oceanic and Atmospheric Administration is currently forecasting a mild winter for the Southeast, said Breedlove, which should help matters. That said, it's likely to be a rough winter for restaurants. The TDA is currently working on a campaign to support those restaurants by building consumer confidence in dining out.
"We want to support our restaurants now and drive great business to them," he said. "That way they will survive the winter and be there for our visitors to visit next year."
Lasting change
Jackson County's position is looking much better than expected as the pandemic continues, but Edwards emphasized that the experience is likely to leave a lasting mark on the region — but in a good way.
"I think we're never going to get back to the pre-COVID situation," she said. "We have more people living here, more people coming here, and I think that's going to continue in a very positive way."
Prior to the pandemic, rough estimates put Cashiers' year-round population at around 1,500 people, with that population swelling to 25,000 or more as second-home owners returned to the mountains every summer. However, said Edwards, many of those summer residents are planning to stay through the winter months this time around, and anecdotally the chamber has heard that more people are moving to the area, enrolling their kids in school and getting set up to work remotely. Similarly, the northern and central part of the county is seeing a significant number of new residents, said Donaldson.
"We have people that are interested in moving to our area, because they feel safer in a small town and they really want to be able to enjoy more of their life outside," she said. "They love the outdoor adventure that we have to offer here in Jackson County."
A portfolio of large construction projects worth hundreds of millions of dollars has also contributed to Jackson County's overall success during the pandemic, said Jackson County Economic Development Director Rich Price. At the southern end of the county, High Hampton Inn is undergoing massive renovations, and at the northern end there's the $250 million expansion underway at Harrah's Cherokee Casino Resort. Western Carolina University has several large projects underway, including the $110 million Apodaca Science Building, with more student housing under construction nearby. Meanwhile, Southwestern Community College is building a $21 million health sciences building.
"Those construction projects carry a lot of multiplied spending throughout the county," said Price. "They drive overnight stays certainly throughout the midweek, but it's pumping a lot of dollars into the economy."
In addition to failing to derail current projects, the pandemic does not appear to have reduced interest in new ones, he added.
"Our call volume and the interest in new projects and new developments is probably as strong as it has ever been," he said.
Price acknowledged that despite the positive indicators, it hasn't been an easy year, especially for the food and beverage industry. But he hopes to see that prognosis improve even further as Jackson County — together with Swain, Macon and Graham Counties, as well as the Qualla Boundary — prepare to implement a $2 million grant awarded by N.C. State and funded by Walmart. The funding will help the region build up its retail, tourism, hospitality and entertainment sectors in the wake of COVID-19. Called the CREATE BRIDGES program, the grant aims to bring partners together to pilot a process to help the region build its capacity to strengthen these sectors, which are vital to providing jobs and business opportunities in the rural economy.
All in all, it's a happier story than one might have anticipated six months ago, but, Breedlove said, it's a story that's still being written. Even as the TDA has been raking in record receipts, it's refraining from spending that money — yet.
"Depending on who you talk to, it feels like we've been in this pandemic so long it feels like we're in the recovery phase right now," he said. "But truthfully we've been fortunate not to have a true first wave like many cities have experienced. So while it feels like we're recovering and our economy and our businesses are slowly getting back on their feet, we don't know if there's a first wave that's coming. We want to have sufficient cash flow to weather the storm."
The depths and heights of 2020
In the last few months, revenues from Jackson County's 4 percent room tax have posted wild swings compared to the same month last year. Here's how revenues from 2020 look as a percentage of those collected in 2019.
• February — 122.08 percent
• March — 53.34
• April — 23.18
• May — 85.18
• June — 153.43
• July — 140.68
• August — 171.85
• September — 122.53