Archived News
Haywood school board race draws 12 candidates
Wednesday, October 07, 2020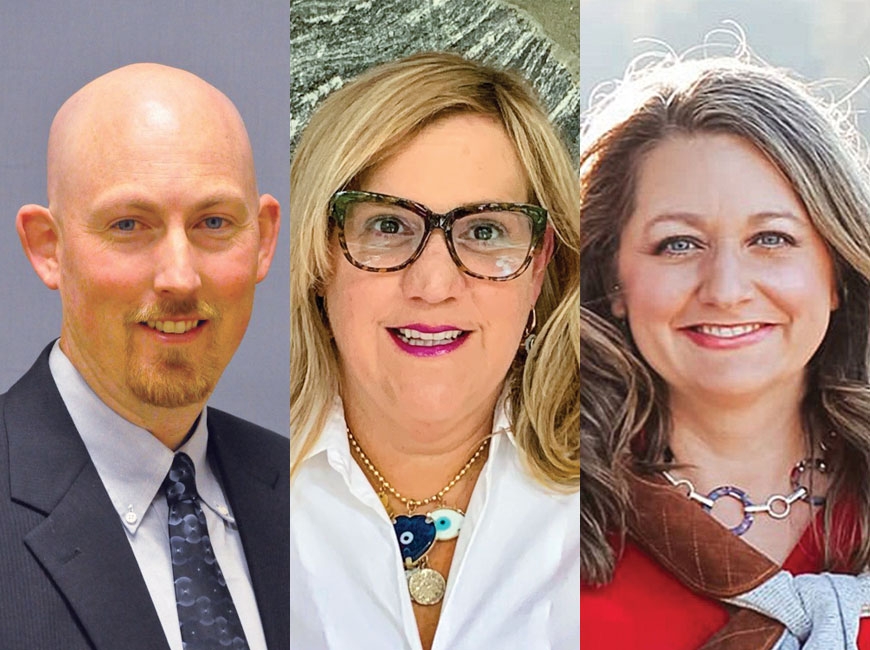 From left: Jim Francis, Andy Hall and Danya Vanhook.
A dozen candidates are running to fill five open seats on the Haywood County School Board. Among them, four are current members of the board, including Chairman Chuck Francis. His opponent for chairman, Daran McAdams, recently decided to drop out of the race, though his name will still appear on the ballot.
Running for the Waynesville seat are Andy Hall, Danya Vanhook, Logan Nesbitt and current board member Jim Harley Francis, who is vice chairman of the board. Ann Barrett, who currently holds one of two Waynesville seats, is not running for re-election.
Running for the Beaverdam District are Magnolia Brown, Danny Miller, Tausha Forney, Randy McDowell and current board members David Burnette and Ronnie Clark. These candidates will be featured in next week's issue of The Smoky Mountain News.
Two seats are available in both the Waynesville and Beaverdam districts.
What is your connection to Haywood County Schools and why are you running for Haywood School Board?
Andy Hall: First of all, I have a son who just graduated in 2020 from Tuscola High School, and I have a son who just began seventh grade at Waynesville Middle School. Obviously, as a parent, what is happening in our school system is of great concern to me. My interest goes beyond just being a parent, though. As a member of this community, I want to see it thrive for years to come, and having a strong school system that operates under the premise that the needs of our students and faculty come first is a fundamental building block for the community as a whole to be successful. I'm running for school board to assure that the needs of all of our students and faculty are met and to ensure that HCS are a diverse and inclusive place to learn and grow.
Jim Francis: I am a product of the HCS System, graduating from Tuscola High School in 1989. My father, mother and sister also attended HCS. Many of my family members have taught in our school system. My grandfather was a teacher and principal. My mother and sister were teachers in Haywood County as well. Being from a long line of educators I have a passion for education. I truly believe education is an equalizer and can give all students the opportunity to succeed in life. I am running for re-election because I want to continue to be a part of the board and to keep working on the challenges the board faces from the current pandemic, cyber-attacks and relocation of the Central Office. I also have two daughters in our school system, Katelyn a sophomore at Tuscola High School and Kallie a sixth grader at Waynesville Middle School, which means I truly have a vested interest in seeing the success of our schools. My desire is to provide the highest quality of education for all students of Haywood County.
Danya Vanhook: I'm the mom of two boys who attend HCS, and I've lived and served the community in Haywood County for 15 years. I'm a local attorney, former District Court Judge (2009-2011), and Maggie Valley Alderman (2011). I've also worked on the Haywood County Special Olympics Executive Board (2018), been an AYSO Soccer Coach (2016-17) and Mountaineer Little League Baseball Team Mom and Bookkeeper (2015-16), and I've been on the Haywood County Juvenile Crime Prevention Council (JCPC) since 2018.
I'm a proud product of NC Public Schools. As the Scripture says: "To whom much has been given, much shall be required," Luke 12:48, so I'm driven to serve our community, and I've demonstrated that over my history and record of service. I'm running for the Haywood County School Board to continue serving our community and to advocate for all children in Haywood County. As President John F. Kennedy said, "Children are our most precious resource."
If elected, I have a two-point priority plan that I'll focus on in my first 100 days in office. First, I'll help "End the Digital Divide in Rural America" by improving access to Broadband High-speed Internet in Haywood County, because our children deserve every opportunity we can give them to succeed! Second, I'll help "Foster Unity and End Divisive Bias" in our community by stopping the polarization of issues and helping us come together as one Haywood. After all, we are stronger together and our children deserve for us to come together for them.
Chuck Francis: I want to continue with the hard work and dedication of our school system. They have become a top school system throughout the state, and I would like to continue that progress toward becoming number one. I have a long history with HCS, I've been on the board now for 20 years, the chairman now for 16. I started out because I had three kids in the school system, and now they're grown and I'm starting all over again with the grandkids as they enter the school system.
Logan Nesbitt: I am running for the school board because I have two young kids in HCS, a wife that works for HCS, and my childhood consisted of parents and grandparents that were employed by HCS. So I am just trying to be a good citizen, do my part and volunteer for the position.
How well do you think Haywood County Schools has responded to the Coronavirus Pandemic? If applicable, what would you have liked to have seen done differently?
Andy Hall: COVID-19 has been a bad situation all the way around. There are so many unknowns, that it's impossible to know exactly what to do at any given point in time. The school system is largely at the mercy of the mandates that come out of Raleigh, especially when it comes to scheduling. I do, however, believe that planning could have been better for distance education that began in August, especially given the fact that it was quite obvious for several months that distance learning would be a large part of getting the kids back in school. Better safeguards could have been in place to avoid the loss of a full week due to the system being hacked as well.
Jim Francis: The Coronavirus Pandemic has been a tremendous challenge for the School Board. The board has had a multitude of meetings discussing the issue and trying to make sure we are doing what is best for our students, teachers, and staff. The difficulty is that this is an unprecedented event and it seems like things change every time we turn around. Unfortunately, there is not a road map as to how to navigate our way through a pandemic. I feel like the current board has been very deliberate in looking at all the information that has been available at the time to make the best decisions we could. It has been very difficult because there have been so many mandates and limitations that the board has had to adhere to. I understand no matter what decision we make it will have an impact on everyone, for some it may be a good thing and for others it might not be the ideal situation. We must all work together to make the best of this situation. I feel like safety is a top priority and we need to make sure we are bringing our students, teachers, and staff back to school in the safest possible way. There is still a great deal of concern in our community for the safety of the students and staff. We must do our best to make sure that everyone is comfortable with the transition back to school.
Danya Vanhook: HCS has really stepped up to the plate in its Coronavirus Pandemic Response. I'm glad that they took my advice and did what I recommended at the school board meeting on July 22, 2020, when I suggested that we begin with remote learning and transition into a Plan B, "Return to Learning" scenario. Now our administrators and staff have had 2 months from the date of that decision to put all the appropriate safety protocols in place to ensure our student and teacher safety. I'm paraphrasing Dr. Bobby Rogers when I say that I am extremely proud to be working on this issue with the great people and leaders in Haywood County. We are such a tight-knit community, and we have and are going to continue to stand up for one another, reach out to help one another, and have one another's backs with all the issues stemming from COVID-19: such as the school system and staff providing meals and nutrition, the churches providing free internet, and private businesses such as Smoky Mountain Sk8way, providing a private remote learning facility to and for our students and parents. I want to say a special thank you to our wonderful teachers, who have just gone above and beyond to learn how to do remote learning and do it well. They are doing a fantastic job. Finally, thank you to all the parents for hanging in there to do the remote learning with your children. It's all gone as smoothly as we could have hoped, and that's because of this unique thing we've got going on in Haywood County: our community. One Haywood. And it's going to continue to go smoothly as we "Return to Learn" on Sept. 21.
Logan Nesbitt: All in all, I think that they did a really good job. I can't say that I was envious of the current school board members having to make the tough decisions. I would have liked to have seen the kids back in school a little bit sooner, but obviously with the governor mandates that probably wasn't exactly possible. In my opinion, it put the parents of younger children, specifically elementary age, in a bind. Having to find childcare, taking off work, relying on grandparents etc. I don't think I would have necessarily done anything different as far as the pandemic goes, I think it was a unique situation. All in all, I think they did a great job.
Did you agree with the "punishment" given to Dr. Nolte earlier this year regarding his Facebook post? Why or why not? What impact did that decision have on you deciding to run?
Andy Hall: There was no punishment that I saw. I mean, if that's considered punishment, it's very light punishment. I was disappointed that Dr. Nolte could be so tone-deaf regarding his use of social media. Anyone in a position as public as he should know better. He showed very poor judgment in that situation, and it concerns me that he might show poor judgment in the future when confronted with a truly important decision, so yes, this played a role in my decision. I had been considering running, but I would say that this made me decide that it was time "4 A Change." There is practically no outside influence on our hoard, as the members all seem to be born and bred in Haywood County. I believe that I bring a strong voice that will speak for those from other places as well as those who have lived their entire lives here.
Jim Francis: Regarding Dr. Nolte's Facebook post, this is and was a personnel matter and because I am still a current member of the board, I am not at liberty to discuss personnel matters. I can say that the board does supervise the superintendent and that there are policies in place to do so. The board takes any issue brought before them very seriously with this being no exception. The board did make a statement regarding this issue and it is available for anyone that would like to read it. This issue has had no impact whatsoever on my decision to re-run for the Haywood County School Board. I do not have a platform, nor do I have an agenda, I am running to serve the people of Haywood County. I really appreciate the parents, teachers and members of the community letting me know their thoughts and feelings about the issues, it helps me be a better board member. I pray that I make the best decisions based on the information available at the time, for the betterment of our students, teachers, staff, and families of Haywood County.
Danya Vanhook: Dr. Nolte's Facebook post was offensive and insensitive to Haywood County's families and students of color (and many of us who aren't of color), particularly in light of the racial injustices and unrest that was going on this summer and continues to this day; however, I believe that he made an honest mistake and did not have malice in his heart when he posted this, as evidenced by his immediately taking down the post and apologizing to those he hurt in any way so, ultimately, the school board made the right decision.
I found his apology sincere, and his record of non-bias compelling (in fact, his record has been one of those of anti-racism and allyship). My faith teaches me to forgive others, particularly if they repent and turn away from their sins, which he did and has done, so I am led to give Dr. Nolte a second chance, because I believe in second chances. I'm 100 percent on board with his plan to "Foster Unity and Limit Divisive Bias," in fact, I've made it the second plank of my platform (except that I am pledging to take it one step further and help end Divisive Bias by starting a Unity and Anti-Bias Committee on the school board).
I have wanted to run for school board for a long time, and with Ann Barrett retiring, and after talking with my family and close friends and doing some soul searching/praying, I decided that now is my time to run. I feel like it is my time to serve in this capacity.
Logan Nesbitt: It didn't have an impact on me deciding to run. I came really close to running last term, but after praying about it and talking to my wife and family I decided not to. This time I had already decided I was going to run when the Facebook post hit. As far as the post, I don't really have an opinion because I haven't seen the study that they did, the investigation, I haven't seen the results. I'll just be honest. So, until I see the results of that I don't think I'll comment on that.
What is the number one thing you want voters to know, before heading to the voting booth, about why they should vote for you?
Andy Hall: I want people to know that having spent the past 17 years advocating for victims of domestic violence has provided me with the skills that are required to serve as an advocate for our students and faculty and that every position that I take will be based upon one simple premise; doing the right thing. I want them to know that the passion that I bring to my work every day will carry over into my service as a board member and that they can always count on me, to be honest with everyone involved. A positive, inclusive environment where no stone is left unturned to advocate for our students both inside and outside of the classroom will be the overarching goal that I will be working to achieve.
Jim Francis: First and foremost, I want to say "Thank You" to the voters of Haywood County for allowing me to serve them on the Haywood County School Board. It has been my pleasure and I would be very honored to continue to serve the students, teachers, and families of Haywood County. The Haywood County School Board has been through many challenges; floods, blizzards, having to close a school, cyber-attacks, the Coronavirus Pandemic just to name a few and there are still many challenges ahead. I would hope with my experience of already serving on the school board, that it would give me an advantage to face these challenges head on. I really believe in trying to address and fix the issues and not just try to kick them down the road. I want to continue to help get our students back on grade level in addition to addressing their social and emotional health. Also, I want to work to get better funding for our teachers and employees and make sure they are being supported in the difficult tasks they are facing. I want to continue to make sure that our tax dollars are used in the best possible way for the education of our students and support of our teachers. The board has reinstated steps that were frozen for over a decade, increased the county supplement for all employees, and restructured the coaching supplement to incentivize more teacher involvement outside the classroom. Haywood County Schools are one of the top school districts in our state. All the schools in Haywood County are graded A, B, or C (no Ds or Fs) with nationally recognized elementary schools. I would be very proud to continue to be a part in making sure we keep striving to achieve greatness. Again, I want to say thank you and I would very much appreciate the voters support.
Danya Vanhook: The number one thing I want voters to remember about me as they head into the voting booth is my name: Danya Vanhook for Haywood County School Board! Give me your vote, and I will be your voice and the voice for our kids from Waynesville to Washington, D.C. I'm not shy, and I will fight for internet and inclusivity for our kids to uplift rural America. Join me, and we can all dream, believe and achieve together!
Logan Nesbitt: Their interest is the same as my interest and that's children. So regardless of whether it's my child, their child, anybody's child, I'm going to watch after our children because that's our future. Parents shouldn't be concerned in the least because I will do whatever I have to do for my children and their children. As well as the faculty, employees and the parents of the HCS system.
Meet the candidates
James (Jim) Harley Francis III
• Age: 49
• From: Haywood County
• Occupation: North Carolina Marketing Representative for Southern Mutual Church Insurance Company
Andreina (Andy) Hall
• Age: 50
• From: Caracas, Venezuela
• Occupation: Legal Advocate and Human Trafficking Specialist
Danya L. Vanhook
• Age: 42
• From: Franklin
• Occupation: Attorney/President of the 43rd Judicial District Bar Association (7 westernmost counties of NC, including Haywood)
Logan Nesbitt
• Age: 36
• From: Haywood County
• Occupation: Self-employed electrician