Archived News
Two-year delay expected for N.C. 107 project
Wednesday, October 07, 2020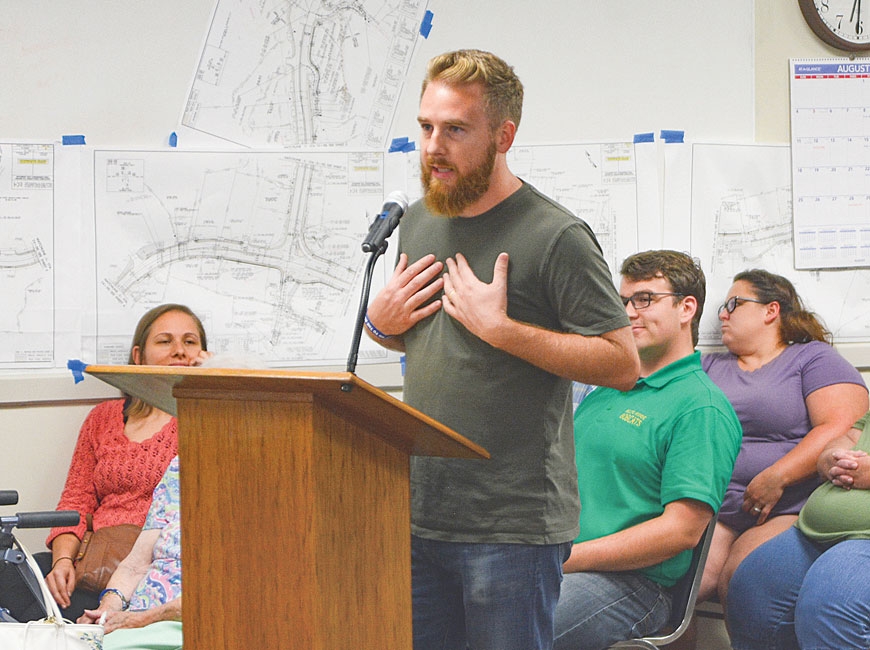 Cory Coleman of O'Malley's Pub and Grill speaks against the road plan during an Aug. 8, 2019, Sylva town meeting. Holly Kays photo
After years of planning, public meetings and emotionally charged back-and-forth, right-of-way acquisition for the N.C. 107 project in Sylva was set to begin in February, with construction starting in early 2023.
But that was before COVID-19 hit.
The pandemic, combined with financial shortfalls the N.C. Department of Transportation was facing even before the economy took a nosedive, has pushed the schedule back by roughly two years. Currently, right-of-way acquisition is expected to begin in fiscal year 2022 with construction starting in fiscal year 2025, said Senior Project Engineer Jeannette White. Each fiscal year begins July 1 and ends June 30 of the following calendar year — it's unknown at what point in each fiscal year work will begin, said White. A firmer timeline is expected following the N.C. Board of Transportation meeting Oct. 8.
While work on N.C. 107 will begin significantly later than expected, many other DOT projects in the state are experiencing much greater delays, said Western Mountains Area Communications Officer David Uchiyama. The N.C. 107 project is faring better than most because 80 percent of the project's construction cost is covered by bond funding, meaning that less DOT funding is required to complete it than is the case for other projects.
"Two years isn't that much when you compare it to other projects across the state," Uchiyama said. "There are literally thousands of projects smaller and bigger than r-5600 (N.C. 107) that are being pushed back at least a year or off the calendar altogether."
The current estimated total cost of the project is $78.8 million, a 12.2 percent decrease from the $89.7 million estimate delivered in 2019. The reduction is due to improved plan details and better right-of-way information at this point in the project, but the delayed timeline will likely cause an escalation of the current estimated cost, as the price of materials and labor tends to go up over time.
"It's very possible the cost of the project will increase," said Uchiyama.
While actual construction won't occur for quite a while, design work continues to move forward. Current plans are considered 75 percent complete, and while most aspects of the project are pretty well nailed down, the team is still looking at a strategy to minimize impact on a half-mile section between Pizza Hut and Lowe's.
When N.C. 107 was widened in the 1980s, a stream that once flowed alongside N.C. 107 was encased in 6-foot pipes and buried under the road. Those pipes are now more than 30 years old and in need of replacement. Current standards would require two 6-foot pipes to route the stream, not just one.
"People have literally built their properties or their structure up against the edge of the road, and some of them are very close to this big 6-foot diameter pipe underneath the road," said White. "So, if we take it out and replace it, we're obviously impacting them."
The design team is investigating an option that would reroute the stream, named Mill Creek, to flow along the backside of the properties in question instead of in the front, under the road. If the plan moves forward, property owners would be asked whether they prefer to let an open stream flow through their backyards or if they'd rather have the DOT contain the water in a 7-foot-by-7-foot culvert. Businesses that request a culvert would then go through a cost-benefit analysis in which the DOT would compare the cost of installing the culvert with the total value of the property.
"We're really doing the best we can to minimize impacts to the community, because we all live here," said White.
The N.C. 107 project has drawn staunch opposition from many in the community since a preliminary list of businesses that might be relocated as a result was released in early 2018, but in reality, the conflict stretches back much farther than that. Local leaders and traffic planners have long known that something would have to be done about the high volume of traffic and hodgepodge of entrances and exits on the corridor, but the problem is that there's no easy answer.
Since the mid-90s, the DOT had been considering building a new road that would cut through the mountains north of Cullowhee to join U.S. 74, thereby reducing volume on N.C. 107. That idea was ultimately axed in 2012 following vocal public opposition, so the DOT turned its attention to instead improving the existing road. Initial plans for that endeavor also earned widespread disapproval due to their high price tag and potential to require roughly one-sixth of Sylva's business community to relocate.
When asked whether rerouting the stream could reduce the number of relocations, White responded that project plans have not reached final design, so "we are not quantifying that number." Designers have not yet received a notice to proceed with the aboveground stream design. However, keeping the stream buried would cause impacts to both sides of the road due to the updated standards that require the installation of two underground pipes. Bringing it to the surface would require only a single 7-foot corridor.
"We're hoping this will cause less impact, but we don't actually know," she said.