Archived News
Strong support for Cawthorn outside NC-11 debates
Wednesday, September 09, 2020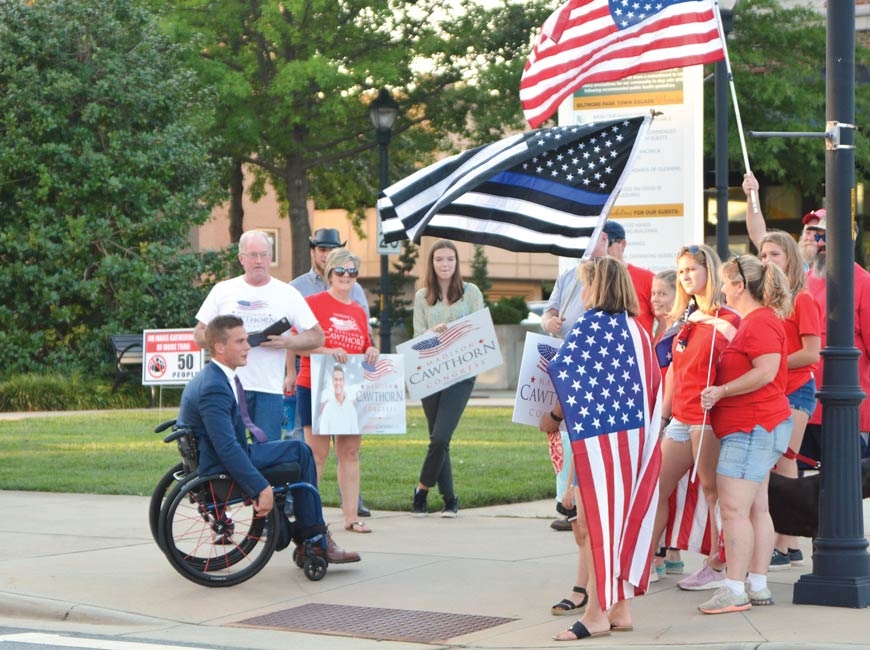 Madison Cawthorn addresses crowd of supporters in Biltmore Park in Asheville.
Updated 9/11/20, 12:30 p.m.
While N.C. Congressional District 11 candidates Moe Davis and Madison Cawthorn got into a heated debate inside during the "Best in the West" online events Sept. 4-5, the excitement overflowed outside of the venue as well.
The event took place at the WCU campus in Biltmore Park on Friday night. Though the event was streamed online, with no seating available to the public, roughly 100 Cawthorn fans gathered outside the building to show their support for the young Republican. On the other hand, Davis didn't have any outside fanfare.
Several trucks parked around the building toted Cawthorn for Congress signs, and countless more drove circles around the nearest roundabout honking and shouting support, waving Cawthorn, Trump 2020, Blue Lives Matter and Rebel flags.
"I'm a veteran, and we have a large veterans' group that is supporting Madison. We want to show our support tonight. Because we feel that he is a patriot. And he's gonna do a lot for us veterans out here," said Harvey Stanley, who was holding a "Veterans for Cawthorn" sign. "There are a lot of veterans in Western North Carolina. And they depend on people in Congress to help them out. Mark Meadows did that for us. If Madison takes his place, he'll probably do the same thing for us."
Over the sounds of cheers and car horns, Stanley went on to say why he couldn't support Davis. "To me, he doesn't care about the people who served, he didn't care about saving American lives, that's why I, as a veteran want Madison Cawthorn in there and not Davis."
Police were present outside the building, and as the crowd continued to grow, one young supporter got the crowd's attention and asked that they split into two separate groups, with a wide amount of space between them.
The Smoky Mountain News learned after the debate that Davis had posted a message on his campaign's Facebook page encouraging supporters to stay away from the debate due to Covid-19 concerns. Apparently they listened as none showed up. Cawthorn's campaign, on the other hand, encouraged supporters to show up.
At 4 p.m. Friday, North Carolina entered Phase 2.5 of easing COVID-19 restrictions, which still limits outdoor gatherings to 50 people. Face masks are still required in this phase, but a majority of the crowd did not wear one.
Cawthorn came out to address his supporters just before the event began. He spoke to each group separately thanking them for their support and assuring them that he "would not let them down."
One supporter, who asked not to be named, thanked Cawthorn for a prayer he had previously offered for her mother prior to her mother's hip surgery. The supporter's mother was there in a wheelchair, and Cawthorn was quick to ask her how the surgery had gone.
"While he was on the phone, I told him that my mother was about to go into surgery because she had a fall and she broke her hip. He stopped all of a sudden and he said this beautiful prayer for my mother before she went into surgery," the supporter later told The Smoky Mountain News.
John Hart, public relations consultant and spokesperson for Cawthorn's campaign, said President Donald Trump's support of Cawthorn's campaign, "creates a lot of energy and enthusiasm. But I think there's a lot of misconceptions about both president Trump and also about Madison. Madison is his own person, he is not a Trump conservative, he's not a Reagan conservative, he's a Madison Cawthorn conservative, so he's writing his own script in real time and we're all watching it happen. So, it's an exciting moment."
Almost 2 hours later, when the debate had ended, several supporters were still out front as Cawthorn and Davis left the building.
Things were quieter on the second night of the debate, which took place at the WCU Health and Human Sciences Building in Cullowhee. About 50 Cawthorn supporters — ranging in age from elementary to elderly — gathered in one of the lower parking lots. No Davis supporters were present.
The Cawthorn supporters set up fold-out chairs and truck beds in front of a large white trailer that would hold the projector screen for the debate taking place inside, with several pick-ups parked throughout the lot bearing large Cawthorn political signs.
Chelsea Walsh had traveled the hour-plus from her home in Hendersonville to be in Cullowhee that night. Walsh, 32, said that "one of the coolest things" about Cawthorn is his ability to gather support across generations — her grandmother and her mother are both Cawthorn supporters, and her niece and nephews are excited to go to the polls as well.
"It's neat, because I've never seen a politician bring in so many different groups of people," she said. "I feel like we need younger people in politics."
Supporters hailed not just from Cawthorn's hometown of Hendersonville but also from the various corners of Jackson County.
"I'm here to support Madison. He is trying his best to do what he can, and I think he's got a sincere heart to completely keep his words," said Emil Milky, 81, of Sylva.
Staff writer Holly Kays contributed to this report