Archived News
'Whee want change': WCU students call for policy changes following racially charged videos
Wednesday, September 02, 2020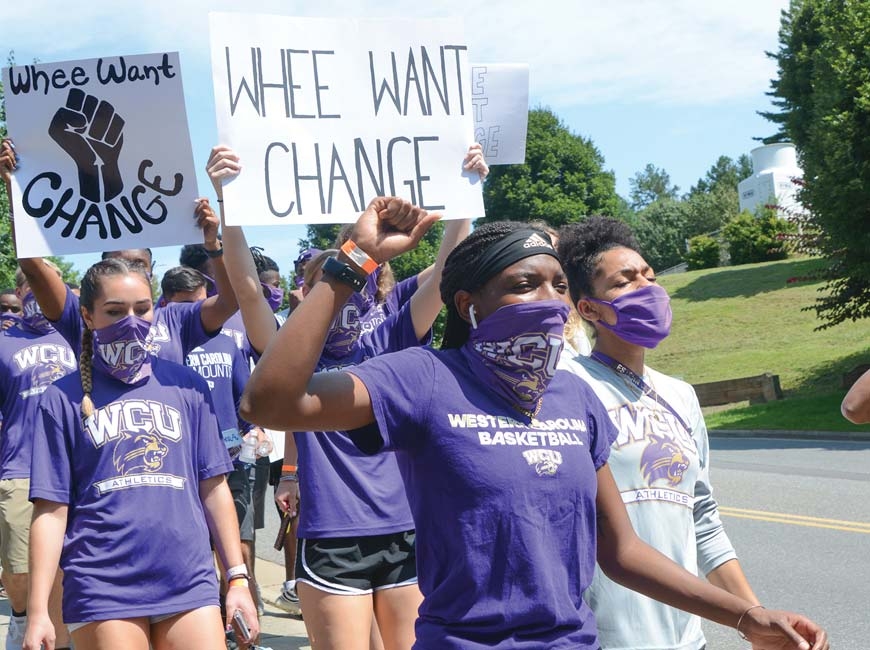 Western Carolina University athletes led a march through campus Aug. 26 calling for an end to racism and more clarity in university policies addressing it. Holly Kays photo
Five Western Carolina University students are no longer enrolled at the school after appearing in a pair of videos that featured racial slurs and surfaced on social media the first weekend after classes began. The university community showed overwhelming support for the students' departure from campus during a march held Wednesday, Aug. 26, drawing more than 800 people.
Calls for change
A sea of purple gathered around the fountain area on campus that day to participate in the Whee United March organized by the WCU Football Team, with participants marching in a column that took nearly 10 minutes to pass by as it moved east on Memorial Drive, down Killian and then looped around the Bardo Performing Arts Center via Centennial Drive on its return to the fountain, where student leaders and Chancellor Kelli R. Brown delivered comments during a brief speaking program. In addition to students, the marchers included faculty, staff, alumni, administrators and trustees.
Students held signs bearing slogans such as "No room for racism," "Silence is compliance," "BLM" and "Expel racism," and chanted two key slogans — "Whee want change" and "We've had enough."
Event organizer Donnavan Spencer is a senior criminal justice major and running back on the football team. He initiated the march after seeing how his teammates reacted to the contents of the social media videos. One particular teammate, he said, was reduced to tears by what he saw.
"After I saw that it made me want to start something and be not just a reactive person but a proactive person," said Spencer.
So he talked to Head Coach Matt Spier, and the team decided it would sit out of training and team meetings until change started happening on campus. The students who appeared in the videos "are no longer enrolled at WCU and will not return" — the university stopped short of specifically stating they had been expelled — and that's a development that Spencer applauds. He envisioned the march as a way to forge unity on campus while also advocating for more permanent changes.
"Now we want to start attacking policies," said Spencer.
In particular, Spencer wants to see changes to the university's policy on unlawful discrimination and to sections of the student code of conduct that deal with hateful and harassing speech. The policies need to be a lot clearer, he said, both in terms of what is and is not allowed and in terms of what the consequences are for violation.
"We know we have the Creed and we have the Student (Code of) Conduct, but it's very vague," said Kourtnee Harris, chief of the Intercultural Affairs Council, during the speaking program. "It allows for people to have a lot of loopholes, and that's not what we want. If we want our voices to be heard and we want justice to be served every single time, there needs to be something written."
A petition from ICA is now circulating online, asking supporters to sign on in agreement with the statement that, "The students of WCU NEED for Western Carolina University to implement a written policy that states clear and concise guidelines on what the consequences will be for any physical and/or mental harm due to racial actions. We also ask that students be notified that if harm is done, the student body will be informed that the participants of those actions will be going through a due process and will be punished."
In an interview earlier that day, Brown expressed support for that request.
"We're going to continue to look at everything on campus to make sure that this is a place where people feel safe, regardless of your race, the color of your skin," she said. "And we're going to continue to do that. This could be a catalyst for that, and we'll continue on."
Violation, apology and discipline
The videos in question appeared on social media over the weekend of Aug. 22.
The first featured three white female WCU students and began with one of them performing a rap that includes the 'n' word. It then cuts to a second person, who says that, '(if they can) call you a c____, you're allowed to call them a n___." The third woman states that it's acceptable to use the word as long as you end it with an "a," not with an "er."
The second video showed two white male students explaining that when they use the OK symbol, all they mean is "damn, that's nice," and that they're not "being f*in racist" and using it as a symbol of white supremacy. However, they appear to do this while making ample use of the 'n' word and conclude by saying "if you do know some n__ gals who want to come over and f**k man, let me know."
However, the first speaker in the video — not the one who made degrading comments about Black females — said in a Twitter post that he was not saying the "n" word at all. Rather, he averred, he'd been saying "Negus," the name of the Snapchat user he was addressing.
The post appeared on a newly created profile using the handle @johnsmith61224 along with a 95-second apology video. It came hours before the university announced that the students were no longer enrolled.
"The video was my grossly inappropriate reaction and response to a fellow student about a post I made using a symbol that I genuinely did not know meant anything racist," the man said. "It was absolutely wrong of me to laugh and smile when the other person in the video spoke inappropriately. I am not a racist nor do I support racist beliefs or actions whatsoever. This was a horrible mistake of mine that I will forever regret."
The videos that included the racist language appeared on the students' personal accounts and were later shared by others who tagged WCU in those posts. Brown was quick to issue public statements condemning the contents. On Aug. 25, WCU Communications Director Bill Studenc said that the matter would be investigated and disciplined through the process outlined in the Code of Student Conduct.
That document outlines a hearing process for alleged violations. The process begins when a student receives notification via email of his or her potential involvement in an alleged violation. After that, a conduct meeting occurs between the student and the hearing body during which student rights and responsibilities are reviewed, the report is reviewed, the student shares additional information and the hearing body makes a decision regarding responsibility.
The matter can ultimately be resolved either through mutual resolution — this occurs when the violator waives the option to go to a hearing and accepts any recommended sanctions delivered for the violation — or through a formal hearing, during which the Hearing Board receives testimony and evidence, deliberates and hands down a finding of responsibility and recommended sanctions.
There are specific timelines attached to this process. According to the Student Code of Conduct, a student alleged to have violated the code has five days to set up a conduct meeting. The student is then entitled to at least 10 days' notice before a hearing is held, unless he or she waives the 10-day preparation period in writing.
In light of these timelines, university action in response to the videos occurred swiftly. At 7 p.m. Tuesday, Aug. 25, the university announced that all five students who appeared in the videos "are no longer enrolled at WCU and will not return" — just three days after the first video surfaced. The university declined to comment specifically as to whether the students were formally expelled, whether hearings were held, and which aspects of the Student Code of Conduct they violated. Student disciplinary records are protected as education records under the Family Educational Rights and Privacy Act.
University action garners praise
Reaction to the students' departure has been overwhelmingly positive, particularly among students of color who attended the Aug. 26 event.
"Everybody's feelings are valid about what happened," said Black Student Union President Brittney Windham during her public comments at the event. "We're all a little angry and upset, and I'm so proud of this university for actually stepping up and expelling the students."
Freshman Adam Naylor said that, in his opinion, there's just no place on campus for that kind of racially charged language. He's glad the students are gone.
"By now you're expected to live on your own, you're expected to do your laundry, you're expected to keep track of your balance and your money and your classes and time," he said. "You should have known by now that this is unacceptable. This is not something you should say. If we've heard you say it, if there's proof that you've said it, there's no excuse."
For Naylor, the use of the "n" word was deplorable, as was the "carefree" attitude of the students using it.
"It seemed to me that it was in their everyday vocabulary that they felt so comfortable saying it while they could clearly see they were being recorded," he said.
Senior Thomas Golden, who serves as secretary for the Black Student Union and president of the Nu Zeta chapter of Alpha Phi Alpha, said that he believes in free speech, but also in due consequences.
"You have to be a man or a woman and take your consequences," he said.
Senior Michael Minder, who is majoring in chemistry, biology and forensic science, agreed that expulsion was the right call in this circumstance but said that developing a rock-solid policy as to what crosses the line and what does not will be difficult. The lines are blurred, and things aren't always cut and dry. However, he said, it's a goal worthy of whatever effort it takes to get there.
"We know how hard it is to make a policy, but we also understand that policies have been made for other things," he said.
Michael Naylor, a 1982 graduate who is president of the WCU African American Alumni Society, said that the consensus among Black alumni is that they're "disappointed, but not surprised," about the videos. He applauds the university's reaction and hopes to see student activists ride the momentum they have beneath them to "see if we can get some pretty swift and hopefully positive results out of this."
"I don't think in this environment, anyone is in a place where they don't know that these behaviors are not acceptable," he said.
First Amendment involvement
The discussion necessarily involves questions as to how the First Amendment applies when it comes to racially charged speech.
That amendment, among other provisions, prohibits the government from "abridging the freedom of speech." The American Civil Liberties Union has long taken the position that "restrictions on speech by public colleges and universities amount to government censorship, in violation of the Constitution."
"To be clear, the First Amendment does not protect behavior on campus that crosses the line into targeted harassment or threats, or that creates a pervasively hostile environment for vulnerable students," reads an article on the ACLU website titled "Speech on Campus." "But merely offensive or bigoted speech does not rise to that level and determining when conduct crosses that line is a legal question that requires examination on a case-by-case basis. Restricting such speech may be attractive to college administrators as a quick fix to address campus tensions. But real social change comes from hard work to address the underlying causes of inequality and bigotry, not from purified discourse."
The value we place on the right to free speech is "put to its severest test when the speaker is someone we disagree with the most," the article states.
"Speech that deeply offends our morality or is hostile to our way of life warrants the same constitutional protection as other speech because the right of free speech is indivisible: When we grant the government the power to suppress controversial ideas, we are all subject to censorship by the state," it continues.
The article clarified that speech that constitutes a "true threat of physical violence" is not protected, and that if a particular student is being continually harassed so as to be unable to "participate fully in the life of the university," the school "must" take action.
However, the article warns, it's dangerous to rely on speech restrictions to fight generalized bigotry.
"Although drafted with the best intentions, these restrictions are often interpreted and enforced to oppose social change," the article reads. "Why? Because they place the power to decide whether speech is offensive and should be restrained with authority figures — the government or a college administration — rather than with those seeking to question or dismantle existing power structures."
In response to a request for comment on this perspective, WCU replied that the university supports "all First Amendment rights enjoyed by our campus community."
"The university continuously evaluates campus speech pursuant to the most current, available jurisprudence," said the WCU General Counsel Office.