Archived News
The lady legislator: Jackson County gave N.C. its first female senator
Wednesday, August 26, 2020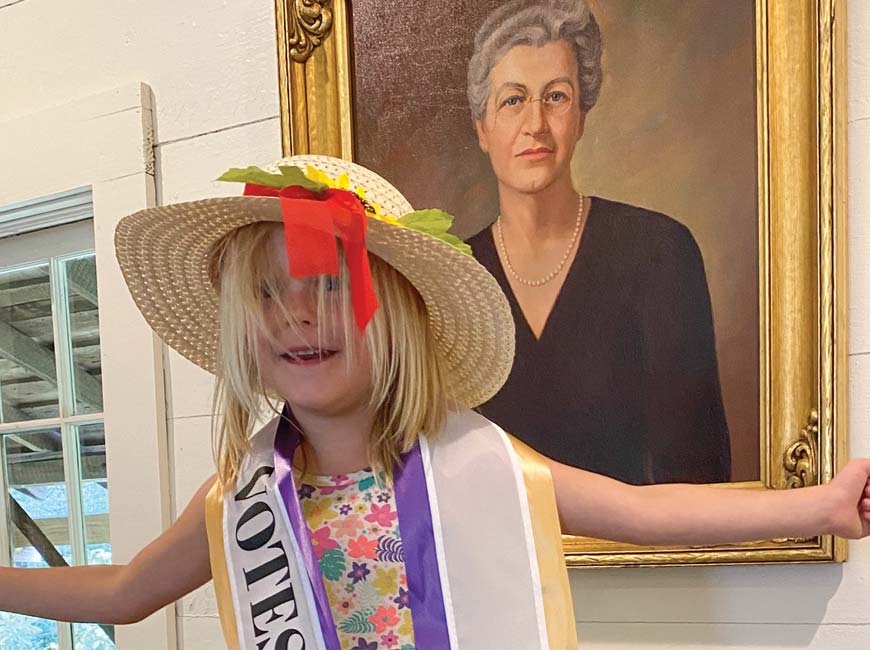 Petra Ann Austin, great-great-granddaughter of Gertrude Dills McKee, sports a suffragette sash in front a portrait of McKee displayed in the Cashiers Historical Society's XIX Amendment Exhibit. Donated photo
Now 75, Cashiers resident Ann Austin was just 3 years old when her grandmother died following a sudden cardiac episode.
"I remember going to her funeral or memorial," said Austin. "I remember being on the sidewalk outside the church and knowing that she was important."
As Austin grew up, she would come to learn just how important her grandmother — Gertrude Dills McKee — had been to her community, her county and her state. Hailing from the tiny town of Dillsboro and living out her adult life in Sylva, McKee became the first female member of the N.C. Senate after she was won the 1930 race to represent Jackson, Haywood and Transylvania counties. She proved popular enough to repeat the feat three more times, serving additional terms in 1937-39 and 1943-45. She was re-elected in 1948, too, but died a few days after Election Day.
"It's kind of remarkable," said Austin. "In 1930 here's this tiny little town of Dillsboro, and this woman ends up being the first woman senator of North Carolina. It just amazes me."
It's hard to say why it was that way, said Austin. Maybe it had to do with that mountain work ethic, the idea that life is hard and that getting the job done is more important than the gender of the person responsible for doing it.
"But she was not a pioneering woman," Austin clarified. "You don't see her out with a hoe digging out a hardscrabble existence on subsistence farming. She was part of a privileged family. Some people say that one reason she had so much time to do all of this (politics) was that she always had a lot of household help."
When McKee first won her seat, women had only had the right to vote for a decade, and McKee was ready to break the next glass ceiling. But despite the unorthodox nature of her life's trajectory, said Austin, McKee wasn't a "rabblerouser." She relied instead on her personal charm and strong community relationships to get things done.
"She went to Peace College in Raleigh and was extremely bright, but she was also extremely personable," Austin said. "Everybody enjoyed being with her. She had the ability to inspire people, and she had strong contacts with her church and with her community and with all these clubs and families, so she was just pretty much a person in the right place in the right time, it seems like."
McKee grew up the second of three daughters, and Austin speculates her lack of a brother may have had something to do with the sense of strength and empowerment she held as an adult — she didn't grow up seeing the world around her constantly defer to a male sibling. Additionally, McKee's father may have provided a role model in her political ventures — in 1889, William Dills represented Jackson County in the N.C. House of Representatives.
But McKee's most important training ground was the array of women's clubs and organizations with which she involved herself before she ever ran for office. According to NCPedia, during World War I she helped direct Liberty Loan and Salvation Army drives, also organizing the War Savings Stamps Drive. After the war she served as president of the N.C. Federation of Women's Clubs, the N.C. Division of the United Daughters of the Confederacy and Southern Council of Federated Club Women, with Gov. Angus McLean appointing her to the N.C. Education Commission in 1926.
McKee was also involved in the Suffrage Movement that led to the ratification of the 19th Amendment, and in that conviction — as in all her political ambitions — she had the support of her husband, Lyndon McKee. If he'd been a resistant kind of husband, said Austin, her grandmother's story would likely have turned out much differently.
Many hoped that North Carolina would become the 36th state to ratify the amendment, giving it the final, affirmative say on making women's right to vote part of the U.S. Constitution. In the spring of 1920, McKee was one of two women the local party elected as delegates to the State Democratic Convention, held in Raleigh April 8. Two other women were chosen as alternate delegates.
"At the State Democratic Convention, women suffrage was the big issue as expected. There was some resistance to the seating of the women delegates by antisuffragists, particularly those from east of Raleigh," reads a chapter in "Gertrude Dills McKee: A Biographical Analysis" by Joan Wright Ferguson. "An editorial in the Raleigh News and Observer noted that, 'women participating in the convention was considered a step so advanced and so radical that it seemed almost an impossibility. But it was a fact.' The women had changed their tactics and arguments, having 'thrown away all sentiment in the matter of woman suffrage, only making claim of the square deal for women as well as for men.'"
It was a monumental occasion, but when it came before the General Assembly the vote failed by two. North Carolina wouldn't officially ratify the amendment until 1971, but the very next day Tennessee provided the final affirmative vote needed to make women's suffrage the law of the land.
In Jackson County, local leaders were receptive and enthusiastic about this new development, with the Board of Elections chairman at the time requesting that all registrars "be especially courteous and alert in letting the good women of the county have an opportunity to register," Wright wrote. Throughout the 1920s, Wright continued, women were urged to participate in party councils and conventions.
In 1930, McKee made history after agreeing to run for the District 32 Senate seat, which included Jackson, Haywood and Transylvania counties.
"For more than a year many Democrats of Jackson County, also of Haywood and Transylvania counties, have urged me to become a candidate for the Democratic nomination for State Senate from the Thirty-second Senate District," McKee wrote in a March 13, 1930, statement reported by Wright. "After much thought and considerable hesitation I have decided to allow my name to go before the Democratic primary in June. Many of my friends have been aware of my indecision and genuine reluctance to enter the political field, and here, in justice to those who have advocated my candidacy, I feel that I should make this definite statement: If nominated and elected it will be my earnest purpose to represent and serve my district to the best of my ability."
McKee became the first women to even be nominated for a state Senate seat, and she ended up defeating her opponent James F. Barrett by 3,652 votes. She carried her home precinct of South Sylva by only two votes, but she won her historically Republican childhood hometown of Dillsboro by 47 votes and claimed majorities in all three counties in the district, including Barrett's home county of Transylvania, Wright wrote.
In 1931, she became one of two female members of the N.C. General Assembly, the other being Mrs. B. Frank Mebane, a House of Representatives member from Rockingham. That same year, there were more than 150 women serving as legislators in more than 40 of the 48 states in existence at the time.
During her time in the legislature, McKee sat on a variety of committees and chaired the Public Welfare Committee during each of her three terms, according to NCPedia. On that committee, she helped develop welfare programs that other states ultimately used as models to create their own. And as a member of the Education Committee, she secured passage of a bill to ensure that all children be given at least a sixth-grade education.
Austin said she'd long thought of her grandmother as a tireless leader who thrived on doing the work she loved. But now she knows that McKee's responsibility weighed on her, as shown in a letter she wrote to her friend Anna Candler following Candler's recovery from a long illness.
"Tomorrow we are off to Raleigh again — I stop in Statesville on the way back to speak to a luncheon meeting of the Women's Club Thursday, then I expect to come home and do nothing but rest and look for you," McKee wrote. "I must warn you that you are going to see a much changed Gertrude. My hair is white and I show the strain of a hard winter's work."
It was hard work, but it paid off — for the North Carolina of 1931, and for all the generations that have come since.
"My grandmother has been such an inspiration to me, and to many others," said Austin. "To be sure, she was a groundbreaking political figure. But it was her qualities of integrity, loyalty and service to her fellow man that make her life such a compelling story. That, along with her legendary humor and wit."