Archived Outdoors
Duke pauses aerial spray program following complaints
Wednesday, August 12, 2020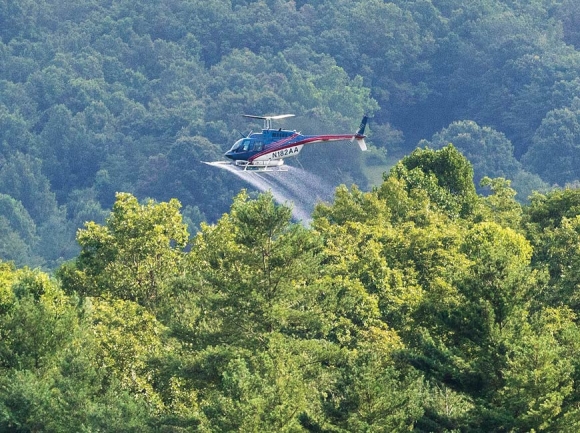 A helicopter administers herbicide along a transmission line running up the Cowee Mountains. Donated photo
Angela Faye Martin's husband Brent had already left the house to scout a future hike for the guide service they run together when she got a message from a friend. Helicopters were flying the Duke Energy transmission line that goes up the Cowee range, spraying herbicide along the corridor. The friend sent pictures.
Angela Faye knew that Brent's route would take him along a road that more or less parallels the power line, and she was worried.
"I knew he'd have his windows down, traveling with a friend during this pandemic," she said.
What if he got misted?
But Brent didn't learn about the episode until he got home later that day. While he did see the helicopters earlier in the day, he didn't witness any actual spraying. Still, the whole thing caught them by surprise. In addition to their own safety, they were worried about how the spraying might impact the environmental balance of the area around them, especially the many species of birds that gravitate to the edge habitats that power lines create. In particular, Angela Faye was worried about juvenile birds.
"There were a lot of late broods of birds due to the cold spring we had, and I knew that there would be lots of fledglings moving about under those lines," she said.
Program paused
The Martins weren't the only ones to find themselves shocked and angered by the sudden appearance of herbicide-spewing helicopters in Jackson and Macon counties. In fact, Duke Energy received such a strong reaction from the public that it temporarily halted the program.
"We paused the program because we recognized there were opportunities to improve our communication to property owners, and we are now working through this process and evaluating how we can adapt communication moving forward," said Meghan Miles, spokesperson for Duke Energy. "We will communicate with impacted property owners before we resume work moving forward."
Duke has no firm plans as to when it will restart the program.
Duke first piloted the aerial application technique in 2017, and after evaluating the results the company concluded that it was a cost-effective way to keep transmission rights-of-way clear of vegetation in especially rugged, difficult-to-access areas, said Miles.
Additionally, she said, the "targeted nature" of aerial application meant that applications would not have to occur as frequently ground applications, which are conducted every three to four years. None of the areas slated for treatment in 2020 had been previously touched by aerial treatments.
Before pausing the flights, Duke had not made a habit of notifying nearby property owners before spraying. Instead, the crew would do a pre-flight over the area to identify hazards or obstacles, reaching out to property owners on an "as needed basis." This method had some shortcomings, as it relied on the crew's observations during a single point in time. If they saw livestock or a pet in the area, they'd make a note to call the owner — but if the animal was absent at the time of the flyover, no call would occur.
Of the 100,000 acres of transmission rights-of-way contained in Duke Energy Carolinas' territory, only about 3,000 are being evaluated for aerial application, said Miles. However, because aerial application is reserved for the most remote, difficult-to-access areas of the company's territory, many of those 3,000 acres are located in Western North Carolina. Prior to pausing the applications, Duke Energy had completed aerial application on about 1,800 acres. According to Miles, the majority of these acres were located in upstate South Carolina but aerial applications were conducted in Macon and Jackson counties as well, with plans to apply the spray in areas of Swain County too.
"We recognize Western North Carolina is a treasured part of the state with beautiful trees, but trees and brush near power lines are also the leading cause of power outages and power quality issues," she said.
Clearing rights-of-way in this manner is safer for crews and reduces the required frequency of herbicide application. Miles emphasized that the applications do not occur near neighborhoods, schools, community gathering spaces or agricultural areas, and that it is Duke's goal to stay 100 feet or more away from residences.
GIS data allows workers to accurately place the product at each site as the helicopter flies just above tree-line, with the mix of chemicals tailored to the specific type of vegetation growing at each site, she said. To prevent chemical drift, spraying is limited to conditions when winds blow 10 miles per hour or slower.
"Most importantly, any product is rigorously tested and approved by the EPA," said Miles.
The primary herbicide used in these aerial sprays is Trycera, a product whose active ingredient is triclopyr. Triclopyr has been registered with the EPA since Nov. 4, 2005. Other herbicides used are Krenite, Escort and Method, with specific product mixes varied across application sites to address the composition of plant species at each location. The sprays contain about 90 percent water and 10 percent product, said Miles.
Environmental opposition
Ken Brown, executive director of the Watershed Association of the Tuckaseigee River, said he has no doubt Duke is following all the rules in place governing such spray applications. Nevertheless, he said, these aerial sprays — and the lack of communication with property owners before deploying them — are "unconscionable."
"I am very surprised that Duke Energy has not been more forthcoming with residents who are in the general vicinity of that spraying operation," he said. "We know there's a mounting body of evidence that overspray for herbicides and pesticides drifts long distances and can have very, very negative effects on people even miles away."
While that evidence is growing, much is still unknown. Brown cited a 2018 research paper published in The Journal of Agricultural Science — "Deposition of Pesticide to the Soil and Plant Retention During Crop Spraying: The Art State" by Asma Allagui, et al — that reviewed studies focused on pesticide retention and soil retention during crop spraying in order to give an overview of factors that affect how pesticides enter and contaminate the environment. Duke is deploying herbicides, not pesticides, but the substances move through the environment in similar ways.
"Environment pollution related to pesticides has been confirmed by the scientific community for a long time, but the available information on the impact of this phenomenon on human health and the ecosystem are still insufficient … Plant retention and pesticide deposits during spray is a complex problem depending mainly on physical sprayer parameters, climatic conditions, spray properties and chemical formulation," reads the paper's abstract.
"What worries me is the lingering impacts the aerial spray has when it's absorbed and washes down through the soils into the water table and is carried by stormwater into nearby waterways, then it's distributed throughout the entire watershed," said Brown. "That's just completely unacceptable in my opinion."
According to a 2017 article from PennState Extension, it's possible for pesticide and herbicide drift to travel for more than a mile in the air. The risk of drift is greater when winds are high and when nozzles are adjusted to create smaller spray droplets.
According to Miles, Duke is quite mindful of these factors when making the applications.
"In addition to GIS data being used to allow workers to more accurately place product at each site and weather conditions being constantly monitored and aerial applications not occurring if wind gusts exceed 10 mph, the setup of the spray rig, length of boom, nozzle type, droplet size and product mix applied also control drift," she said.
Brown said that, while there are "some rules" governing such applications, he believes them to be "very lax" and in need of rethinking.
"I think generally the application of those aerial sprays and the rules that are applied to that need to be revisited and there needs to be more research done around the areas in which they are applied," he said.
Opt out of spraying
Customers who are concerned about herbicide use can request that Duke Energy not spray lines located on their property.
Some requests could be denied due to hazards for ground-based crews, but if approved a no-spray request would apply to both ground and aerial herbicide applications.
To request to be added to the list, call 800.777.9898 and ask to be contacted by a transmission vegetation specialist.
An earlier version of this story stated that "the primary pesticide used in these aerial sprays is Trycera." Trycera is an herbicide, as are all the other chemicals used in these aerial applications. No pesticides were used.
Leave a comment
2

comments
Technically and legally speaking, an herbicide IS a pesticide. Thank you for this article. We need more like this!

Monday, 08/01/2022

Technically and legally speaking, an herbicide IS a pesticide. Thank you for this article. We need more like this!

Monday, 08/01/2022