Archived News
'We believe in democracy': For commissioner's wife, winding road leads to citizenship, voting rights
Wednesday, August 12, 2020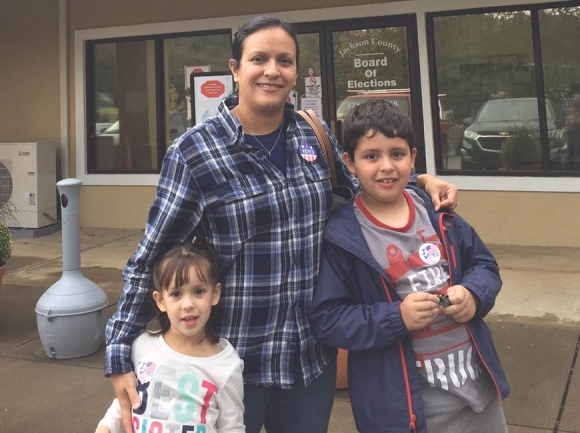 Luisa Teran de McMahan and her children, Henry and Annie, sport 'I voted' stickers following McMahan's first trip to the polls as an American citizen. Donated photo
With the 19th Amendment's passage now 100 years in the rearview, most American women alive today have been eligible to vote since the age of 18, or 21 for those who came of age before 1971. Balsam resident Luisa Teran de McMahan, however, was 40 years old before she was allowed to cast an American ballot.
"We take it for granted, but not all countries have the right to vote for their leaders, and the fact that in this country we can vote for our local leaders and vote for our government and vote for our president, that's important," she said. "You want to choose who is going to guide you or who is going to be the leader. You want to have someone who you believe is capable of handling situations and problems."
Originally from Venezuela, McMahan moved to the United States in July 2006 on a J1 visa, teaching second grade math and science at a bilingual school in Greenville, South Carolina. The Venezuela of McMahan's childhood was an affluent, democratic, stable country, but by the time she left that was already beginning to change. Hugo Chavez would be elected to this third term in December of that year, and in the seven years since he'd first gained power the country had already seen a string of violent conflicts between the government and its opposition in response to Chavez' dictatorial bent.
"I came for the 'American Dream,' if you want to call it that," she said. "I came with the hope of being able to stay one way or another."
Single at the time, she began to explore the world of online dating and ended up meeting a man named Brian McMahan, who was chairman of the commission for a rural county whose population was smaller than that of the entire city where she now lived. Luisa grew up in the city of Barquisimeto, which at the time had a population of about 1 million, and went to college in the capital city of Caracas. Greenville was by far the smallest town she'd ever called home.
But the two fell in love, and in 2008 they married. The following year, Luisa secured her green card and left Greenville for Jackson County. Marrying an American citizen had made her eligible to apply for the green card, but earning it was still a process.
"We had to prove to the U.S. government that he really loved me, and I really loved him and that the marriage was legitimate," she said.
They gathered together an enormous file of documents to prove this claim, including copies of all the emails they'd sent each other before meeting in person and the telephone bills that showed how many times they'd talked on the phone and how long the conversations were.
"It was a lot of money we had to pay in fees to change my status," she said. "We did what we had to do."
The green card allowed her to remain in the United States as a permanent resident. She could hold a job, travel freely and enjoy many of the same right that U.S. citizens enjoy — but she couldn't vote. Only citizens are allowed to vote, and the McMahans had to make it through three years of marriage before Luisa could apply for citizenship. By the time that date rolled around in 2012, she wasn't in a hurry to make the move. It was an expensive process, for one thing, and family life was busy. The McMahans had their first child, and then their second one, plus work and church and all the other responsibilities that come with being part of a community. It was really the election of President Donald Trump in 2016 — and the ensuing uncertainty as to what immigration policies his administration might enact — that spurred her to start the citizenship process.
In February, Luisa went to Atlanta to get fingerprints and biometrics taken at the immigration office. She was given an appointment in Charlotte several months later to complete the second step, which included a citizenship exam and a test to prove that she could read and write in English. The stakes were high.
"If you don't pass, you have to start over again," she said. "They don't reimburse you anything."
But, she did pass, and on Aug. 15, 2017, she was naturalized as a citizen of the United States.
Luisa voted for the first time the following year, in 2018, a milestone that would have been a big deal for anybody. But for her it was especially important, because her husband was on the ballot. Brian is currently serving his fourth term on the Jackson County Board of Commissioners after winning re-election in 2018. One of the 8,589 votes cast to elect him was his wife's.
"When my first time to vote came, we all went together," she said. "We made it a family affair, and we took pictures. It was meaningful because I was voting for my husband for the first time."
While Luisa and Brian didn't yet know each other during his first two political campaigns in 2002 and 2006, they were married when he won his contest in 2014, and in 2010, when he lost by just 68 votes.
It was "a little awkward," said Luisa, knowing that she could have helped narrow that gap were she eligible to vote.
"Especially in a small election like the county election, one or two or 10 votes makes a big difference," she said. "I felt a little frustrated, but then maybe it was for the best because those first four years of (our son) Henry's life, he was home way more than after he was elected again."
Now, as a full citizen of the U.S., Luisa loves knowing that this country is her home, and that she will always have a voice at the ballot box.
"We believe in democracy here, and voting is a big part of it," she said.