Archived News
Commissioners vote to keep Sylva Sam, with some changes
Wednesday, August 05, 2020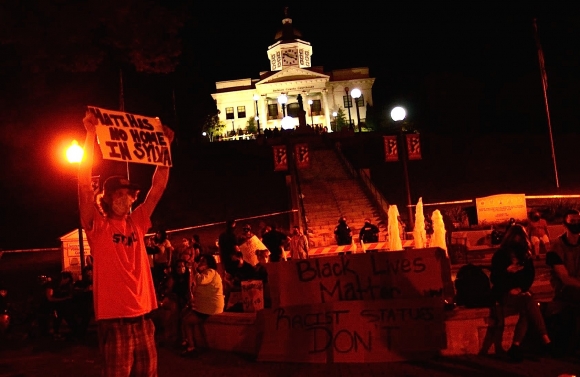 Jackson County Commissioners voted 4-1 Aug. 4 to keep Sylva Sam in his place overlooking downtown Sylva, but according to opponents of the 105-year-old Confederate soldier statue, the fight is far from over.
"We will continue this effort, and we will continue to work to acknowledge that racism is a part of Jackson County and that it just needs to be dismantled," said Kelly Brown, a leader in the group Reconcile Sylva, which supports relocating the statue.
Sign-bearing Reconcile Sylva members had flocked to the area before commissioners even took the final vote, placing a sign on the statue's pedestal that read, "White Ppl Say I'm Safe." As time wore on, statue supporters also made their way to the area, and exchanges between the two groups grew heated. Officers from the Jackson County Sheriff's Office and Sylva Police Department arrived on the scene and asked the groups to leave the steps. That area has been roped off with police tape ever since.
"Emotions were just getting very intense, so just for everybody's safety we blocked the steps off, blocked the grass off, so nobody gets hurt," said Major Shannon Queen of the Jackson County Sheriff Department.
It was nearly 10:30 p.m. when Brown spoke to The Smoky Mountain News, standing by the fountain at the base of the courthouse steps with about 40 other people, many of them chanting and holding signs.
"We're just going to occupy space and make our voices known," said Brown.
"I was very glad for the debate even though I'm not happy about how it turned out," said Sylva Commissioner Greg McPherson, who stood at the fountain alongside fellow Sylva Commissioner David Nestler. "I'm happy that everybody got their words in and their sentiments. So I hope we can move forward. I'm not sure how that's going to be, but we're not going to stop."
At the top of the courthouse, there were no signs or chants. The approximately 80 pro-statue community members on site at 10:30 p.m. mostly just stood around sharing reactions to the night's events and keeping an eye on the activity below.
"I get home and get a 911 message saying, 'They're at the statue right now,'" said Frank Huguelet, leader of the pro-statue Jackson County Unity Coalition. "So I put a message on Facebook to the Jackson County Unity group. I said, 'The statue's under attack. Come on.' And Jackson County showed up. We have people from literally every single part of Jackson County here tonight."
While members of the group are glad the statue is going to stay, they — like the anti-statue Reconcile Sylva members — expect the fight to continue.
"This is going to get worse way before it gets better," said Unity Coalition member Chad Jones, who plans to run as a write-in candidate for the District 3 seat on the county commission this fall.
'This is a tombstone'
The commissioners' vote came following nearly two hours of public comment, combined with countless emails, phone calls and texts from constituents. The vote was a response to a resolution the Town of Sylva passed July 27 formally asking the county to move the statue outside city limits.
During the Aug. 4 meeting, 35 people gave public comment on the statue issue, with 19 imploring the body to leave it in place and 16 pleading with them to move it.
Many of the statue supporters cited specific family ties to the people it was erected to honor — men and women from Jackson County who lived through the Civil War, and those who died before peace was restored.
Sylva native Jacob Jones told commissioners the story of Jehu Jones, his "something or another great uncle" who fought for the Confederate Thomas Legion.
"He died in 1883 in Strawberry Plains, Tennessee, and upon hearing of his death one of his brothers rode to Tennessee, gathered up his dead brother, loaded him on the back of his horse and rode him back across the Smokies and buried him in the old field cemetery in Jackson County," said Jacob Jones.
Beth James said that to her, the monument represents the sacrifices of the women who were left to care for their families alone when the men left for war, while Nola Brown read a letter that her great-great-grandfather James Watson received from a friend while deployed.
"They wanted 130 men in Jackson County and 240 men in Macon County, and it looks like they're taking nearly all of our men out of the country, but we must stand the storm of war to defend our country from the stubborn foe to keep them back from our soil," the letter reads.
"This is a tombstone to me and so many other people in this country," said Chad Jones, whose great-great-great grandfather and his son both fought in and survived the war. "If you remove that tombstone, you have just desecrated a grave in my opinion, and to me that is something that is just borderline unforgiveable."
Other speakers questioned the claims that Sylva struggles with racism and can be an uncomfortable place for non-white people.
Jackson County native Kitti Bradley told commissioners that she never witnessed any "infighting or racial problems" growing up in the community and that the same held true when she moved back to the area to raise her mixed-race children, including a son who has since graduated from Smoky Mountain High School.
"My son didn't experience any racism in this community," said Bradley. "In fact, people went the extra mile to lift him up and boost him."
Mike Parris of Sons of Confederate Veterans reminded commissioners of the 2015 state law that in most cases forbids the removal of such monuments, promising to sue them each should they try and take it away.
The slate of pro-statue speakers also included one African-American person, Jackson County resident Kim Moore. Moore began her comments by quoting author, educator and former slave Booker T. Washington.
"There is a certain class of race problem solvers who do not want the patient to get well because as long as the disease holds out, they have not only an easy means of making a living but also an easy medium through which to make themselves prominent before the public," she read before adding her own thoughts.
"This is what I see playing out before our eyes," Moore said. "It's been over 100 years, and this is still happening. What I would like to see is for it to stop."
'Rallying point for hate'
Statue opponents, meanwhile, said that Sylva Sam stands as a reminder and even an endorsement of a time when slavery was both legal and socially acceptable.
"Standing in front of the word 'courthouse' which is still prominently visible, that statue looms over and looks down over the town," said Nathan Mann. "As long as it remains standing in the middle of town, it sends a clear message that Jackson County continues to honor that time and culture when all people were not free and safe."
Racism is not a problem belonging only to the past, said people of color addressing the commissioners.
"I contribute to this community, and I am treated like a dog by people who believe that statue represents their heritage," said Sylva resident and business owner Natalie Newman.
"The statue stands for a time when we treated the least of these — the Black and brown people in our communities — with contempt," added Jo Shonewolf, pastor at Whittier United Methodist Church. "As long as that statue stands, we will all be chained in place by white supremacy and God will have to work miracles with us to free us."
Lydia See offered her condolences to local families now discovering unwelcome truths about their ancestors.
"I can't imagine how jarring and uncomfortable it might be for those who see themselves and their ancestors represented in Sylva Sam to learn about the unspeakable truths," she said. "Frankly, it stinks that your ancestors were lied to. Unfortunately, the version of history that Sylva Sam represents has no business on the library steps, on Cherokee land."
Jonathan Bost offered an economic argument for relocation, citing a 2018 Jackson County Tourism Development Authority report that found only 1 percent of tourists to the county are Black.
"This is in contrast to the 6 to 8 percent Black students at Western Carolina, the 3 and some percent in Sylva and the 2 percent in Jackson overall, and they all lag behind the national average of 13.4 percent," said Bost. "If you relocate the statue to somewhere else in the county, you're not only opening up downtown Sylva to new visitors. You're also sending our old visitors and even locals to different parts of the county."
Other speakers expressed concern about the potential for violence should the statue stay. It will become "a rallying point for hate," said Mann.
Multiple speakers questioned the assumption that relocating the statue is impossible under state law. Reconcile Sylva leader Jessica Swinkford said that this year alone more than 20 statues have been moved in North Carolina due to public safety concerns.
"Is it impossible to relocate the statue, or an unwillingness on your part to do the thing that is admittedly a much harder thing to do?" asked Sylva resident Suzanne Saucier.
The vote
The statue will remain where it is, but it won't remain as it is. The Confederate flag etched into its base will be covered with a plaque describing Jackson County's involvement in the Civil War, likely including a list of local troops participating. The words "Our Heroes of the Confederacy," which appear below the flag, will be removed.
The decision was a hard one, said Commissioner Boyce Deitz.
"We've lost sleep over it," he said. "We don't want to make our friends mad one way or the other, and all of us have a duty here to make a decision. We can make it and we will. But until all of us quit fighting and start holding hands, we won't solve any of this."
In Chairman Brian McMahan's original motion, the only alteration to the statue would be a plaque covering up the Confederate flag. Commissioner Gayle Woody introduced an amendment to also remove the words "Our Heroes of the Confederacy" from the base, and the amendment passed 3-2 with Woody and Deitz joining Commissioner Ron Mau in support while McMahan and Commissioner Mickey Luker voted against it.
Woody said that it would be "unethical" to "pick and choose the laws that I uphold," so with state law as it is she couldn't vote for relocation. With the Confederate symbols removed, the community can "repurpose" the monument as a memorial to Jackson County veterans from all wars, not just the Civil War.
McMahan disagreed with that assessment, pointing out that the county has other monuments to honor veterans of other wars — the monument in question is solely about the Civil War, he said. Later that night, McMahan would address the Unity Coalition group at the courthouse, telling them about his great-great-grandfather David Dills, who left his wife and infant to fight for the Confederacy only to die of disease in South Carolina.
"I just want to remember him," McMahan told the group.
With the amendment added, commissioners voted on the overall motion. That vote came down 4-1, with Mau opposed and the remaining commissioners in favor.
"Whether the Confederate flag is or not, there are going to be people that think it symbolizes hate," said Mau. "Are we going to let something else be put up there, whether it's permanent or temporary, that is the total opposite of the Confederacy? I don't even know what symbol it would be. I don't but that's something to consider if that element is up there. The other thing too that has come up is that it is a safety issue. It will continue to be a safety issue. It's costing us money, both the town and the county."
An ongoing issue
In a follow-up interview, David Nestler, who introduced the Town of Sylva resolution, said he was "very disappointed" with the outcome. While he doesn't yet know what the next step will be, he does know that there will be a next step.
"I'm definitely acknowledging that it's not over," he said. "The vote didn't change my mind about this statue being wrong. That's my guiding principle here."
The main issue — that the statue is hurtful to many community members and stands at an extremely prominent location downtown — has not changed with the commissioners' decision, Nestler said. Reconcile Sylva has been holding daily protests since the vote. Nestler expects to see the protestors push for protest locations closer to the statue than has previously been allowed.
"They've been willing to compromise on protest locations because they have a good relationship with (Sylva Police Chief Chris) Hatton, and he pointed out it's a public safety issue," said Nestler. "You can only push that public safety argument to restrict where people protest for so long. Eventually people have the right to protest on public property where they want to protest, and I have the feeling that after this vote they're going to push on that."
Nestler added that he's confused about the commissioners' decision to alter the statue.
"It's not the meaning of the statue that's necessarily wrong," he said. "It's OK that people have this connection to ancestors that participate in a war and suffered and died for it. It's the location that makes it controversial."
"It's strange after all the 'don't whitewash history' arguments, that's kind of what the county is doing," added Sylva Commissioner Ben Guiney.
Huguelet, meanwhile, said that the location is an important part of the statue's meaning, especially given that the entire property is on the National Register of Historic Places.
"I think keeping it in that context is extremely important," he said, adding that he's not convinced the planned alterations will end up happening due to restrictions in the 2015 state law.
County Attorney Heather Baker, however, said because the monument is owned by the county, not by the state, commissioners will not need to receive approval from any higher authorities before making the planned changes.
"I feel like it shouldn't have even been an issue, but since it didn't get moved, am I happy? Yes. Do I see it as a win? No," said Huguelet. "The community is divided now."