Archived News
Indoor pool question will appear on Jackson ballot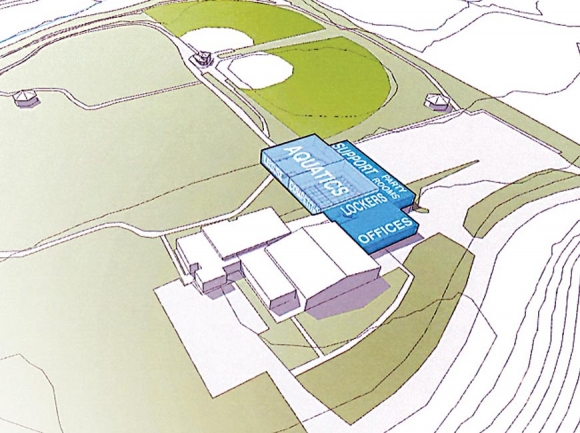 The concept would place a new aquatics facility to the north of the existing Cullowhee Recreation Center. Clark Nexser rendering
In November, Jackson County voters will weigh in on a proposal to borrow $20 million for an indoor pool complex at the Cullowhee Recreation Center.
County commissioners voted unanimously July 10 to issue the bond order following a public hearing July 7 in which only one person gave comment on the question.
"There may never be the right time for such a financial investment, but it seems that such an investment is long overdue," Cullowhee resident David Shapiro told the board.
An indoor swimming pool would serve everyone from the youngest babies to the oldest senior citizens, making Jackson County a more attractive place to live and work, he said. While Shapiro said he's in favor of the bond order, he added that he would hope to see a coalition of public, private and corporate partners come together to lessen the burden on taxpayers.
While Shapiro was the only person to speak at the hearing, the board's clerk received written comments from six other people. Of the seven total comments, five were in favor of the bond and two were opposed.
"There is already the ability to use the indoor pool at WCU and also the indoor pool at the Cherokee rec center," wrote Amanda Buscemi. "Furthermore, it is my opinion that we do not use the outdoor pool to its capacity … There are other things much more important that this money could be used for."
The July 10 vote allows the pool bond question to appear on the November ballot. If voters approve the referendum question, then commissioners will have the ability — but not the obligation — to move forward with borrowing the money and starting the project. If voters say no, the issue will die.
So far, the county has spent about $48,000 on design, geotechnical and legal work surrounding the effort and expects to spend between $5,000 and $10,000 on marketing materials to educate voters about the referendum question. In addition to the $20 million to build the pool, the facility will carry an annual operating cost estimated at $612,000. To pay down the debt and fund operations, commissioners expect to add about 2.26 cents per $100 to the county's existing tax rate of 38 cents per $100.
Architectural plans for the facility call for a 31,000-square-foot addition to the existing recreation center featuring a six-lane competition pool and a leisure pool with a splash pad. The facility would also house locker rooms, a competition seating deck, party room spaces, offices and other support spaces.
If the referendum question passes and commissioners vote to move ahead with the project, the earliest that higher property tax rates could be enacted is July 1, 2021, to coincide with the beginning of fiscal year 2021-2022.