Archived News
Take it down? Crowds turn out in Sylva to oppose, support Confederate statue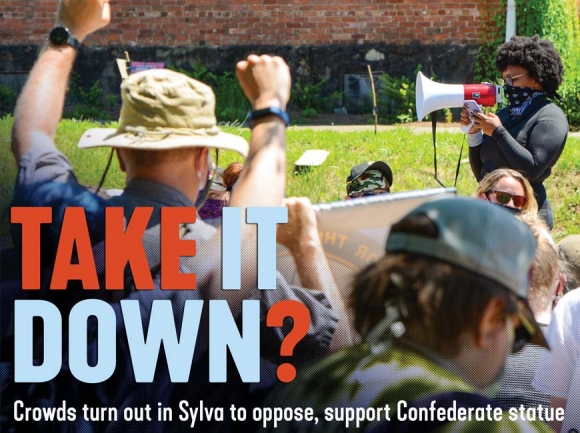 July 11 dawned hot and sunny over the 131-year-old town of Sylva, sweltering rays pouring heat in equal fashion over the 106-year-old Jackson County Historic Courthouse on the hill and 12-year-old Bridge Park down below. Also collecting heat was the 105-year-old statue of an unnamed Confederate solider, situated on a pedestal midway between the crest of the hill and the banks of Scotts Creek.
The statue, which in more recent history has garnered the not-so-affectionate nickname Sylva Sam, was erected in 1915 through a community effort to honor "the deeds of the Confederate soldiers and their wives, both living and dead," according to an Aug. 27, 1915, article in the Jackson County Journal. Its dedication "was perhaps the greatest day the town and county have ever had," reads a Sept. 24, 1915, Journal article, and the event drew more than 700 people to a celebration that included speakers, a parade, a free picnic lunch and musical performances of "Maryland, My Maryland" and "Dixie."
"Every one felt and knew that the stately figure of bronze, holding high its noble head to meet the breezes that ever blow across these sacred hills, represented a heroism, a loyalty and a glory seldom equaled upon the face of the earth," the article continued.
It's safe to say that no newspaper today could make such a sweeping statement as to what its readers feel and know when looking at the statue.
"Home is often a place that you feel safe, secure, and loved — those haven't been my feelings lately as I have spent time in town and seen armed men guarding the statue of the Confederate soldier known as 'Sylva Sam' that stands overlooking our beautiful town," wrote Sylva resident Kelly Brown in a letter to the editor that appeared in The Smoky Mountain News July 1, nearly 105 years after the statue was first erected.
Brown is a leader in an organization called Reconcile Sylva, which aims to see the monument removed from the downtown area.
"The way forward may be hard and require you to be uncomfortable and to confront your own biases, but it is right," he wrote. "I hope that you will be able to proudly tell your grandchildren you were on the right side of history in deciding to remove a statue that depicts racism and hatred in our region."
Supporters of the statue stand atop the courthouse hill waiting for a counter protest event to begin July 11. Holly Kays photo
Hillside
On the sunny Saturday in question, Reconcile Sylva members were headed to the grassy field at Bridge Park for a demonstration supporting the statue's removal, while at the same time another group representing a conviction of equal strength and opposite direction gathered in the library parking lot on the hill.
"I'm just here to help protect our national heritage," said a 60-year-old Haywood County man and Navy veteran who asked to be identified only as Dan. "I mean, as far as I'm concerned that statue doesn't have anything whatsoever to do with whether you're white, Black, orange, green, blue. It don't matter. I mean, as far as I'm concerned, we're all American."
It's not about race, he said. It's about remembering the past and the heritage of the South, and that's a heritage he's prepared to defend.
"As long as I've got a living breath in my body, it's going to stay standing right there," he continued. "If I get killed right here today I don't really give a damn, because I'm doing what I said I would do when I swore an oath 40 years ago to defend, to respect and defend the constitution of the United States."
Qualla community member Michael Moore said that he has ancestors who served in the Confederate legion commanded by William Holland Thomas, who is known as the "only white chief" of the Eastern Band of Cherokee Indians.
"A lot of the Thomas Legion, they joined the Confederacy because they were kind of like a home militia. They were kind of like the national guard," said Moore. "They didn't own slaves. They were protecting their homes. They were protecting their families. You look at what happened with (General) Sherman's army. Sherman destroyed Atlanta. They were afraid that could happen here."
Nearly everyone interviewed at the counter-protest, which drew about 100 people, had a similar perspective. The statue is a symbol of heritage, they said, not a symbol of hate. However, one attendee did express his anger along racial lines.
"If they kept their damn mouths shut and left our damn statue alone they would have been alright, but they run their goddamn mouth and pissed me off, and I'm ready to fight to the death," said a man wearing a white T-shirt with the words White Lives Matter in black on the back. "And they're fixing to stir up a damn civil war right here in the United States. And this time we're going to win it."
He concluded his comments with a racial slur directed at Black people, accusing them of having "sucked off us white people long enough."
The man was standing with a knot of people that included Dan and several others who were listening to the interview. At his words, the group went silent. Former Jackson County Sheriff Jimmy Ashe, who was nearby, told him to leave.
"That's not acceptable," said Ashe after the man left. "We're not here about that. This is a peaceful gathering. We're not belligerent. We're not violent. It's not a racial issue at all. No, it's about history preservation."
Ashe said his family has been in the area for eight generations, and that the statue represents a period of history that has strongly impacted the heritage of many in the county. He'd never support its removal, he said, but when asked if he'd be OK if the existing statue were joined by another monument representing the history of people groups who are not represented and were actually threatened by the Confederacy, he had a quick answer: why not?
"History is history created," he said. "Our ancestors created it then. We can create it now."
Counter protestors bow their heads for a prayer offered during the speaking program. Holly Kays photo
It was pushing 1 p.m. when the formal festivities began, led by event organizer Frank Huguelet. After the national anthem was played, complete with American flags held aloft, Sylva resident Todd Barr opened the program with a few words imploring attendees to be on their guard.
"Folks, if you think this is about that statue there on the steps, you are sadly wrong," he said. "This is all about an ideology being sold as a pack of lies. That's all that 2020 has been is a pack of lies. Turn your TVs off, turn your social media off. They're selling you lies, folks. This is all an effort to sell an ideology that Americans should strongly resist."
It's time for the "silent majority" to stand up, he said.
That "silent majority" isn't made up solely of white people, said the next speakers, who introduced themselves as Kim and Charles. The couple and their five children moved to Sylva two years ago, and though they are African-American, they want to see the statue stay.
"When I first moved here to Jackson County, one of the first things I did the first week I was here was to take a picture with the statue and put it on my Facebook page," said Kim. "I just felt like after that it would be wrong for me to love something two years ago and then hide in my house and not come out and support it when it needed to be supported."
Her support of the statue is rooted in her Christian faith, she said.
"(God has) always been about heritage. He's always been about honoring, even when some of the kings aren't good kings," she said. "They're still in the Bible and he still walked with them. So why are we deciding now who is good who is bad? It's not ours to decide. It is up to us to honor one another and support each other and love each other."
"The problem with the movement down there, to be honest, is they're trying to change the culture," Charles added. "They're trying to take away the biblical values. They're trying to take away the freedoms that we've enjoyed forever."
More than 150 people marched through downtown Sylva Saturday, July 11, calling for the removal of the Confederate soldier statue that currently stands on the steps leading up to the historic courthouse. Holly Kays photo
Creekside
At "the movement down there," there were no flags and no patriotic tunes, but there was music, Shalamar's "Make That Move" playing through the speakers as the group waited for the rest of its numbers to make their way to the gathering through gridlock traffic.
"The statue has been a starting place for us," said Jo Shonewolf, pastor at Whittier United Methodist Church. "It was a concrete idea for us to gather groups together. Now that we have gathered people together who we know are willing to support continuing reconciliation acts, we plan on doing other things in the future. We don't want to do anything that is going to cause chaos. We don't want to do anything that's going to disrupt people's lives, but we do want to make sure that we are tending to our history in a way that allows us to move forward in the future with a diverse community, instead of just the white voices that have been at the table in the past and have been glorified in the past."
"We have got to respect black and brown bodies, that those people matter, those people in our community matter," added Jessica Swinkford, an organizer for Reconcile Sylva. Having grown up in Rutherford County, she's lived in Sylva for the past decade. "Right now, the Confederate statue that stands in downtown is a representation of hate and oppression that they have experienced for many, many years. And so we are here to make sure that our Black and brown community knows that they are supported and that there are people here who want to see the Sylva that includes them."
The official program started around 1:30 p.m., with eight different speakers addressing the crowd regarding the statue, racism and prejudice in general.
"I had ancestors who were Confederate soldiers too and I own it," said Lianna Constantino, a Cherokee Nation member. "And I love my ancestors, but I do not honor the Confederacy. I can clearly recognize how racist these statues are. It's not brain surgery. It's not rocket science, and see how easy that was for someone with Confederate ancestors to say, 'Um, no. They lost. It's over. Get over it."
Documentation surrounding the statue's original dedication make it clear that the bronze cast is a racist symbol, said another speaker. The parade, the picnic, the music, the lack of names of fallen soldiers on the monument itself — they all point toward the conclusion that the day was a joyful celebration of the Confederacy, not a somber recognition of the lives lost. Then, there's the speaker the town chose for the event. While Julian Carr was ultimately unable to come due to his wife's death, he's the one the town wanted to commemorate the event. His remarks at the dedication of a similar monument on the campus of UNC Chapel Hill — the now-removed "Silent Sam" — make it clear how he stood on race.
"One hundred yards from where we stand, less than ninety days perhaps after my return from Appomattox, I horse-whipped a negro wench until her skirts hung in shreds, because upon the streets of this quiet village she had publicly insulted and maligned a Southern lady, and then rushed for protection to these University buildings where was stationed a garrison of 100 Federal soldiers," he said in that speech. "I performed the pleasing duty in the immediate presence of the entire garrison, and for thirty nights afterwards slept with a double-barrel shot gun under my head."
Protestors listen as speakers address various aspects of racism and issues surrounding white supremacy. Holly Kays photos
The gathering turned contentious at one point when Brown invited Jackson County Commissioner Gayle Woody to address the group, because she'd done the same earlier that day before the counter protesters.
"I did go up and speak to the folks up at the top, and I want to say what I said to them," she told the protestors. "When I took the pledge to become a commissioner, I took very seriously the oath of office, which says I will uphold the constitution of the United States, the state of North Carolina and the ordinances of Jackson County. I believe we can come to a peaceful resolution according to the law."
That statement was met with loud boos from the crowd.
"I just want to say this. I represent all the citizens of Jackson County and I value your opinions," she continued. "Those people you may not agree with have value as human beings as well."
The crowd booed again, prompting one of the event leaders to step in.
"All the white people yelling over her right now, as a Black person I don't want to hear it," he said. "If she's going to dig herself into a hole and say something racist, let her do it."
"I don't plan to dig myself in a hole," Woody said. "I do think if you were honest about wanting to be heard today by me and the other four commissioners then you need to be honest about their right to be heard as well. Even if we don't agree with them."
In a follow-up interview, Woody said that she hadn't planned ahead of time to speak to either group but had committed to hear firsthand what was being said at both events. She made similar comments at each gathering, she said, and while there was some yelling atop the hill after she said she felt it was important to listen to all citizens, the heckling at Bridge Park was far worse.
"I know that a lot of the anger comes from real hurt, and there's very obviously valid hurt in the community and it's not been addressed, so I know where that comes from," she said. "I'm not justifying being disrespectful, but I understand what happened. I felt like it was important for me, however I was perceived, to speak to both sides."
Later in the program, a 25-year-old Black woman who attended Swain County High School but did not state her name reminded the crowd that racism is very much still alive and real, relating an experience she had the day after Barack Obama was first elected president in 2008.
"That day I walked into school at Swain County High and there was a death note taped to the outside of my locker," she said. "I was 14. I was 14. And all I could do was take the notes, go to the office and say, 'I'm leaving.' I couldn't wrap my head around that these kids who I had played with for spirit week — we played in band together we were in classes together — but for some reason their parents taught them that it was OK to leave a death threat taped to the outside of my locker."
White people must be more than allies in the struggle against racism, she said. They need to be co-conspirators.
The statue's removal would be a good start, said the final speaker Munene Mwaniki, who is an assistant professor of anthropology and sociology at Western Carolina University.
"Removing a statue might not seem very significant, but we would like a moral commitment from the people of Sylva to begin making the changes that we need in this city and in this county and this town," he said. "Yes, the name of this county is coming next. All you need to know about Andrew Jackson is that he was a slave owner, he was an Indian killer, he was a town destroyer and he and his men made horse reins out of the flesh of our indigenous brothers and sisters and non-binary folks. This is not a man who should be anywhere near anything."
White supremacy is "the dominant political and economic ideology of the planet," he said, and the sooner people recognize that, the sooner they can fight back against it.
"The stress, the fear of poverty, the fear of lack of healthcare, the fear of lack of insurance that we all have, that is violence done to you," he said. "That is why we are so messed up as a people. This is what has been done to us on purpose."
With that, the speaking program ended and the march began. Roughly 150 attendees, all donning masks, carried signs demanding the statue's removal and an end to racism along a route that took Railroad Avenue up to the intersection of Grindstaff Cove Road and Main Street, east to Spring Street, and then back to the park via Railroad Avenue. Chants included "No justice, no peace," "Take it down," "This is what democracy looks like," "Hey hey, ho ho, this racist statue's got to go" and "Defund who? Sylva Police!"
Ultimately, the decision about what to do with "Sylva Sam" rests in the hands of the county commissioners. Brown said he hopes that the protesters have made their point, and that he's urging them to continue telling board members about the urgency of the issue.
"I want that statue down, and I want white supremacy gone," said protest attendee Mary Furr, who lives in Jackson County. "I don't really know what else to say. It's 2020 and it's been far, far too long to continue to happen."
Staff writer Cory Vaillancourt contributed to this report.