Archived News
Public sounds off on Confederate monument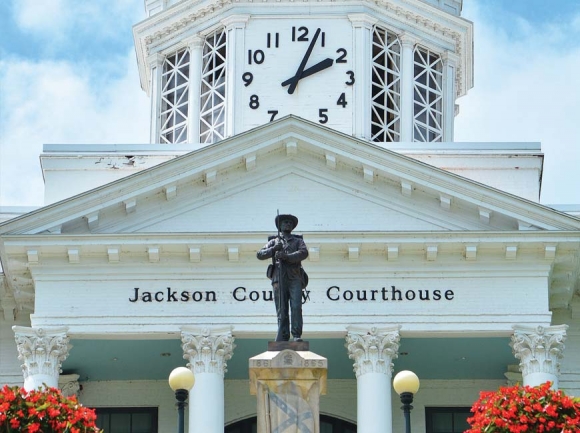 Jackson County Commissioners saw a precursor to the intense public discussion ahead of them when 16 people gave public comment at their July 7 meeting to talk about the fate of the Confederate statue that stands on the historic courthouse steps.
Of the speakers, 11 were in favor of keeping the statue where it is, while the other five called for its removal.
"My friends, my high school friends, my childhood friends — their grandparents, their great-grandparents fought in the same regiments, in the same company as mine, and when the state of North Carolina asked these men to go serve against an invading army — because at the time that's what it was to them — they did it," said Frank Huguelet, a native of the county and organizer of the July 11 counter protest in the library parking lot. "They picked up a gun and risked their life."
Commissioners heard from community members whose families have been in the area for hundreds of years, whose ancestors fought for the Confederacy. Denny Wood decried efforts to remove it as a Marxist "takeover of our country," while Jason Ray said it's a "symbol of all the things in our history that's good and bad."
Mike Ferris went a step further, reminding commissioners that the statue is protected by state law and saying that if they attempt to remove it, "We will tie y'uns up in lawsuits for 20 years, 30 years, whatever it takes, and it will stand right there, and we will drain every nickel that we can out of this county."
Meanwhile, others insisted that the statue is a hurtful symbol of racism glorifying a treasonous rebellion that lasted only four years before crumbling.
"These symbols do represent slavery and racism to a lot of us," said county resident and Cherokee Nation member Lianna Costantino. "If you poll our Black community members, I think you will find that. There are parts of our Confederate history that I am not proud of at all, and I think it's time that we change some of those things."
In his comments, Sylva Commissioner David Nestler pointed out that there were more slaves in Jackson County than there were Confederate soldiers who died in the war, while Jessica Swinkford said that the town's reliance on tourism means inclusivity should be of paramount concern.
Commissioners did not respond to the comments but discussed the issue at length during their work session July 14, which occurred after press time. For more on this topic, visit www.smokymountainnews.com/news/itemlist/tag/confederate%20monuments.