Archived Arts & Entertainment
Frogs Leap Public House celebrates 10 years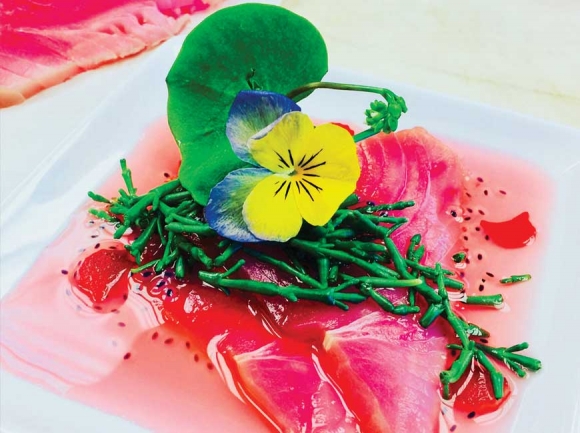 Coming into this spring, Executive Chef Kaighn Raymond was looking forward to his restaurant hitting the 10-year mark. What he didn't expect was for Frogs Leap Public House to be closed to the public.
"I feel like this is just one more obstacle in the way of an industry that has been hurdling obstacles since the beginning of time," Raymond said in reference to the Coronavirus Pandemic and the slow reopening of the culinary industry. "I feel like it will be a quick comeback, but there might not be as many restaurants standing in a few years. For now, I would ask everybody to do their best to get out there and support local business and the regional economy."
Located in downtown Waynesville, Frogs Leap Public House is regarded as a cornerstone of fine dining in the mountains of Western North Carolina. Between its cosmopolitan approach towards the menu and presentation, and its keen sense of using local ingredients, the restaurant has become a "must try" culinary destination in our region.
"Nearly every item on our menu will come out of the local market," Raymond said. "We work with many local farmers and different purveyors, and we've always been here to help those purveyors grow. If you have those fresh, local ingredients for the level of fine dining use, then we're willing to help support you."
Alongside his wife, Toni, the Raymonds have owned and operated Frogs Leap Public House since its opening day on June 25, 2010.
"I think it was my tenth restaurant opening in my career, but it was probably the hardest because we were in a new town — not knowing my staff, not knowing anybody," Kaighn said. "And when you're in a town where no one knows you, and you're touting yourself as being a real chef, then people are going to hold you to the highest scrutiny — your reputation is on every dish you put out."
Back then, the property was the former home of the Lomo Grill. At that time, Kaighn was an acclaimed chef in Atlanta, Georgia. He eventually found himself in Waynesville and knew there was something special about the small town.
"I dined at Lomo a few times, and I always had an eye on this building," Kaighn said. "And when I finally decided to leave Atlanta, this was the only place I wanted to be — in this building and in Waynesville itself. So, we got to work and finally made it happen."
Since the 1980s, the average American palate has become more and more sophisticated towards fine dining options, especially with the farm-to-table movement across the country in recent years, where the consumer now actively seeks out fresher ingredients from local sources.
"It's been a 30-year process in the culinary industry to get to this point in fine dining in America. There was a sentiment then that nothing made in America was at the level of European fine dining," Kaighn noted. "All of these chefs and fine dining restaurants have tried to bring back all of those great American ingredients because so many delicious things from our own country got lost along the way. And now, those ingredients are becoming part of the American culture again, and people are excited to try those things."
When asked about what the title "executive chef" means to him, personally and professionally, Kaighn paused for a moment, seemingly reflecting on a 30-year fine dining career in a whirlwind industry.
"'Executive chef means that you're the creative driver behind the team. You're also the morale and the leadership. And of course, you share those responsibilities with your team," Kaighn said. "And I try to do my best, because I view it as my responsibility to bring satisfaction to my cooks' lives, whether financially or creatively — all the blame is mine and all the accolades are theirs."
And through all of the organized chaos of simply running a restaurant, let alone a fine dining establishment, Kaighn has been able to take a few moments during the pandemic shutdown to not only look back at what Frogs Leap Public House has built, but also where the beloved business will go from here.
"I love making people happy, and I don't do it well any other way except for cooking. So, that's how I choose to spend my time," Kaighn said modestly. "I'm certainly not in the business to get rich, nor am I in the business to be lazy. So, that leaves 30 years of my life of really enjoying the feeling I get from making people happy through my cooking. It's about bringing people together and giving people an escape from their daily existence — it's uplifting."
Want to go?
Celebrating a decade in business, the Frogs Leap Public House anniversary dinner will be held from 6 to 9 p.m. Thursday, June 25, at the restaurant in Waynesville. To RSVP for the event, call 828.456.1930.
As well, Frogs Leap will be open for dinner to the public throughout the next month from 5 to 9 p.m. June 18-20 and 27, July 1-3 and 9-11, with normal operating hours returning hopefully thereafter.
For more information, call 828.456.1930 or www.frogsleappublichouse.com.
Leave a comment
1

comment
Mom and I ate dinner 10/26/21. OMG hats off to the chef. She enjoyed the ceaseor and my self the shrimp and grits. Mom says she will never enjoy a regular ceaseor salad dressing again. Thank you Frogs Leap

Tuesday, 10/26/2021