Archived News
School board members push for graduation ceremonies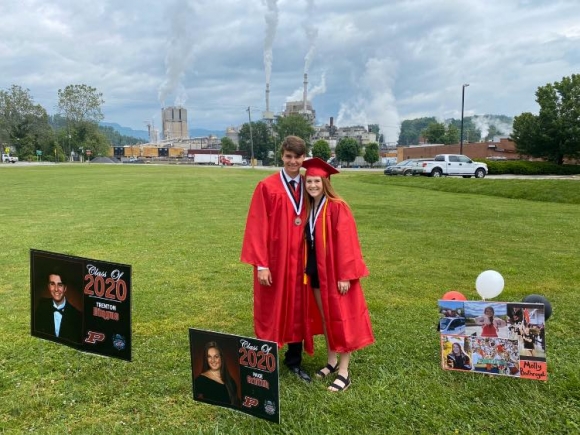 At a special called meeting on Monday, June 1, the Haywood County School Board discussed the legality and viability of providing the class of 2020 with traditional graduation ceremonies. Official graduation ceremonies for Tuscola, Pisgah, Haywood Early College and Haywood Community Learning Center all took place over the past week in drive-thru ceremonies.
Legal Discussion
Pat Smathers, attorney for the school board, made clear his advice was not to risk a large gathering of people any time soon. Though some of the board pressed hard for a graduation ceremony like those of non-pandemic years, Smathers explained that this would violate the emergency order. While the emergency orders, declared by Gov. Roy Cooper are not technically law, as one board member pointed out, they are still enforceable.
Smathers said that these executive orders are enforced primarily by local officials, but the state can technically step in to enforce where local enforcement may be lacking. The current executive order prohibits gatherings of more than 25 people outside, and 10 people inside. Smathers said that while social distancing, remaining 6 feet apart, could be possible at a traditional graduation ceremony, schools would still be breaking the executive order banning more than 25 people to gather.
If graduation ceremonies were held in the C.E. Weatherby stadium and the Pisgah Memorial stadium as the board discussed, enforcement of the executive order would fall to the Town of Waynesville and Town of Canton police departments. Conducting graduation ceremonies with more than 25 people would therefore require the cooperation of these departments to not enforce the executive order.
"I think that would put them [local police departments] in a very difficult situation," Smathers said. "I personally don't think we should ask the towns to do that."
Smathers also noted that if the board took the position of recommending traditional graduation ceremonies, it would put administration in a difficult situation.
"The board would be saying, we want you to violate an order of the governor that's established for the health and safety of the citizens of the state," said Smathers.
He also reminded the board that violating the order is a class two misdemeanor and carries a $1,000 fine.
Board discussion
"If we wanted to change something, we should have started this a week ago, but we didn't," said board member Jimmy Rogers.
Rogers went on to say that the schools should at the very least, allow more than 25 people to be outside during the scheduled drive-thru ceremonies. He said that if anyone tried to enforce the executive order they could arrest him and he would also pay the fine.
Several board members expressed their disappointment about not having this discussion earlier and their inability to provide a better end to the high school careers for the class of 2020.
"I feel for the students. We know that at the end of the day 60 percent or more of the students will go straight to the workforce, they'll never have another graduation. So I feel for them, because this is a very monumental time in their life. I want to make sure we do this as right as we can," said board member Bobby Rogers. "This conversation should have been a conversation we had a month ago… I just wish we would have begun a little earlier, and been a little more creative in our approach as a board to try to help these students walk across the stage."
Board member Larry Henson asked the board if any law enforcement would be attending the ceremonies to count and ensure no more than 25 people were outside their cars at one time. The consensus was that the school resource officers would be there and administration in attendance would be helping count and keep the numbers in check. Any police officers in attendance would be there for traffic control.
Several board members expressed the opinion that students should be able to wear more casual clothes and possibly decorate their caps in light of the non-traditional nature of the drive-thru ceremonies.
Graduation ceremonies
Haywood Community Learning Center held a drive-thru graduation on June 1. Administration at the school organized decoration, signage and a professional photographer at the end of the procession to take photos of each graduate. They also bought graduation caps and class of 2020 T-shirts for each graduate.
Tuscola High School had their drive-thru graduation on June 2-3. The school chose to let students sign up for time slots to come and receive their diploma. This way students could choose times close to classmates, team members or friends that they wanted to see graduate.
Pisgah High School held their drive-thru ceremony Friday, June 5. The school chose to organize the procession in alphabetical order, in the manner of traditional graduation ceremonies.
At each ceremony there was a 25 person limit placed on the number of people that could be out of their car, receiving a diploma, observing or taking photos at one time. However, there was no limit to the number of cars that could be in the parking lot, observing from the safety of their vehicle. This way students, friends and families could remain in the parking lot before and after receiving their own diploma to watch other students complete the same process.
"This is not what we want, for this year's seniors or for any year's seniors," said Superintendent Bill Nolte. "But we are compelled by, and bound by the law."