Archived News
For extrovert, no school means no fun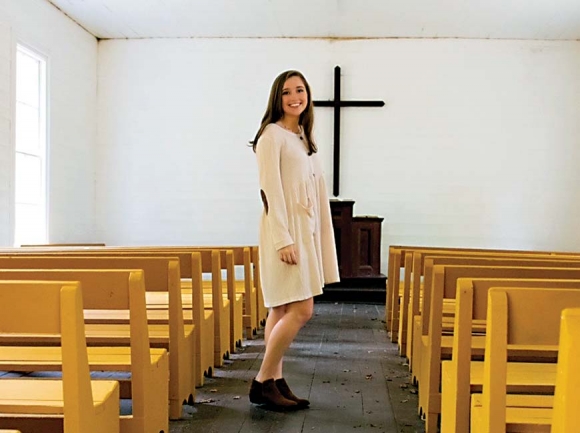 Pisgah grad Chloé Queen is looking forward to resuming her studies. Donated photo
For Chloé Queen, a senior at Pisgah High School, graduation and senior year are turning out drastically different than anticipated.
Queen was a Pisgah cheerleader for two years and involved heavily in the arts and French departments. In addition to a regular high school schedule, Queen worked all four years of high school as a waitress.
This semester she was taking her last French class, honors French IV, as well as drafting and math. "It's more difficult to do online learning because you're not having the face to face with your teacher," said Queen.
A self-described social butterfly, Queen said, "Everything is different about this year. I think we're the first class to not have a normal graduation. It's a whole different experience for us."
Like many high school seniors, Queen says she misses going to school, being around everybody and talking to her friends. School wasn't a drag for her.
"I liked school," said Queen, "I actually really miss it."
Online and mobile communication just isn't the same, especially for students who have grown up together and are about to take that next step into the future without the assurance that they will get to see and hang out with these friends in the same capacity ever again. For high school seniors, there is no getting back to normal when quarantine ends. It has lined up with a time of immense change in their lives. They went into quarantine high-schoolers and will come out of it with that chapter of their lives closed behind them, looking toward whatever comes next.
For Queen, that means attending Appalachian State University this fall.
"I want to study English for secondary education. I've always loved English," she said.
Queen is optimistic for the future, and says she thinks her peers are as well.
"This time has made everybody realize that we shouldn't take things like school for granted," She said. "And after this we'll all just appreciate everything much more."
"The best part has been getting a break, having time to relax, but the worst part is also having nothing to do, having to talk to people over the phone and not in person," Queen said, "I think this will affect us [2020's graduating class] in big ways in the future. I feel like we're going to be more willing to do things in person, not everything online, including with social life and interactions."
Queen is unsure of what graduation will look like, but she does plan on celebrating with her family.
"Me and my family want to have a small get together, but we're waiting until that 10 or more people rule is lifted," she said.