Archived News
North Carolina takes 'cautious' step into phase 2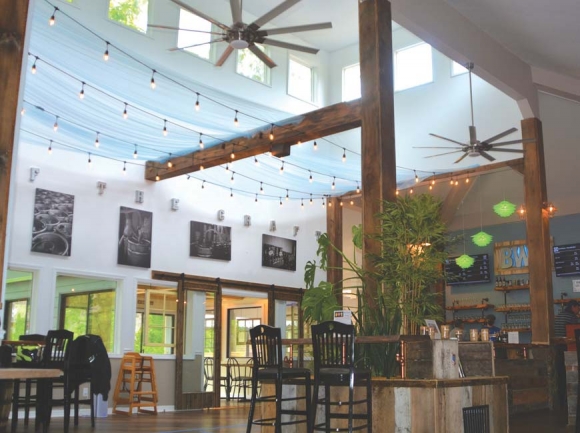 Canton's BearWaters Brewing gave the public a sneak peek of its new Maggie Valley location on May 23. Cory Vaillancourt photo
As expected, North Carolina Gov. Roy Cooper announced that he believes the state is ready to begin phase 2 of his three-phase reopening plan, although the increasing number of cases warrants a more modest reopening than originally planned.
"Today we're announcing another cautious and gradual step," Cooper said during a on May 20 press conference.
The order comes less than two weeks after Cooper eased the state into phase 1. During that time, the state saw its highest one-day number of positive cases ever, with more than 850 reported on May 8 alone. The state has also seen no decline in the 14-day trajectory of positive cases or the seven-day rolling average, per North Carolina Department of Health and Human Services.
The differences between phase 1 and phase 2 are great; beginning on Friday, May 22 at 5 p.m., the state's "stay home" order was lifted, although vulnerable populations are encouraged to continue staying home under what's called a "safer at home" order. Public playgrounds, bars, concert venues, movie theaters and fitness facilities will remain closed.
The number of people allowed at gatherings has been increased from 10 to 10 indoors and 25 outdoors. Stringent restrictions on nursing homes and congregant care settings will remain in place.
Probably the most noticeable difference between phase 1 and phase 2 is the limited reopening of restaurants, craft breweries and wineries.
Guidance issued by the NCDHHS to restaurants covers social distancing and minimizing exposure, using cloth face coverings, maximizing cleaning and hygiene, monitoring for symptoms, protecting vulnerable populations, combating misinformation and proper utilization of water and ventilation systems.
The guidelines require restaurants to ensure social distancing by arranging seating that's compliant with the 6-foot separation rule, both for indoor and outdoor settings. Groups must maintain the 6-foot distance from other groups unless they're members of the same household.
Occupancy can be no more than 50 percent of fire code capacity, and it's recommended that all employees and customers wear a cloth or disposable mask when they may be near others. Businesses are encouraged to provide these coverings to employees and customers.
Ongoing cleaning and disinfection of high-touch areas like doors, handrails and payment terminals is also required, as is frequent hand washing by staff.
It's recommended that restaurants designate specific times for high-risk persons to access restaurants without the general public being present. It's also recommended that employees who self identify as high-risk be reassigned to roles with minimal public contact.
Half an hour before Cooper's press conference, Haywood County reported another four confirmed positive cases, bringing the total to 32. One week prior, on May 13, there were 21 confirmed positive cases. A week before that, on May 5, there were 18. As of May 26, there are now 41.
Two days after Cooper's announcement, he was forced to clarify the status of craft breweries, distilleries and wineries after inexplicably leaving specific guidance out of his phase 2 announcement.
The clarifications, which subject those establishments to the same rules as restaurants, were viewed favorably by many of Haywood County's business owners, including Art O'Neil and Kevin Sandefur of BearWaters Brewing in Canton.
BearWaters' long-planned new location, on Soco Road in Maggie Valley, was supposed to have opened the weekend of April 24, but wasn't able to under the existing "stay home" order.
O'Neil and Sandefur quickly partnered with Elevated Mountain Distilling Company's Dave and Sue Angel to make hand sanitizer at BearWaters' Canton location but kept working on their new Maggie Valley digs.
At noon on May 23, O'Neil and Sandefur opened the Maggie Valley location to the public for a sneak preview in advance of its May 29 opening. Blue tape on the floor guided patrons to the bar, employees were masked and furniture – including tables on the spacious creekside deck – were spread far apart.
Ken Keene, of Jacksonville, Florida and Mark Kiger, of St. Simon's Island, Georgia, happened to be riding by on motorcycles and pulled into the lot. Keene unknowingly got the first beer served to a customer at the establishment.
"We've been coming (to Maggie Valley) for 20 years, and we've been saying all along we couldn't understand why there wasn't a microbrewery here," Keene said. "We decided to come in and check it out, and we're happy to be here."
Both said they felt comfortable with knocking back a few beers at the establishment.
"You've got to live," said Kiger. "I think we've done as a country all that we can do. You can't stay inside for six months. If you're in that at-risk population, self-quarantine, wear a mask."