Archived Mountain Voices
Remembering one of WNC's biggest melees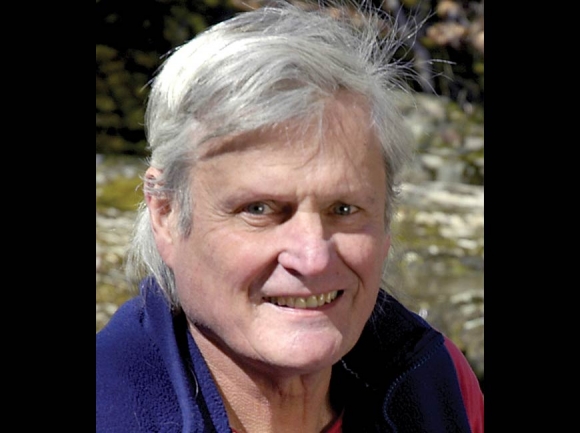 George Ellison.
In 1913, Western North Carolina historian John Preston Arthur described John Denton of Graham County as "the most picturesque mountaineer in this section." The description is inadequate. The record indicates that Denton was also one of the most ferocious men who ever got into a take-no-prisoners brawl. We'll revisit the epic donnybrook in which he whipped 20 other men using his fists, scale weights, stove wood, and rocks. First, however, let's quickly review his life — the sort of story from which mythic legends are fabricated.
According to various descriptions, John Hamilton Chasteen Denton (1840-1913) was a rough-and-tumble fighting man who stood six feet five and one-half inches, had hands like hams, was strong enough to wrestle a bull, wore a long beard, and kept his hair — which came down over his shoulders — braided in pigtails.
A Confederate veteran of the first Battle of Bull Run and the Seige of Vicksburg, Denton came out of Tennessee after the war, passing through Deal's Gap into North Carolina. When he reached a likely spot situated in the present-day Joyce Kilmer National Forest near Robbinsville, he told his horse "Whoa!" and said to his wife, Albertine, "We'll settle here." By 1886, they had a family of five boys and four girls.
About 1907, while cutting timber on West Buffalo Creek, part of a tree fell, breaking Denton's left leg. It healed crooked, leaving him a cripple. Gaunt and pale, with his beard and pigtails flowing and using two walking sticks, he would slowly make his way through the woods and over the ridges to visit old friends in Robbinsville, Andrews and Murphy. He and Albertine are reportedly buried, along with other family members, in the Denton Cemetery on Little Snowbird Creek.
Now, we turn to what is perhaps the most impressive non-military fight in this region's history. Long a staple in the oral tradition, it was delineated in print by Bob Barker, a lawyer turned historian, in "The Andrews Journal" (July 5, 1972). This account is online at: www.dentongenealogy.org/john%20hamilton%20chasteen%20denton.htm.
"Sometime after 1890, John Denton … whipped some 20 men in front of the old courthouse at Robbinsville, NC … The fight started in the George Walker General Store, where Denton had been leaning up against the store counter as he and other men talked. Bob McElroy, sheriff or clerk of court, approached and demanded that Denton pay his poll tax, a $2 tax to be paid by each adult male citizen. Denton replied that it had already been paid, and he had the receipt at home. McElroy called Denton a liar, whereupon, Denton knocked McElroy to the floor with his fist. McElroy jumped up, and with one swoop of his Bowie knife, slashed off Denton's long beard, just below his chin. Denton fumbled behind him for something with which to hit McElroy, got hold of a heavy cast iron scale weight, the center of which was filled with lead, and hit McElroy in the chest, knocking him cold.
"Others in the store took up the fight, and it spilled out onto the porch, at one end of which was a neat stack of oak stove wood. Denton grabbed stick after stick, busting heads like a madman. Others came running from the courthouse, either to join in the fray or watch as Denton fought two, three, or four men at one time. The courthouse square was not paved, and there was a plentiful supply of rocks weighing three or four pounds each.
"Now out of stove wood, off the porch and down on the ground, Denton, who never used a rifle to kill a turkey or pheasant, made use of his favorite ammunition, rocks. He threw a rock at John G. (Pird) Tatham, missing his head by a hair. The rock hit the front of the store with such force it busted the weather boarding and bounced back, hitting justice of the peace Nathan Green Phillips, an old Confederate army captain, just where his suspenders, or gallowses, crossed.
"Capt. Phillips had been shouting, 'Peace, men, peace, men,' and waving his arms in an effort to stop the fighting. Phillips, now injured, fell to the ground and, unable to rise, had to crawl home on his hands and knees. Many times afterward, John Denton expressed regrets that his friend Capt. Phillips had been injured.
"Rona Tatham said she saw Uncle Pird Tatham heading for the house, obviously to get his pistol which was hanging on the back porch, and knowing what would happen, she got there first and hid the pistol in the wood pile. The fighting subsided and the crowd melted away, but for years afterwards, the citizens of Robbinsville and vicinity had a healthy respect for John Denton, and no Graham County official was ever again known to try to collect a poll tax from him twice."
Note: Additional sources for this account are These Storied Mountains (1972) by John Parris and the biographical sketch of Denton by Bill Millsaps in Graham County Heritage (1992).
Editor's note: This article first appeared in a May 2005 issue of The Smoky Mountain News
(George Ellison is a writer and naturalist who lives in Bryson City. This email address is being protected from spambots. You need JavaScript enabled to view it..)