Archived News
Jackson approves $383K for shooting range improvements
Wednesday, April 22, 2020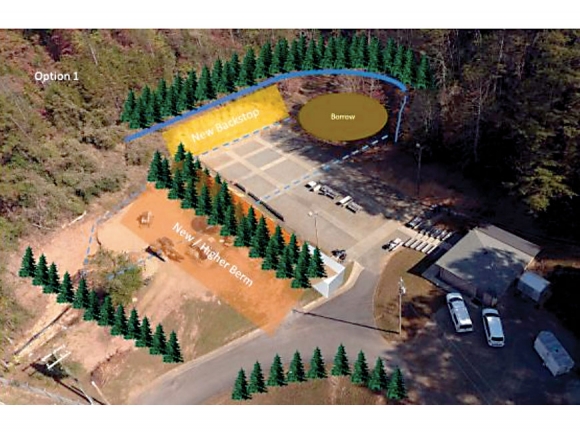 The project will include a new backstop, borrow area, higher berm and tree plantings at the firing range, as well as fencing and security equipment. Donated graphic
The cumulative cost of environmental rehabilitation and sound abatement at the Southwestern Community College shooting range will top $1 million after the Jackson County commissioners voted 4-1 April 7 to spend $383,000 on the final stage of the project.
The shooting range has been a regular topic of discussion in county chambers since 2014, when it came to commissioners' attention that the estimated 60 tons of lead bullets that had lodged in the range's berm over the years could be causing adverse environmental effects.
The total anticipated cost reached $500,000 in fiscal year 2017, when the board approved up to $254,000 for another round of soil excavation, treatment and removal on top of the roughly $250,000 it had already spent on testing and remediation. The appropriation also included funding to develop recommendations for sound mitigation on the site, as commissioners had been receiving complaints from area residents upset by noise resulting from the range's frequent use.
Actual expenditures were $225,109 in fiscal year 2017, $37,690 in fiscal year 2018 and $233,201 in the current fiscal year 2019. The fiscal year ends on June 30, with $282,532 remaining in the year's budget for use on the shooting range. The $100,645 not covered by the budget will come from the county's fund balance.
The majority of the expenditure — $354,000 — will be used for improvements to the shooting range intended to decrease sound pollution and satisfy state requirements to prevent the need for future lead cleanups like the one the county just went through. The project will include a new backstop, borrow area, higher berm, and Leyland cypress trees for sound mitigation.
The county has been trying to get the work done since spring 2018. However, even after bidding the project repeatedly SCC found itself contending with low bid participation and bid amounts nearly double the estimated cost from those companies that did express interest. In fall 2019 the bid went out a fourth time, resulting in a low bid of $371,000 — $84,000 higher than the estimated cost. The final price of $354,000 for the main project reflects some electrical savings.
The appropriation also includes $15,359 for fencing and $13,819 for IT improvements to prevent unauthorized entry. Covered under the IT expense are two single cameras, one four-way camera, keyless gate and door controls, networking equipment and internet set-up. The ongoing annual cost of these tech improvements will be $3,588.
Commissioner Boyce Deitz voted against the expenditure, with Chairman Brian McMahan and Commissioners Gayle Woody, Ron Mau and Mickey Luker voting in favor.