Archived News
Webster Enterprises produces for front lines of COVID-19
Wednesday, April 15, 2020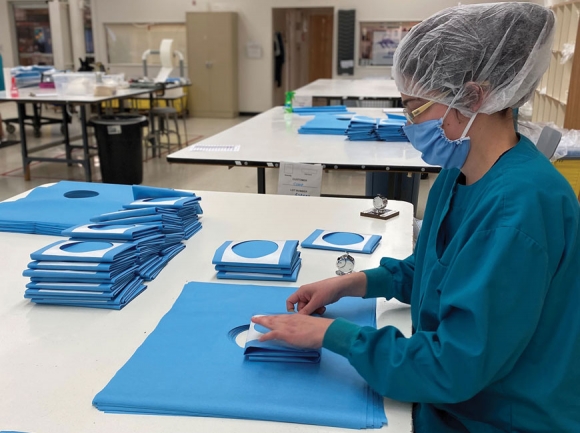 A Webster Enterprises employee works to process drapes that will be used to treat COVID-19 patients worldwide. Webster Enterprises photo
Webster Enterprises has long used the production of medical supplies as a vehicle for its main mission, vocational rehabilitation for people with disabilities and disadvantages.
However, the onset of the COVID-19 crisis has pushed that vehicle to a position of core importance as worldwide shortages have increased demand for the nonprofit's products.
"We're building product that goes straight to the front line for individuals battling this virus," said Executive Director Joe Rigdon. "It's been real topsy-turvy over the last month or so."
When the crisis first hit, Webster Enterprises' first reaction was to see what it could do to help the local community, and Board Chair Dr. Cliff Faull suggested that the nonprofit make gowns and face masks for use at Harris Regional Hospital. Webster mocked up some samples, and the hospital liked them — but before production could begin Webster got some news from one of its largest customers, Indiana-based Cook Medical. Drapes and wraps from Webster Enterprises would be going specifically to treat COVID-19 patients, and Cook would need 260 percent the amount of product it had been buying to meet demand.
"In order to do that, we had to pour all of our energy and efforts back into drapes and really were not and still aren't in a position to make masks," said Rigdon.
However, Webster Enterprises found another way to do its part to help Harris. While the masks Webster had designed would have helped, what Harris really wanted were N-95 masks, which Webster was not set up to do. However, gowns were also becoming an issue for the hospital.
As it turned out, about two years ago Cook had a surplus of disposable Tyvek gowns and donated 1,700 of them — a $12,000 value — to Webster Enterprises. The nonprofit didn't end up using them, because their employees wear cloth gowns that can be laundered and reused. Webster donated the gowns to Harris.
"We have been overwhelmed with the generosity and compassion that our community has shown us during this unprecedented time," said Stephen Plemmons, Director of Emergency Services for Harris, in a press release. "The usage and supply of personal protective equipment is something we keep at top of mind in order to keep our frontline staff safe and healthy and we cannot thank you enough for your generous donation of Tyvek protection gowns. What an honor and blessing it is to provide health care to this community, and thank you for thinking of us in our time of need."
Meanwhile, Webster Enterprises is in a hiring frenzy as it seeks to meet the newly heightened demand for its products. Before the virus hit, the nonprofit employed 45 people, of whom 10 worked with high school students in Jackson, Macon and Swain counties. Those employees lost their jobs, then got them back as a result of the CARES Act, and now Webster Enterprises is onboarding new employees to bring its total roster to 55 or 60 people.
These new employees are mostly displaced workers who had previously been working jobs not considered essential in the current climate. They're being hired on a temporary basis through the crisis. Several of the new hires are actually alumni of the Webster Enterprises program who were successful in getting and keeping a job as a result of that training but are now unexpectedly out of work.
While the hiring frenzy is a response to what will hopefully be a short-lived pandemic, Rigdon said that he expects the heightened demand for Webster Enterprises products to continue into the foreseeable future.
"My understanding is that customers like our vendors are trying to stock up on these items to not only treat the here and now in the present but are looking ahead to having safety stops so that if there is another wraparound — and I hope and pray there's not — in the fall, they've got preparations for that," he said.