Archived News
Daydreamz serves creative outlets during COVID-19
Wednesday, April 15, 2020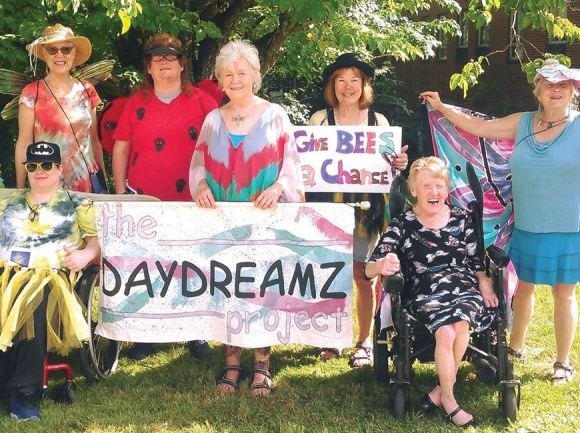 Daydreamz Project volunteers help people discover their own creative talents. Donated photo
The Coronavirus Pandemic has forced many nonprofit organizations to find new, innovative ways to meet their mission while not being able to hold traditional fundraising methods or connect directly with their clients.
The Daydreamz Project, an all volunteer nonprofit founded by a small group of artists, has been no exception. The organization's founders use their artistic talents to awaken people to their own creativity, which is difficult to do when you can't be within 6 feet of others.
"We believe that creativity is a birthright and a resource for all of us, and that in our culture we're sort of separated from that. So we try to work with folks who traditionally don't have access to the arts, to experiences, to resources, materials, and give them an opportunity to explore their own creative voice. We find that it's very empowering," said Daydreamz Director Starr Hogan.
Since the shutdown caused by the coronavirus, the Daydreamz Project has been forced to cancel all of its public events. So far this has included two of its monthly community creative sessions. The sessions are free to the community and Daydreamz invites anyone to come, learn and express. Both March and April sessions were canceled.
Daydreamz began its work in the four corners region, doing video work with students on reservations that would eventually be screened at the Sundance Film Festival. The project later worked in Denver bringing senior citizens and newly immigrated children together through creativity. Since 2008 Daydreamz has been serving Haywood County.
Volunteer focus groups, which meet the Wednesday prior to the community sessions, in order to plan and prepare, have also been canceled. Because many of the volunteers for Daydreamz are elder, it has taken some creativity to keep the services going.
"The reality is that we know there are families in the community that don't have the internet, that don't have Netflix, iPads, Gameboys and all the bells and whistles to entertain and distract. We want to help give kids something to focus on during these very uncertain times. Because creativity has been such a natural resource and outlet in my own life and my own healing, we want to share all the materials Daydreamz has, to the extent that we can," Hogan said.
The Daydreamz Project has been teaming up with schools, guidance counselors, food pantries and others that are already distributing food and materials to students throughout the community, to get bags of craft supplies and guidelines to students.
"Daydreamz helps people realize you can do so much with so little, and so much with things you might normally throw away," Hogan said.
One recent project was making a gratitude flower. Students made a flower with their name in the center circle, and on each flower petal, something that they were grateful for. They were then encouraged to put the flowers in their windows to share with the community and hopefully, begin a gratitude garden.
In communication with students receiving creative activity bags, Daydreamz has been encouraging them to reach out to family members and neighbors for help in creative projects.
"We have tried to encourage the whole community to engage in the activities. We have made the activity sheets available both on our Facebook and website with the materials list. And most of those materials are things mainstream households have around — or something close," she said.
The most valuable donations for Daydreamz are in-kind contributions. People supply their time, their resources, materials, locations, etc. One local restaurant recently donated lids for a specific craft activity. Another person donated an abundance of mixed paper. However, without community gathering for creativity sessions, Hogan said "it is harder to get the word out," about the in-kind donations Daydreamz needs.
For community members looking to volunteer time or resources to the creative project, Hogan encourages people to call or text Daydreamz at 828.476.4231, or email Daydreamz at This email address is being protected from spambots. You need JavaScript enabled to view it..
"We would love to see the community sharing their creativity, because we know that it's out there … we know that it can be soothing and we hope that people find a little peaceful place to drop into," she said.