Archived Outdoors
Fighting an uphill battle: Motion Makers Bicycle Shop
Wednesday, April 08, 2020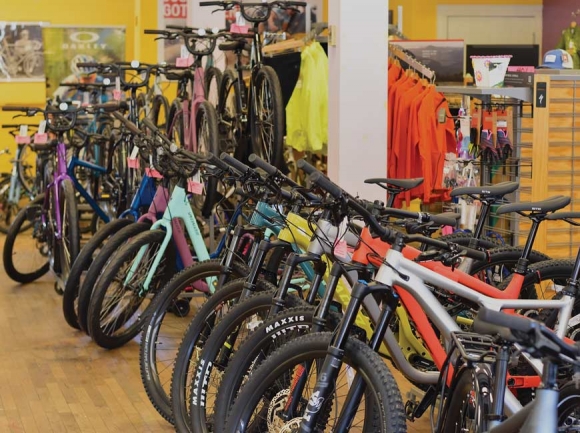 The Motion Makers Bicycle Shop showroom in Sylva.
Emerging from the back of his bicycle shop in downtown Sylva, Motion Makers owner Kent Cranford squeezes around a service desk blocking the front entrance and steps outside to ensure he's adhering to proper social distancing in the era of the coronavirus while being interviewed.
"Coming into 2020, we were having a great year when it came to sales for January and February," Cranford said. "But, with the state stay-at-home orders and everything else going on, we're starting to see our numbers drop for the end of March. Coming into April, we're doing about 20 percent of our normal business compared to this time last year."
A 34-year-old company, Cranford has overseen the beloved Western North Carolina business (which also includes locations in Cherokee and Asheville) since he purchased it in 2007. Depending on the season, there's around six employees at the Sylva shop, half of which being full-time.
And though the North Carolina stay-at-home mandates effectively closes all non-essential businesses, Motion Makers is considered essential due to its role in outdoor recreation and in regard to means of transportation for those still able to work and needing to get to work.
"Luckily, we haven't had to let anybody go," Cranford said. "But, we'll just have to see how all of this plays out and how much more business we may lose."
When looking at how the coronavirus has affected Motion Makers and the local business sector, Cranford is reminded of the hardships and changes felt during the economic recession of 2008.
"In 2008, with the recession and the gas crisis, we saw all of these people dragging old bikes out of their garages and barns — it feels like that again," Cranford noted. "But, with the coronavirus, people are dragging out their bikes or purchasing a new bike because they want to get outside and ride, to get out of the house for a little bit and get some fresh air during the quarantine."
And during the quarantine period, Motion Makers is going the extra mile to ensure the safety of its customers and staff.
Besides the service desk now positioned in the front entrance, customers can also simply place their bike in the rack in parking lot of the store without having any one-on-one interaction with the staff. The staff then retrieves the bike when the customer leaves and call them for curbside pickup from the rack when its ready.
"If there's any silver lining in 'all of this' for us, it would be seeing more people get outside and enjoy riding," Cranford said. "With all of these repairs needed and purchases made, we're able to stay open and still serve people."
Gazing toward downtown Sylva, Cranford can't help but think about all of the other small businesses either closed or facing financial troubles right now in the mountain community, many of which are long-time friends of Motion Makers.
"I feel really sad for all of these incredible businesses in Sylva. We've been supporting anyone we can, doing takeout orders for lunch and giving what we can to keep them going — we're all in this together," Cranford said.
And though Motion Makers is open for business, Cranford knows that, sooner or later, there may come a point where he'll have to go through the proper channels of banks and loans to ensure the survival of the shop.
"I've been paying a lot of attention and staying up on all of the SBA loans and legislature involved," Cranford said. "The deadlines are coming to pass for the Payroll Protection Program, and I'm curious to see what that process will be like and how effective it will be in helping all of us who own businesses and have employees who rely on us."
Watching (from a safe distance) customers swing by Motion Makers one-by-one to drop off bikes for repairs and tune ups, Cranford is grateful to have the doors open.
"It means a lot to be open because we're a small business and we rely solely on cash flow. It's not like we have a year's worth of saving sitting in the bank waiting for a crisis," Cranford said. "If we had to close, I don't know that we'd ever reopen again — if we did, we'd certainly reopen as a smaller and different entity."