Archived News
Protecting pets during Coronavirus Pandemic
Wednesday, April 08, 2020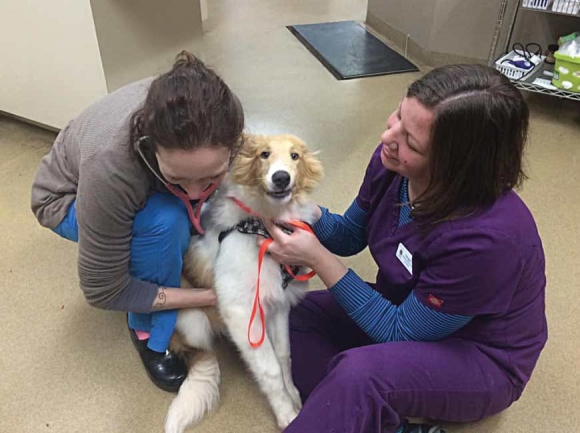 Staff members at Maple Tree Veterinary Hospital in Waynesville give their furry patients some extra love while their owners have to wait outside in their vehicles. Donated photo
As the nation focuses on protecting the human population from contracting and spreading COVID-19, mandatory business closures have impacted the humans who's mission it is to take care of our pets.
A majority of veterinarian offices across Western North Carolina remain open during the shelter in place order, but they are limiting their operations.
"The North Carolina Veterinary Medical Board said not to do non-essential services. Well, that's our bread and butter — no annuals exams, no doggie daycare. Business is a little slow but we're doing shorter hours so I can maintain my staff," said Dr. Ann Shower at Animal House Veterinary Clinic in Franklin.
Animal House and many other animal hospitals went to doing curbside services several weeks ago. A client stays in their car and a staff member in full personal protective gear goes out to the vehicle to bring the pet inside the clinic while their humans have to stay in the parking lot.
"I'm lucky enough that one of my handicap parking spots comes right up to treatment window so people can drive through. We've also been able to do some video chats to help people," Shower said.
She's also focused on taking care of her four other staff members during this difficult time. Shower said she applied for the Payroll Protection Plan but hasn't received any response yet.
"Two of my staff have been home for four weeks because of childcare and I've continued to pay them and I'm not taking a check for myself right now," Shower said. "We've also donated several hundred pairs of gloves to our local EMS along with gowns and masks."
Cherokee Animal Care Clinic in Whittier is also limited to emergency care, surgeries, time restrictive procedures and also parvo vaccinations for puppies since parvo rates in the area have been high lately. The office is still providing products, food and medications but clients are asked to call ahead and use the drive thru window service.
"We are no longer handling any money (cash or card) and are asking that all clients pay over the phone before patient discharge and product/food sales. We will no longer be discussing your pet's health in person but will handle all conversations over the phone," they wrote on their Facebook page. "Because this is an ever-changing situation, we still ask that you maintain patience as this is a learning curve for us all. We would like to be able to continue to provide the same loving, compassionate, quality care when your pet is in need, while minimizing as much exposure to others as possible."
Maple Tree Veterinary Hospital in Waynesville closed its dog day camp March 28 until at least April 16, but is still working out arrangements for boarding dogs. The hospital has also stopped having hours on Saturdays at least through the month of April. As the protocols now require people to leave their pets in the hands of the clinicians, the staff is reassuring clients they're in good hands.
"For anyone concerned about us treating your pet differently when you're not around, we absolutely do. We have more one-on-one time with them. This means extra butt rubs, ear massages and baby talk," Maple Tree commented on Facebook. "While a doctor is on the phone with you discussing the exam, diagnostics, etc., a tech is sitting in the floor with your big wannabe lap dog crawling on top of them trying to give kisses or your nervous kitty is now purring in their arms."
Junaluska Animal Hospital has provided 24/7 emergency care for pets in Haywood County for the last several years, but announced Monday that the emergency clinic would now be closing at 10 p.m. If an emergency arises while your vet's office isn't open, call MedVet (formerly known as REACH) at 828.665.4399 or Haywood Animal Emergency at 828.452.1478.
COVID-19 is also impacting local animal shelters. Beth Cline-Stroud, director of PAWS in Bryson City, said the shelter is struggling with fewer animal adoptions, fewer volunteers and fewer people coming by to see the animals.
"We can no longer have visitors that normally would walk dogs or play with the cats," she said. "We have to do adoption interviews by video chat and then set up appointments for people to come meet the animals. Visits are by appointment only."
In response, Stroud and her staff are personally spending more time with the animals at the shelter and have adjusted their hours. The shelter has pre-ordered more supplies and making more pet food available to those in need.
"More people are needing help with food, so we are coordinating a safe drop off for providing them food," she said.
For now, Stroud said the number of animals in the shelter has remained about the same despite the pandemic. The good news is more people have stepped up to foster shelter animals while they're staying at home. However, donations are down dramatically because the shelter's thrift store had to close.
"That was our largest income to keep the shelter open and we can't have (fundraising) events at this time," she said.
To make a donation, mail checks to PAWS, P.O. Box 1814, Bryson City, NC 28713.
David Stroud, director of Cashiers-Highlands Humane Society, said cleaning and disinfecting at the shelter has always been a top priority and would continue to be during the pandemic.
"But we are limiting operations and have transitioned to an appointment-only schedule so that we can continue to serve the public yet maintain social distancing guidelines," he said.
Operating hours have been reduced to 10 a.m. to 2 p.m. Monday through Friday by appointment only and adoption and foster applications are available online. The shelter's low-cost and free spay/neuter services have been temporarily suspended because the surgery provider has had to close their doors until the pandemic is over.
"We are now offering pick-up and delivery — in the Cashiers and Highlands local area — for donations and recipients of our free food pet pantry program so that folks can follow stay-at-home rules," Stroud said.
Like PAWS, CHHS's animal population has stayed about the same but its foster program has nearly tripled recently. Unfortunately, strays and owner-surrendered animals are still coming into the shelter on a regular basis.
"Donations have dropped significantly and our single-largest fundraiser of the year in June is in jeopardy of being postponed or cancelled altogether. Off-site adoption events have been cancelled and for the health and safety of our current volunteers and staff, we cannot accept any new on-site volunteers at this time," Stroud said.
Donations can be sent to CHHS, P.O. Box 638, Cashiers, NC 28717. Donations can also be made online at chhumanesociety.org. Food donations can be brought to the shelter but call first to make an appointment.
Sarge's Animal Rescue Foundation in Haywood County has also changed operations during this time. Administrator Fred Strohm said they started with adoptions by appointment, then ceased adoptions completely.
"It all came down to us needing to make sure that our staff stayed healthy so that it was ensured they'd still be able to care for the animals in our facility," he said. "We have a small staff, so an illness of this potential would devastate our organization."
Sarge's currently has 51 animals in its care and has been greatly helped by people opening their homes to foster animals. As of Friday, more than 100 people had reached out to Sarge's about helping with fostering.
"With this being the beginning of kitten and puppy season, fostering would be a great assistance by anyone who wants to allow a shelter animal to live in their home," Strohm said. "Our events have completely stopped, along with any training or educational classes we were offering. Donations are still trickling in, but historically, this is our lowest time of the year for monetary donations. However, we still must continue our work as the animals in our care count on us for daily cleaning, feeding and medication."
To make a donation, visit www.sargeanimals.org.