Archived News
Cataloochee Ranch under new ownership
Wednesday, April 08, 2020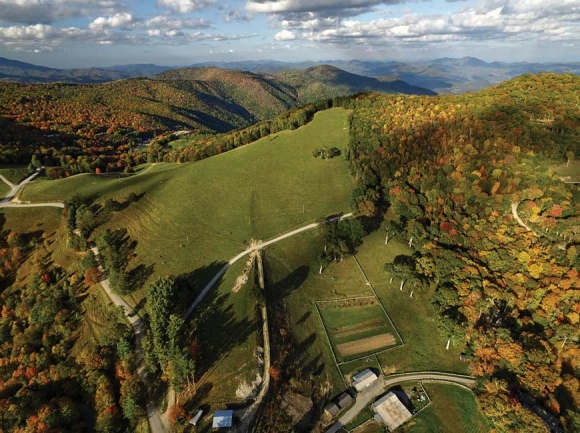 Cataloochee Ranch. A Shot Above photo
Cataloochee Ranch, a Haywood County landmark and a vacationer's mountain paradise, has changed hands after being in the Alexander family since 1933.
As of March 30, the 700-plus acre Fie Mountaintop property is under the ownership of Cataloochee Ranch Resort, LLC, which is a new partnership between Ron and Camelia Ray and David and Annie Colquitt.
Ron and Camelia Ray split their time between Maggie Valley and Ponte Vedra Beach, Florida, and David and Annie Colquitt of Knoxville, Tennessee, spend a lot of time in Waynesville after purchasing The Swag resort in 2018.
"We are all committed to investing capital to restore and improve Cataloochee Ranch," said Camelia Ray. "Our priorities will be to renovate the Ranch House, dining room and kitchen, while updating the cabin interiors. We want guests to be wowed by the facilities, food and service."
Ron Ray, former CEO of The Ray Group International (RGI), former U.S. Army officer and recipient of the Medal of Honor, first visited the ranch decades ago when his children were young. He and Camelia have lived adjacent to the ranch since 2013 and spend roughly half their time in North Carolina.
"We want to preserve the beauty and history of this very special place," Ron Ray said. "We also want to make additional investments in the facilities and operations to ensure that people will be able to enjoy the splendor of Cataloochee Ranch for the next 50 years."
Cataloochee Ranch will be closed during renovations and capital improvements. A reopening date has not yet been determined.
"Cataloochee Ranch and The Swag will be operated independently and we, along with the Rays, will hire an experienced general manager to oversee operations at the ranch and deliver an amazing guest experience," David Colquitt said.
The Colquitts discovered the area and The Swag, another mountaintop destination bordering the Great Smoky Mountains National Park, when they first got married.
"From our time honeymooning at The Swag when we hiked up onto Hemphill Bald, which is actually a part of Cataloochee Ranch, we have been blown away by the beauty of the land," Annie Colquitt said. "When we heard that there might be a possibility that Cataloochee Ranch could be sold, we were eager to work with Ron and Camelia to preserve and enhance this amazing place with an amazing heritage."
Originally located in Cataloochee Valley within what became the boundaries of the national park, Tom and Judy Alexander moved to the current mountaintop location with elevations up to 5,600 feet. The ranch offers extraordinary views and cool temperatures and has been operated by second- and third-generation Alexander family members for nearly 90 years.
Ron Ray said the transaction has been in the works for more than a year as the buyers and sellers worked out all the details.
"We started talking about it a year and a half ago. Another group was thinking about making an offer and we thought we'd do the same thing," he said. "It took a while because the ranch has been in the family for many years. With a number of owners involved it can be tough. I think some were ready to let it go and others had to think about it for a while."
Cataloochee Ranch consists of 12 individual cabins and six lodge rooms. Guests can enjoy horseback riding, hiking trails, fishing and spa treatments, among other activities. Ray said he hoped the ranch would be able to allow horseback riding this summer, but it was dependent on what happens with the COVID-19 Pandemic.
"Right now our focus will be to get the ranch back to what Ms. Judy and Mr. Alexander had it years ago — it was the place to be in the mountains," he said. "We'll be closed for this season so we can totally redo the ranch house — we already have designs laid out and we'll be upgrading other facilities too."
Leave a comment
3

comments
I managed a ski shop in Atlanta for tom & Alice aumen, I suppose daughter of founders. I met my husband there when tom & Alice invited me to visit. Tow ropes were the way up the mountain. They are dear to my heart.

Thursday, 12/30/2021

Looking to stay with you all the last weekend in September, 2022. It is a family get together for my four children, myself and my husband. We stayed with you all in 2014 I think and had a nice cabin with a MBR, fold-out couch in LR?, and downstairs and Queen room and room with 2 twins. It had a kitchen too and was only a short walk to the main house. Think it overlooked the swimming pool, but cant really remember. We would plan to hike one day and do a half-day ride another day. Hope to stay Thursday-Sunday...Please let me know the availability and post renovation pricing.

Wednesday, 09/29/2021

Love cataloochee ranch. Been there twice and want to return. Just a great experience. It's so beautiful and the cabins are great. The horses are great and riding is something I love to do. Would love to come up and see some of the improvements. In Maggie valley right now, visiting from Florida. We introduced our friends to cataloochee. They love it just as much as we do.

Wednesday, 06/23/2021